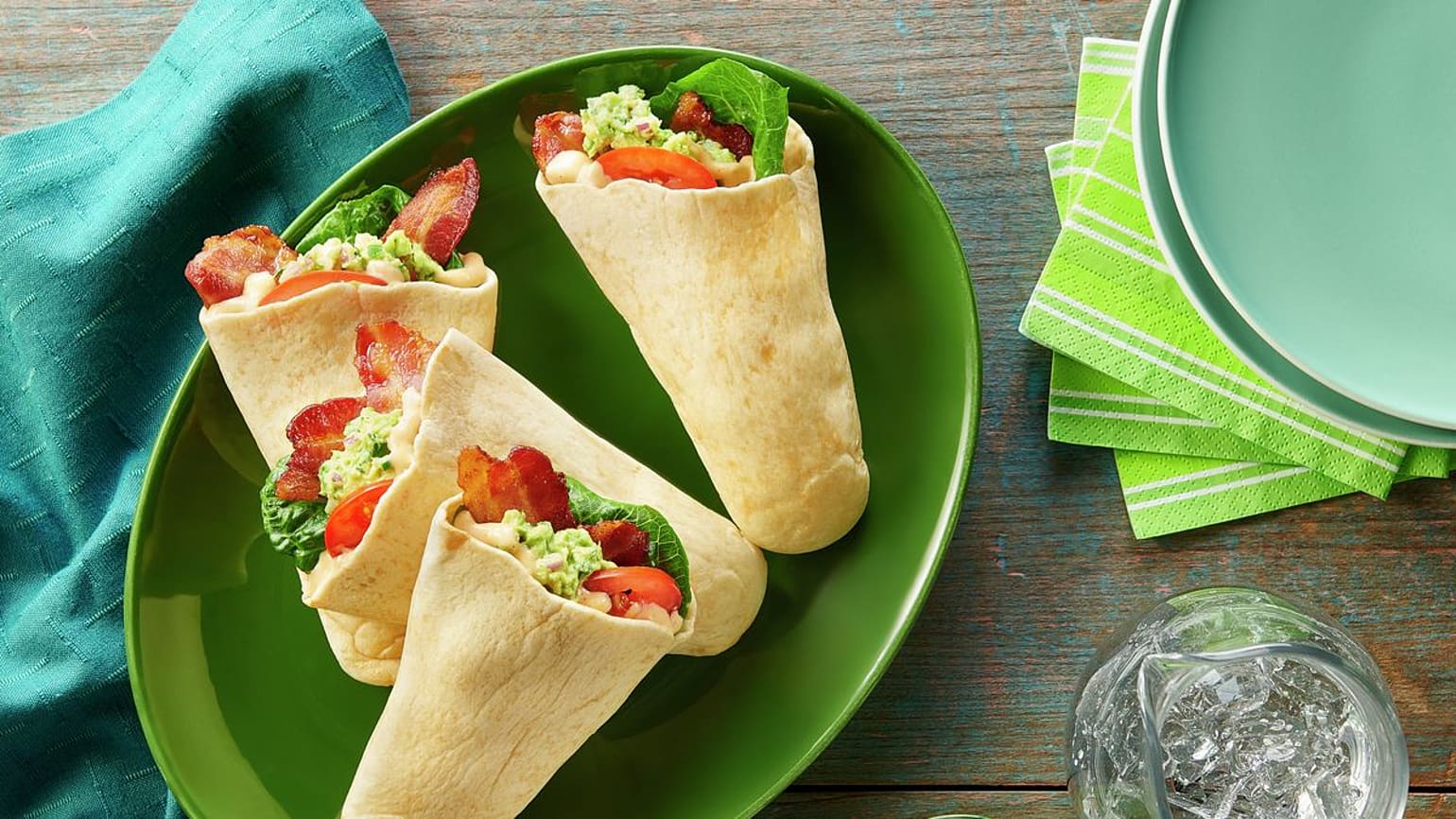 Guacamole BLT Tortilla Pockets
If you think bacon makes everything better, then this is the pocket for you. Crispy bacon, juicy slices of tomatoes and crunchy leaves of lettuce are layered inside warm tortilla pockets and topped with guacamole and ranch sauce for the BLT of your dreams. This is innovation at its finest.
Ingredient List
Guacamole
2 medium ripe avocados, pitted, peeled and mashed
1 medium jalapeño chile, seeded and finely chopped
1/4 cup finely chopped red onion
2 tablespoons finely chopped fresh cilantro leaves
1 teaspoon fresh lime juice
1/2 teaspoon salt
Pockets
1 package (8.4 oz) Old El Paso™ Tortilla Pockets™ (8 Count), heated as directed on package
12 slices cooked bacon, cut in half crosswise
8 tomato slices
8 romaine lettuce leaves
1/2 cup from 1 bottle (9 oz) Old El Paso™ Zesty Ranch Sauce
Advertisement
Recipe Continues Below
Preparation
In small bowl, stir together Guacamole ingredients.
Stuff tortilla pockets with Guacamole, bacon, tomatoes and lettuce. Serve with sauce.
Expert Tips
If you like your guacamole spicy, just substitute serrano chile for the jalapeño in this recipe. If you like it even spicier, don't seed the chile before chopping.
To keep guacamole from browning in the refrigerator, press plastic wrap directly onto its surface, preventing exposure to the air. Stir before serving.
Look for avocados that are firm but still yield to gentle pressure. If they are not quite ripe, place avocados in a paper bag and let ripen at room temperature.
Nutrition
2 Pockets Calories 500 (Calories from Fat 250); Total Fat 28g (Saturated Fat 8g ,Trans Fat 0g); Cholesterol 25mg; Sodium 1320mg; Potassium 730mg; Total Carbohydrate 48g (Dietary Fiber 6g ,Sugars 4g); Protein 15g
% Daily Value: Vitamin A 30%; Vitamin C 15%; Calcium 8%; Iron 15%
Exchanges: 2 Starch; 1/2 Fruit; 1/2 Other Carbohydrate; 1/2 Vegetable; 1 High-Fat Meat; 4 Fat
Carbohydrate Choice: 3
*Percent Daily Values are based on a 2,000 calorie diet