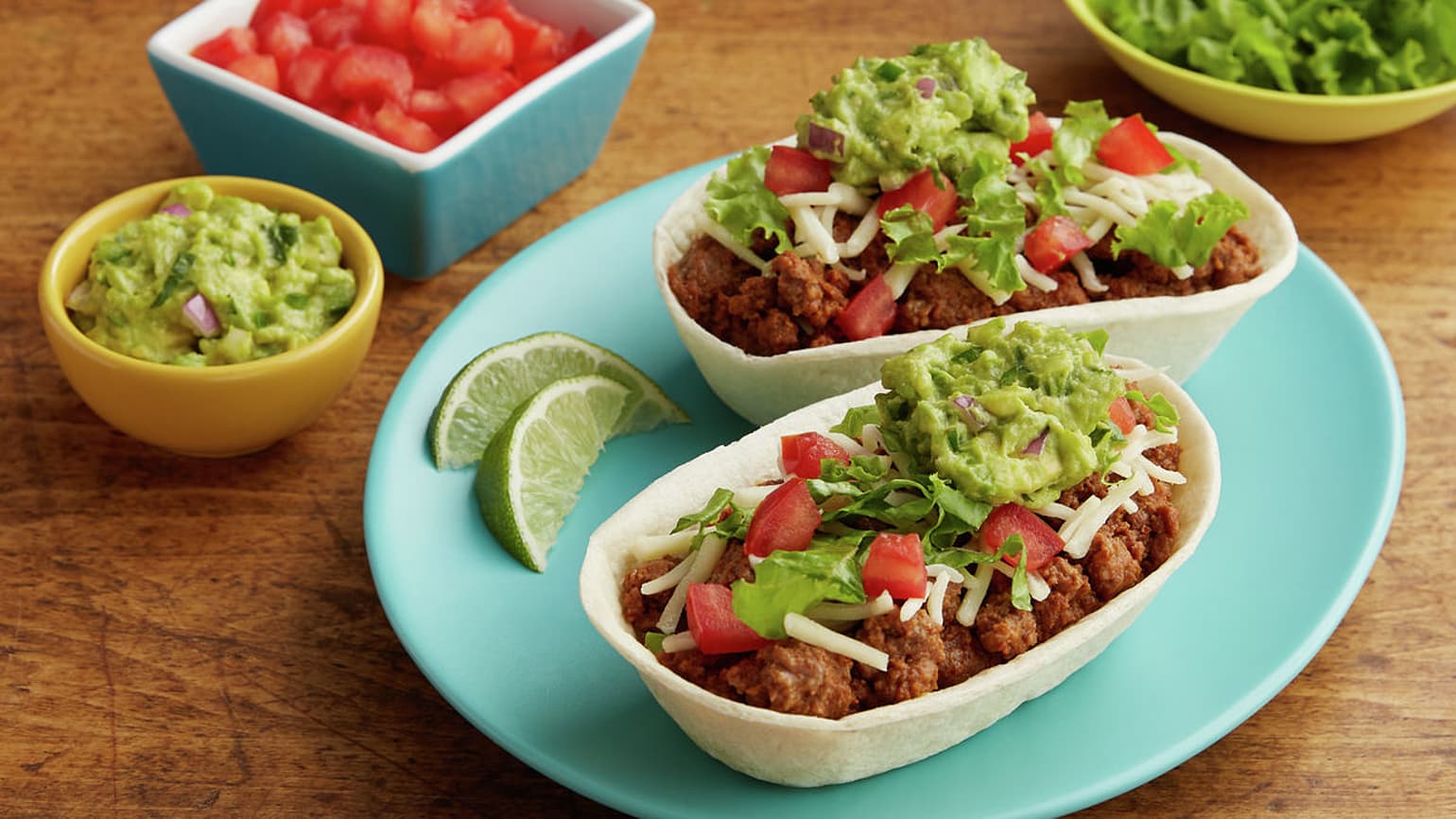 Impossible™ Taco Bowls with Fresh Guacamole
Creamy, flavorful, from-scratch guacamole is easy to make and the perfect complement to the Impossible™ Burger taco filling in these simple, but impressive taco bowls.
Ingredient List
Guacamole
2 ripe medium avocados, pitted, peeled and mashed
1 medium jalapeño chile, seeded and finely chopped
1/4 cup finely chopped red onion
2 tablespoons finely chopped fresh cilantro
1 teaspoon fresh lime juice
1/4 teaspoon salt
Tacos
1 package (12 oz) Impossible™ Burger
2/3 cup water
1 package (1 oz) Old El Paso™ original taco seasoning mix
1 package (8 count) Old El Paso™ soft tortilla bowls, heated as directed on package
1 cup shredded Monterey Jack Cheese (4 oz)
1 cup shredded romaine lettuce
1/2 cup chopped tomatoes
Advertisement
Recipe Continues Below
Preparation
In small bowl, stir together Guacamole ingredients. Set aside.
In 10-inch nonstick skillet, cook Impossible™ Burger over medium-high heat 5 to 7 minutes, stirring frequently, until crumbles are browned and cooked through. Stir in water and taco seasoning mix; heat to boiling. Reduce heat; simmer uncovered 1 to 2 minutes, stirring frequently, until thickened.
Divide taco filling among heated tortilla bowls; top with cheese, lettuce, guacamole and tomatoes.
Expert Tips
Red onion or cilantro would make a lovely garnish for these taco bowls.
Lime wedges can be served on the side for an extra squeeze of acidity.
If you like your guacamole spicy, just substitute serrano chile for the jalapeño in this recipe. If you like it even spicier, don't seed the chile before chopping.
Cooking Vegetarian? Always read labels to make sure each recipe ingredient is vegetarian. Products and ingredient sources can change.
Nutrition
1 Taco Calories 300 (Calories from Fat 160); Total Fat 18g (Saturated Fat 8g ,Trans Fat 0g); Cholesterol 15mg; Sodium 690mg; Potassium 470mg; Total Carbohydrate 23g (Dietary Fiber 4g ,Sugars 1g); Protein 13g
% Daily Value: Vitamin A 15%; Vitamin C 6%; Calcium 20%; Iron 15%
Exchanges: 1 Starch; 1/2 Other Carbohydrate; 1 Lean Meat; 1/2 High-Fat Meat; 2 Fat
Carbohydrate Choice: 1 1/2
*Percent Daily Values are based on a 2,000 calorie diet