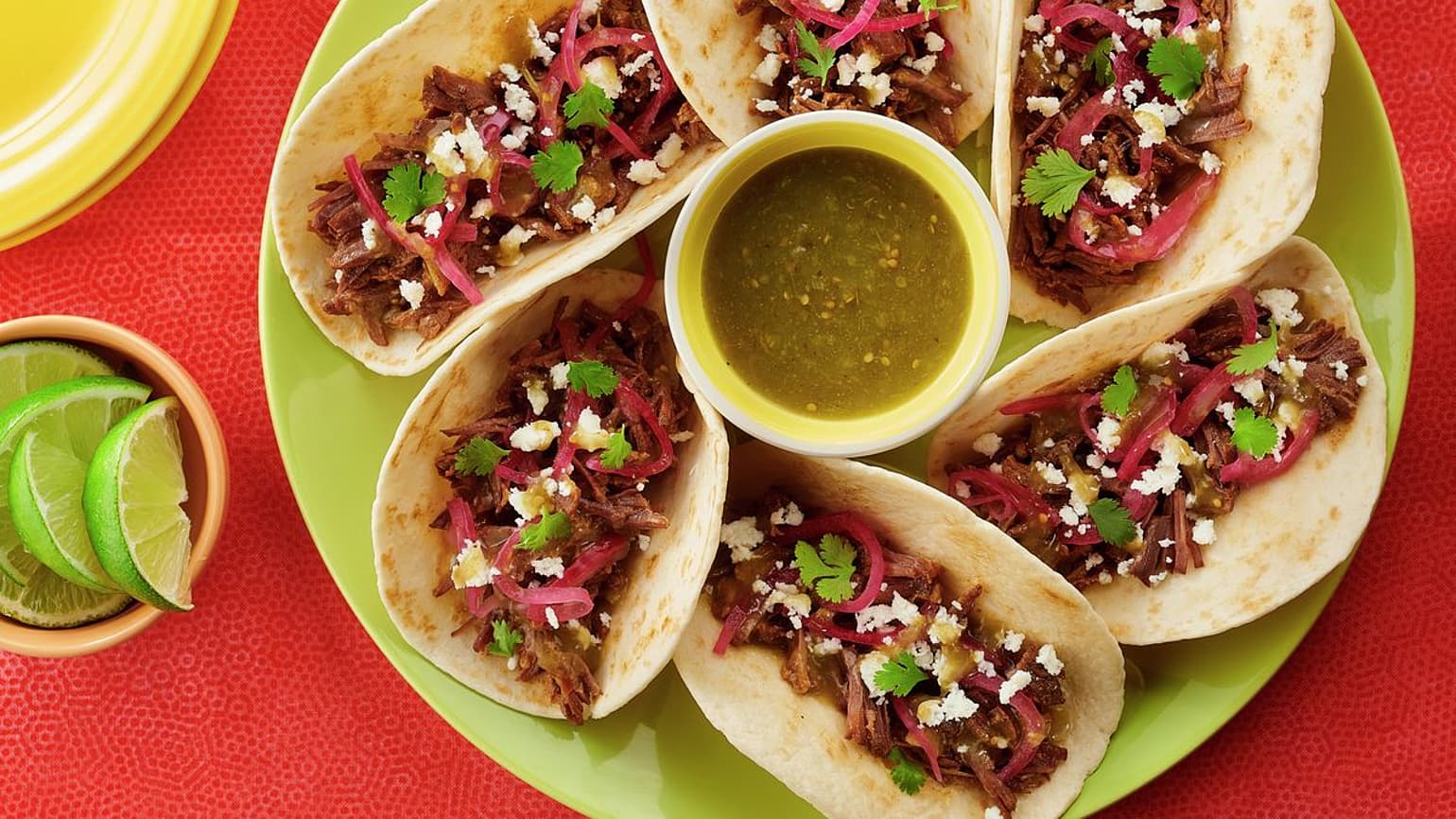 Instant Pot® Barbacoa Beef Street Tacos
Bring the food truck experience to your kitchen with a modern, easy twist on barbacoa tacos. Barbacoa refers to the way meat is prepared. Traditionally it's a steaming or baking process where the meat is cooked in an underground oven until it's very tender. However, with our recipe, your Instant Pot® joins forces with Old El Paso™ Barbacoa Beef Street Taco Kit for quick, no-stress homemade barbacoa beef street tacos.
Total Time
1 Hours
40 Minutes
Ingredient List
2 tablespoons vegetable oil
2 lb beef stew meat
1 cup orange juice
3 cloves garlic, finely chopped
1 package (11.3 oz) Old El Paso™ Barbacoa Beef Street Taco Kit
1/2 teaspoon red pepper flakes
1/2 teaspoon salt
1/2 cup thinly sliced red onions
1/2 cup apple cider vinegar
1/2 cup crumbled queso fresco (2 oz)
1/4 cup chopped fresh cilantro leaves
Lime wedges
Advertisement
Recipe Continues Below
Preparation
Spray 6-quart Instant Pot® insert with cooking spray. Select SAUTE; adjust to normal. Heat oil in insert. Add beef in 2 batches; cook 2 to 4 minutes on first side until browned. Turn; cook 2 to 4 minutes on second side until browned. Select CANCEL. Return beef to insert.
Add orange juice, garlic, seasoning mix (from taco kit), pepper flakes and salt to beef in insert.
Secure lid; set pressure valve to SEALING. Select MANUAL; cook on high pressure 45 minutes. Select CANCEL. Set pressure valve to VENTING to quick-release pressure. Shred beef; toss with 1/2 cup of the cooking liquid. Discard any remaining cooking liquid.
Meanwhile, in 1-quart saucepan, heat onions and vinegar to boiling over high heat. Remove from heat, and let stand 10 minutes. Drain and transfer pickled onions to small bowl. Cover and refrigerate until ready to serve. Discard cooking liquid.
Heat tortillas (from taco kit) as directed on package. Top each tortilla with shredded beef, then top with pickled onions, verde sauce (from taco kit), queso fresco and cilantro. Serve with lime wedges.
Expert Tips
Instead of precut beef stew meat, you can use a 2-lb boneless beef chuck roast and cut it into 2-inch cubes for your Instant Pot® barbacoa tacos.
For the best flavor, allow beef to get very brown before turning.
The pickled red onions taste great in sandwiches and salads, or on top of grilled steak or chicken.
Nutrition
1 Serving (3 Tacos) Calories 600 (Calories from Fat 210); Total Fat 24g (Saturated Fat 9g ,Trans Fat 1/2g); Cholesterol 155mg; Sodium 1220mg; Potassium 920mg; Total Carbohydrate 33g (Dietary Fiber 1g ,Sugars 4g); Protein 62g
% Daily Value: Vitamin A 6%; Vitamin C 6%; Calcium 15%; Iron 45%
Exchanges: 2 Starch; 8 Lean Meat
Carbohydrate Choice: 2
*Percent Daily Values are based on a 2,000 calorie diet