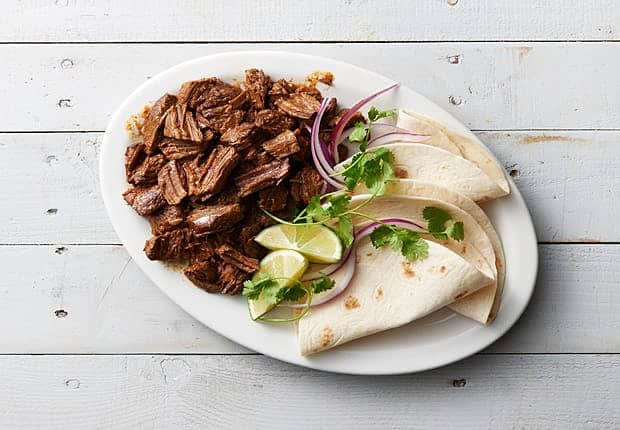 Instant Pot™ Beef Barbacoa
Make your favorite burrito, bowl or tacos at home with this easy Instant Pot™ barbacoa. It's full of slow-cooked flavor without the day-long cook or barbecue pit!
30 Minutes Prep
1 Hours 25 Minutes Total
Ingredient List
2 tablespoons vegetable oil
2 lb beef stew meat
1 cup Progresso™ beef flavored broth (from 32-oz carton) SAVE $
2 tablespoons finely chopped canned chipotle chiles in adobo sauce
3 cloves garlic, finely chopped
1 package (1 oz) Old El Paso™ original taco seasoning mix
1 teaspoon ground cumin
1 teaspoon ground coriander
1/4 teaspoon salt
2 cups chopped red onions
Advertisement
Recipe Continues Below
Preparation
Spray 6-quart Instant Pot™ insert with cooking spray. Select SAUTE; adjust to normal. Heat oil in insert. Add beef in 2 batches; cook 2 to 4 minutes on first side until browned. Turn; cook 2 to 4 minutes on second side until browned. Select CANCEL. Return beef to insert.
Add broth, chiles in adobo sauce, garlic, taco seasoning mix, cumin, coriander and salt to beef in insert. Stir in onions.
Secure lid; set pressure valve to SEALING. Select MANUAL; cook on high pressure 45 minutes. Select CANCEL. Set pressure valve to VENTING to quick-release pressure.
Shred beef; toss with 1/2 cup of the cooking liquid. Discard any remaining cooking liquid.
Expert Tips
This beef is so tender, it can be shredded by just pressing down on the meat with a dinner fork.
Can't find beef stew meat? Substitute a 2 1/2- to 3-lb boneless beef chuck roast. Cut in 1 1/2- to 2-inch cubes, and trim off any large pieces of fat before browning.
Nutrition
1 Serving: Calories 310 (Calories from Fat 160); Total Fat 18g (Saturated Fat 7g, Trans Fat 1/2g); Cholesterol 80mg; Sodium 340mg; Potassium 440mg; Total Carbohydrate 8g (Dietary Fiber 1g, Sugars 2g); Protein 28g % Daily Value: Vitamin A 2%; Vitamin C 4%; Calcium 4%; Iron 10% Exchanges: 0 Starch, 0 Fruit, 1/2 Other Carbohydrate, 0 Skim Milk, 0 Low-Fat Milk, 0 Milk, 1/2 Vegetable, 0 Very Lean Meat, 4 Lean Meat, 0 High-Fat Meat, 1 Fat