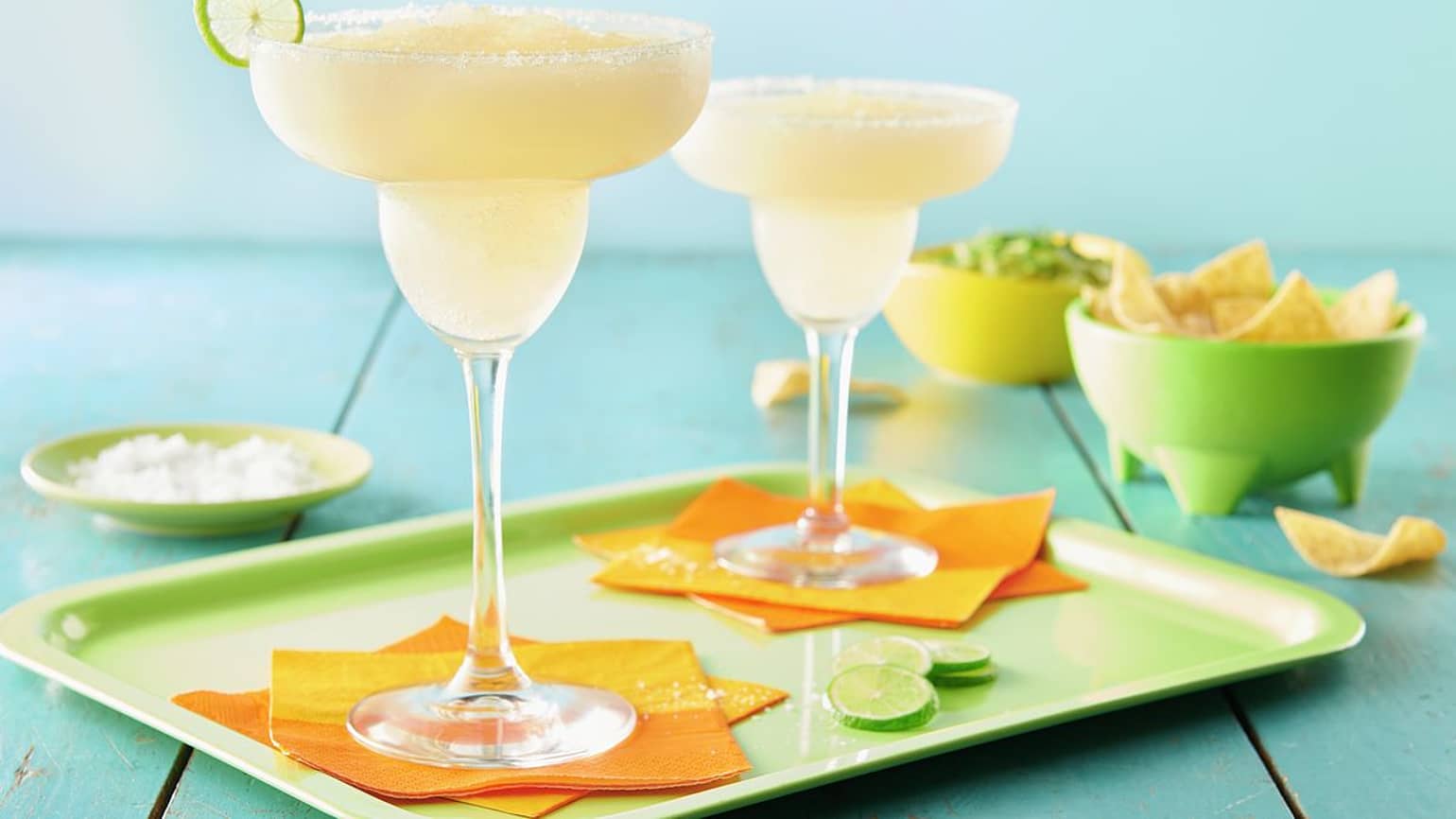 Key Lime Pie Margarita
Refreshing and perfectly balanced in flavor, this slushy, frozen margarita, made with fresh Key lime juice, is about to become your favorite reason to fire up your blender. Our Key Lime Pie Margarita recipe will satisfy your dessert cravings during happy hour with simple ingredients like sugar, Key lime juice, blanco tequila and clear orange-flavored liqueur. Enjoy every sip as you give your cocktail hour a delicious upgrade.
Ingredient List
1/2 cup plus 2 tablespoons sugar
1/4 cup water
1/2 teaspoon salt
Key lime wedge
1/4 cup fresh Key lime juice
3/4 cup blanco tequila
1/3 cup clear orange-flavored liqueur
4 cups ice cubes
Advertisement
Recipe Continues Below
Preparation
In 1-quart saucepan, heat 1/2 cup sugar and the water to boiling over medium-high heat, stirring until sugar is dissolved. Remove from heat; let stand 15 minutes. Transfer to container. Cover and refrigerate until cold, about 45 minutes.
In small bowl, stir together remaining 2 tablespoons sugar and the salt. Spread mixture onto a small plate. Rub outside rim of each cocktail glass with lime wedge to moisten; roll in sugar mixture to coat rim of glass.
In blender, place chilled sugar syrup, Key lime juice, tequila, orange-flavored liqueur and ice cubes. Cover and blend until slushy. Pour into rimmed glasses.
Expert Tips
A slice of Key lime (often called a "wheel") hanging on the side of the glass makes a lovely garnish for this Key Lime Pie Margarita.
Blanco is an un-aged tequila, which often makes it a more economical choice. It can also have a more assertive taste than smoother, aged tequilas, which makes it a good choice for cocktails, as it can stand up well to other flavors in the drink.
We use Key limes in this Key Lime Pie Margarita, as opposed to the more standard Persian limes. Key limes are smaller in size, with a less tart flavor. Persian limes can be substituted.
Some orange-flavored liqueurs come in vibrant colors. For this Key Lime Pie Margarita cocktail recipe, we recommend choosing a brand that is clear in color.
Chips and salsa or guacamole would make the perfect accompaniment to these refreshing margaritas.
Nutrition
1 Margarita Calories 290 (Calories from Fat 0); Total Fat 0g (Saturated Fat 0g ,Trans Fat 0g); Cholesterol 0mg; Sodium 300mg; Potassium 20mg; Total Carbohydrate 39g (Dietary Fiber 0g ,Sugars 37g); Protein 0g
% Daily Value: Vitamin A 0%; Vitamin C 8%; Calcium 0%; Iron 0%
Carbohydrate Choice: 2 1/2
*Percent Daily Values are based on a 2,000 calorie diet