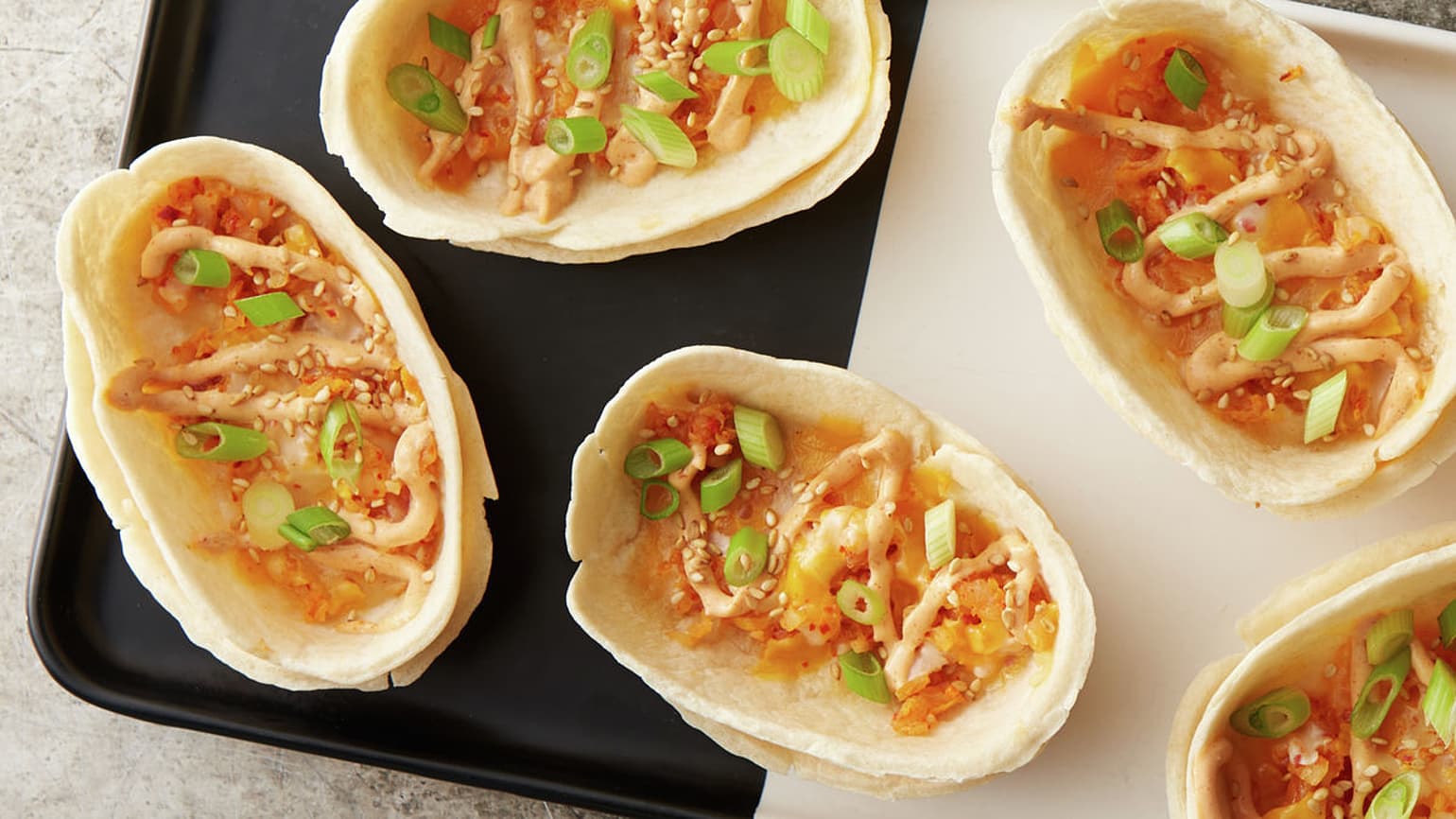 Kimchi Mini Quesadilla Bowls with Hot Pepper Crema
These zippy little apps are challenging the limits of what a quesadilla can be. Mini tortilla bowls are packed with melty cheese, topped with another tortilla that's then filled with toothsome kimchi, drizzled in a spicy gochujang cream sauce and sprinkled in sesame seed and green onion. Quesadilla, we're loving your new look.
Ingredient List
1/2 cup shredded Cheddar cheese (2 oz)
1/2 cup shredded Monterey Jack cheese (2 oz)
1 package (5.1 oz) Old El Paso™ Flour Soft Tortilla Mini Bowls (12 Count)
1/4 cup finely chopped kimchi
1/3 cup sour cream
1 tablespoon gochujang
2 tablespoons sliced green onions
1 teaspoon toasted sesame seed
Advertisement
Recipe Continues Below
Preparation
Heat oven to 400°F. In medium bowl, mix Cheddar and Monterey Jack cheeses. Place 6 mini bowls in ungreased 13x9-inch pan. Fill each with 2 tablespoons of the cheese mixture. Place another mini bowl on top of each of the cheese-filled bowls.
Add kimchi to remaining cheese mixture; stir to combine. Divide kimchi mixture among top mini bowls. Cover pan with foil; bake 8 to 10 minutes or until cheese is melted.
Meanwhile, in small bowl, mix sour cream and gochujang. Transfer quesadilla bowls to serving plate. Drizzle sour cream mixture over bowls. Garnish with green onions and sesame seed. Serve with remaining sour cream mixture.
Expert Tips
Can't take the heat? Use a mild kimchi rather than hot.
Gochujang paste is a spicy, fermented Korean condiment made from chiles, rice and soybeans that gives this recipe a nice depth and kick. Make extra of the hot pepper crema, because with its spicy, sweet and umami flavor profile, it's going to become your new favorite obsession.
Put the Gochujang crema mixture in a plastic food storage bag for easy drizzling.
Nutrition
1 Quesadilla Bowl Calories 190 (Calories from Fat 110); Total Fat 12g (Saturated Fat 6g ,Trans Fat 0g); Cholesterol 25mg; Sodium 370mg; Potassium 50mg; Total Carbohydrate 16g (Dietary Fiber 0g ,Sugars 2g); Protein 6g
% Daily Value: Vitamin A 8%; Vitamin C 2%; Calcium 20%; Iron 6%
Exchanges: 1 Starch; 1/2 High-Fat Meat; 1 1/2 Fat
Carbohydrate Choice: 1
*Percent Daily Values are based on a 2,000 calorie diet