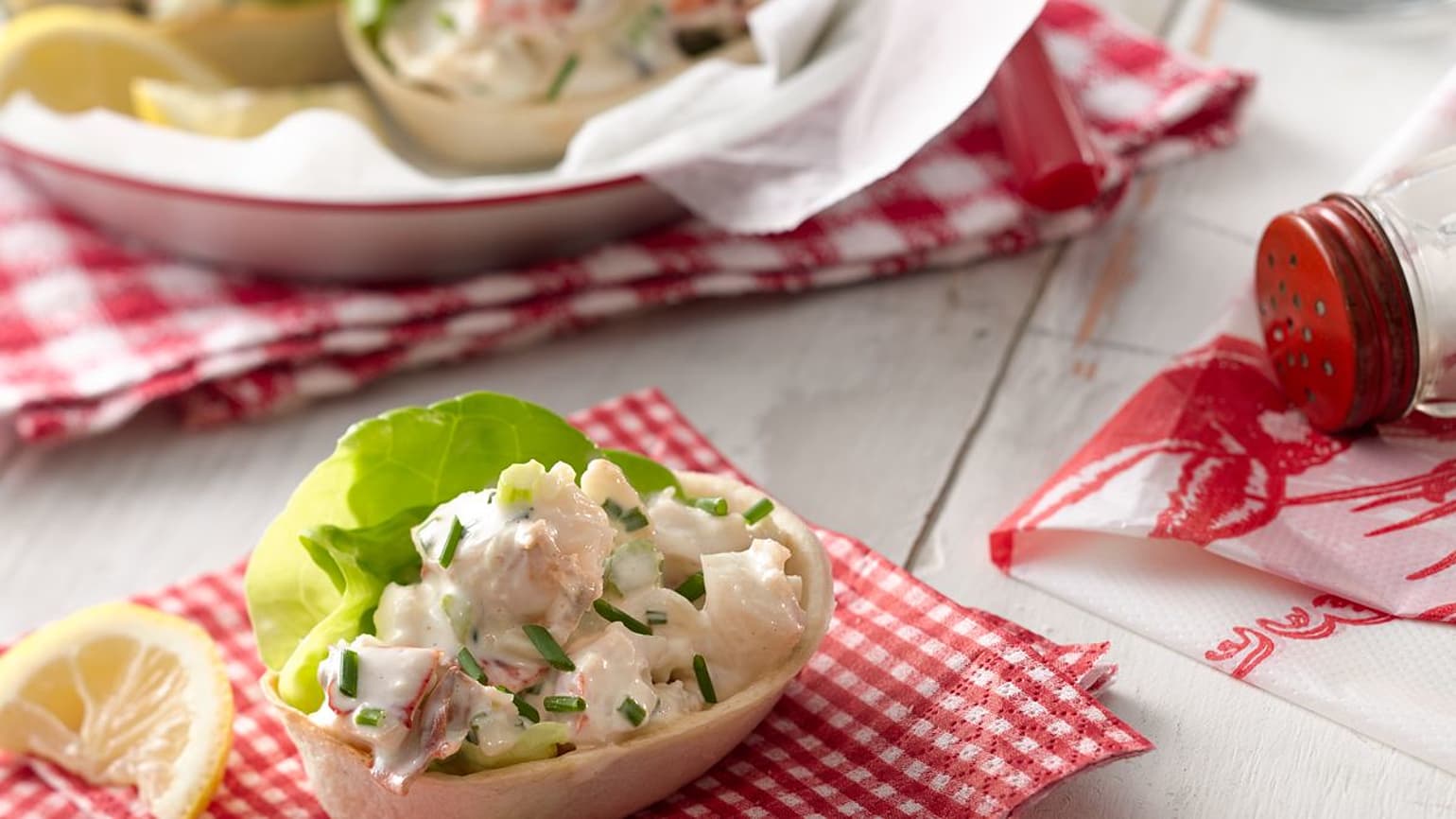 Lobster Roll Mini Taco Bowls
We have Maine and the rest of those states way up there to thank for the delicious-ness that is known as the Lobster Roll. Try our take on your roll by buttering up a taco bowl and filling with plump lobster.
Ingredient List
2 tablespoons butter, melted
1 teaspoon finely chopped garlic
1 package Old El Paso™ Taco Bowls™ mini soft flour tortillas
3 tablespoons mayonnaise
1 teaspoon Dijon mustard
2 tablespoons finely chopped celery
1 tablespoon finely chopped fresh chives
1 1/2 teaspoons fresh lemon juice
1/4 teaspoon salt
12 oz cooked lobster meat, cut into bite-size pieces (from three 8-oz uncooked lobsters)
6 leaves Bibb or butter lettuce, torn to fit taco bowls
Chopped chives and lemon wedges, if desired
Advertisement
Recipe Continues Below
Preparation
Heat oven to 325°F. Line cookie sheet with foil. In small bowl, stir together melted butter and garlic. Lightly brush melted butter mixture on all sides of each taco bowl to coat. Place taco bowls on cookie sheet. Bake 5 to 7 minutes or until warm.
Meanwhile, in medium bowl, stir together mayonnaise, Dijon mustard, celery, chives, lemon juice and salt. Add lobster meat, and fold in.
To assemble, line inside of each taco bowl with half leaf of lettuce. Fill with 2 tablespoons lobster mixture. Top with chopped chives and lemon wedges. Serve immediately.
Expert Tips
No chives? Try fresh tarragon leaves for a new flavor twist.
No more pots of boiling water--bake your lobster tails! Heat oven to 350°F. Cut lobster tails down the center of backs with kitchen scissors, leaving tail fin intact. Place tails on cookie sheet lined with foil. Bake 15 to 20 minutes or until meat thermometer inserted in center reads 140°F to 145°F. Remove lobsters from oven, and immediately submerge in large bowl filled with ice water. When cool enough to handle, remove meat from shell, and refrigerate until needed.
Nutrition
1 Serving Calories 110 (Calories from Fat 60); Total Fat 6g (Saturated Fat 2g ,Trans Fat 0g); Cholesterol 50mg; Sodium 320mg; Potassium 80mg; Total Carbohydrate 6g (Dietary Fiber 0g ,Sugars 0g); Protein 6g
% Daily Value: Vitamin A 4%; Vitamin C 0%; Calcium 4%; Iron 2%
Exchanges: 1/2 Other Carbohydrate; 1 Very Lean Meat; 1 Fat
Carbohydrate Choice: 1/2
*Percent Daily Values are based on a 2,000 calorie diet