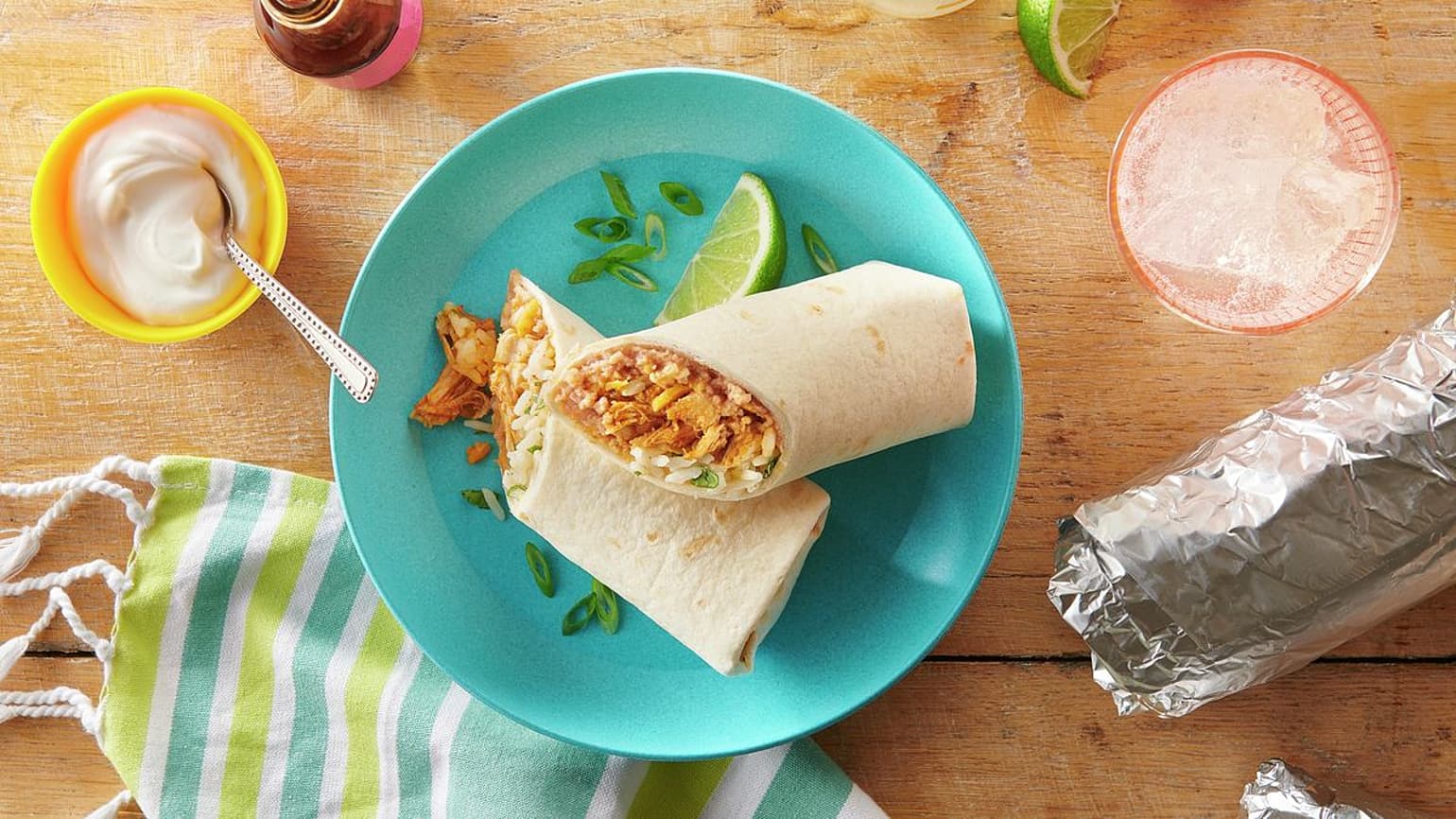 Make-Ahead Chicken and Bean Burritos
This freezer-friendly, Make-Ahead Chicken and Bean Burrito recipe makes delicious chicken and bean burritos that you can enjoy tonight or prep and freeze for a busy weeknight. With a short prep time, you can have fully assembled burritos with shredded chicken seasoned with
Old El Paso™ Original Taco Seasoning Mix
, cilantro rice and cheese all wrapped in a delicious, soft flour tortilla that your family will love. Lunchtime is easy with reheating directions to get these make-ahead chicken and bean burritos on your plates in no time. Even better, these burritos last up to a month in the freezer.
Ingredient List
2 1/2 cups shredded deli rotisserie chicken
2/3 cup water
1 package (1 oz) Old El Paso™ Original Taco Seasoning Mix
1 can (4.5 oz) Old El Paso™ Chopped Green Chiles
1 cup Old El Paso™ Traditional Refried Beans (from 16-oz can)
1 cup hot cooked rice
1 tablespoon butter
1 tablespoon chopped fresh cilantro leaves
1 package (11 oz) Old El Paso™ Flour Tortillas For Burritos (8 inch)
1 cup from 1 package (7 oz) Old El Paso™ Shredded 3 Pepper Blend Cheese
Advertisement
Recipe Continues Below
Preparation
In 10-inch nonstick skillet, cook chicken, water, taco seasoning mix and green chiles over medium heat 5 to 6 minutes, stirring frequently, until chicken is heated through. Remove from heat.
Heat beans as directed on can. In small bowl, stir hot rice, butter and cilantro to combine.
To assemble burritos, heat tortillas as directed on package. Spread 2 tablespoons of the beans in middle of each tortilla, leaving 1-inch border around edges. Sprinkle 2 tablespoons cheese over beans. Spoon 1/4 cup chicken mixture and 2 tablespoons rice evenly down center of each.
Roll up each tortilla tightly to secure filling. (Fold bottom of each tortilla 1 inch over filling. Fold sides in, overlapping to enclose filling. Fold top over sides.) Serve immediately, or freeze as directed below.
To freeze: Wrap each burrito in foil. Label 1-gallon resealable freezer plastic bag. Transfer burritos in single layer to bag; remove as much air as possible, and freeze up to 1 month.
To heat: Remove 1 burrito from foil, and wrap in lightly dampened paper towel. Place on microwavable plate; microwave uncovered on High 3 minutes to 4 minutes 30 seconds, turning wrapped burrito over every minute, until heated through (at least 165°F).
Expert Tips
Try serving burritos with fresh toppings like chopped green onions or a fresh squeeze of lime.
Add some extra flavor by drizzling on Old El Paso™ Creamy Salsa Verde Sauce or Old El Paso™ Crema Mexicana.
Precooked rice is available for purchase in your grocery store's frozen section and is a convenient alternative to the cooked rice in this recipe. You may also use 1 cup leftover cooked rice, heated in the microwave until hot.
When reheating your frozen chicken and bean burrito, be sure to turn over the burrito every minute while microwaving to make sure it heats evenly.
Nutrition
1 Burrito Calories 340 (Calories from Fat 120); Total Fat 14g (Saturated Fat 7g ,Trans Fat 0g); Cholesterol 55mg; Sodium 840mg; Potassium 200mg; Total Carbohydrate 34g (Dietary Fiber 2g ,Sugars 0g); Protein 20g
% Daily Value: Vitamin A 6%; Vitamin C 0%; Calcium 15%; Iron 15%
Exchanges: 1 1/2 Starch; 1/2 Other Carbohydrate; 1/2 Vegetable; 1 Very Lean Meat; 1 High-Fat Meat; 1 Fat
Carbohydrate Choice: 2
*Percent Daily Values are based on a 2,000 calorie diet