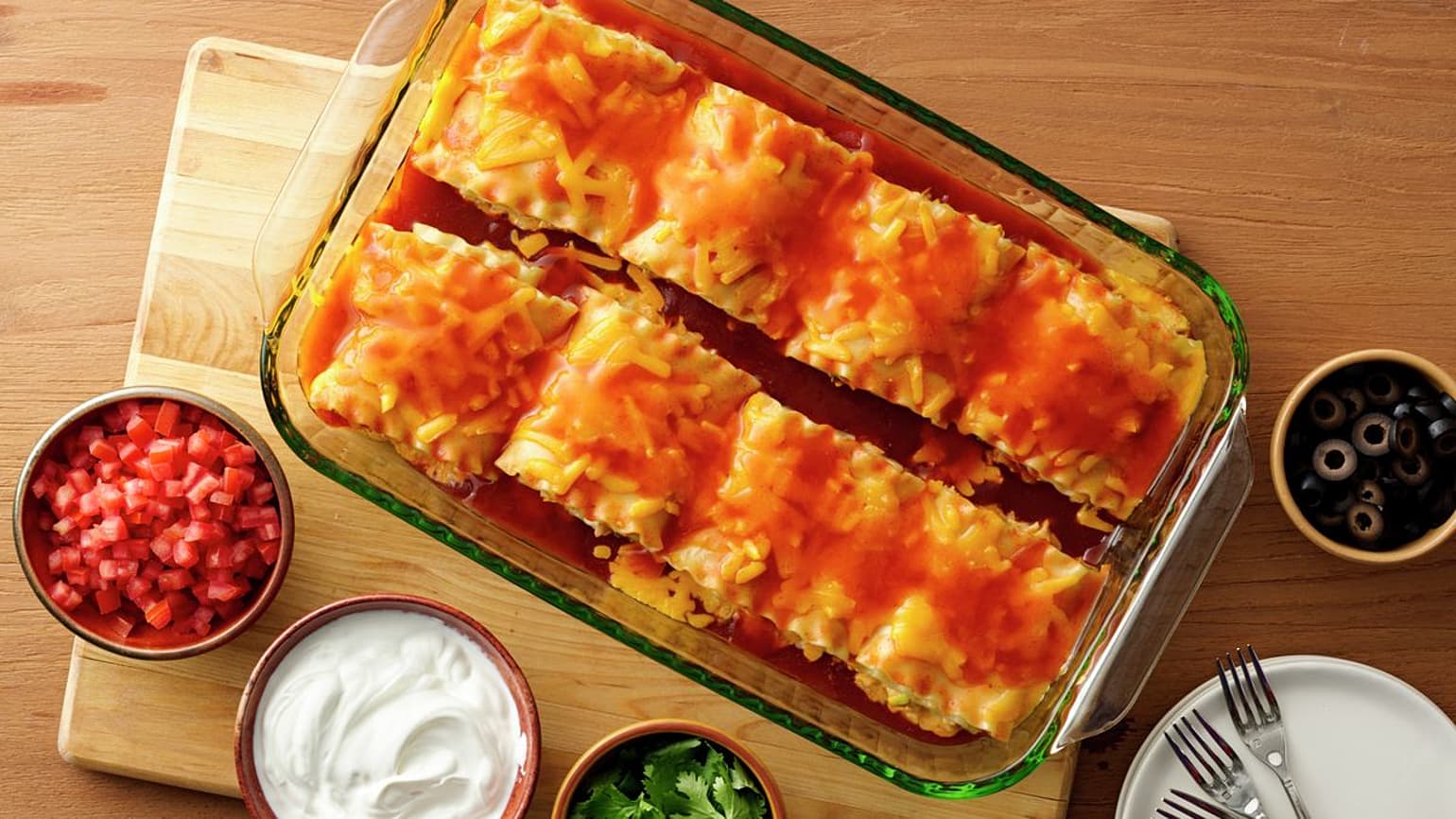 Make-Ahead Chicken Enchilada Lasagna Rolls
Taco night? Pasta night? Hear us out: why not both? Get your Mexican-Italian fusion fix with these make-ahead, family-friendly lasagna rolls. Just defrost your prepared rolls and pop them in the oven whenever you're craving a comforting, homemade meal that's bursting with flavor.
Total Time
10 Hours
25 Minutes
Ingredient List
Rolls (to make ahead and freeze)
16 uncooked lasagna noodles
1 package (8 oz) cream cheese, softened
2 cups shredded Monterey Jack cheese with jalapeño peppers (8 oz)
3/4 cup chopped green onions (about 1 bunch)
1 can (10 oz) Old El Paso™ enchilada sauce
1 can (4.5 oz) Old El Paso™ chopped green chiles
4 cups diced cooked chicken
Sauce and Cheese (for baking rolls)
2 cans (10 oz each) Old El Paso™ enchilada sauce
2 cups shredded sharp cheddar cheese (8 oz)
2 cups chopped tomato
1 cup sour cream
Chopped fresh cilantro, if desired
Sliced olives, if desired
Advertisement
Recipe Continues Below
Preparation
In 5-quart Dutch oven, cook lasagna noodles as directed on package. Drain; rinse with hot water. Drain well.
In large bowl, beat cream cheese, shredded Monterey Jack cheese and green onions with electric mixer on medium speed 1 to 2 minutes or until blended. Add 1 can enchilada sauce and green chiles on low speed. Stir in chicken.
Spread heaping 1/3 cup chicken mixture along center of each cooked lasagna noodle, to within 1 inch of one short end. Roll up firmly toward unfilled end. Line 15x10x1-inch pan with foil. Place rolls seam side down in pan; cover loosely with foil. Freeze about 30 minutes or until firm.
Place frozen rolls in two labeled 1-gallon freezer bags; label. Freeze up to 3 months.
To bake 16 lasagna rolls, spray two 13x9-inch (3-quart) glass baking dishes with cooking spray. Remove rolls from freezer bag; place 8 in each baking dish. Cover with foil; thaw in refrigerator at least 8 hours but no longer than 24 hours.
Heat oven to 350°F. Divide 1 of the remaining cans of enchilada sauce between baking dishes, pouring over and down sides of rolls. Cover tightly with foil; bake 40 to 50 minutes or until hot and bubbly.
Meanwhile, in 1 1/2-quart saucepan, heat remaining can of enchilada sauce over medium-low heat until hot. Remove foil; sprinkle each dish with 1 cup sharp Cheddar cheese. Bake 3 to 5 minutes longer or until cheese is melted. Let stand 5 minutes before serving. Spoon remaining sauce over rolls. Top with tomato, sour cream, cilantro and olives.
Expert Tips
Can't take the heat? Swap in regular Monterey Jack for the version with peppers.
This dish is a great way to use up leftover rotisserie chicken or cooked turkey!
Nutrition
1 Serving Calories 360 (Calories from Fat 180); Total Fat 20g (Saturated Fat 11g ,Trans Fat 1/2g); Cholesterol 80mg; Sodium 590mg; Potassium 240mg; Total Carbohydrate 23g (Dietary Fiber 1g ,Sugars 2g); Protein 21g
% Daily Value: Vitamin A 20%; Vitamin C 6%; Calcium 20%; Iron 8%
Exchanges: 1 Starch; 1/2 Other Carbohydrate; 1 1/2 Lean Meat; 1 High-Fat Meat; 1 1/2 Fat
Carbohydrate Choice: 1 1/2
*Percent Daily Values are based on a 2,000 calorie diet