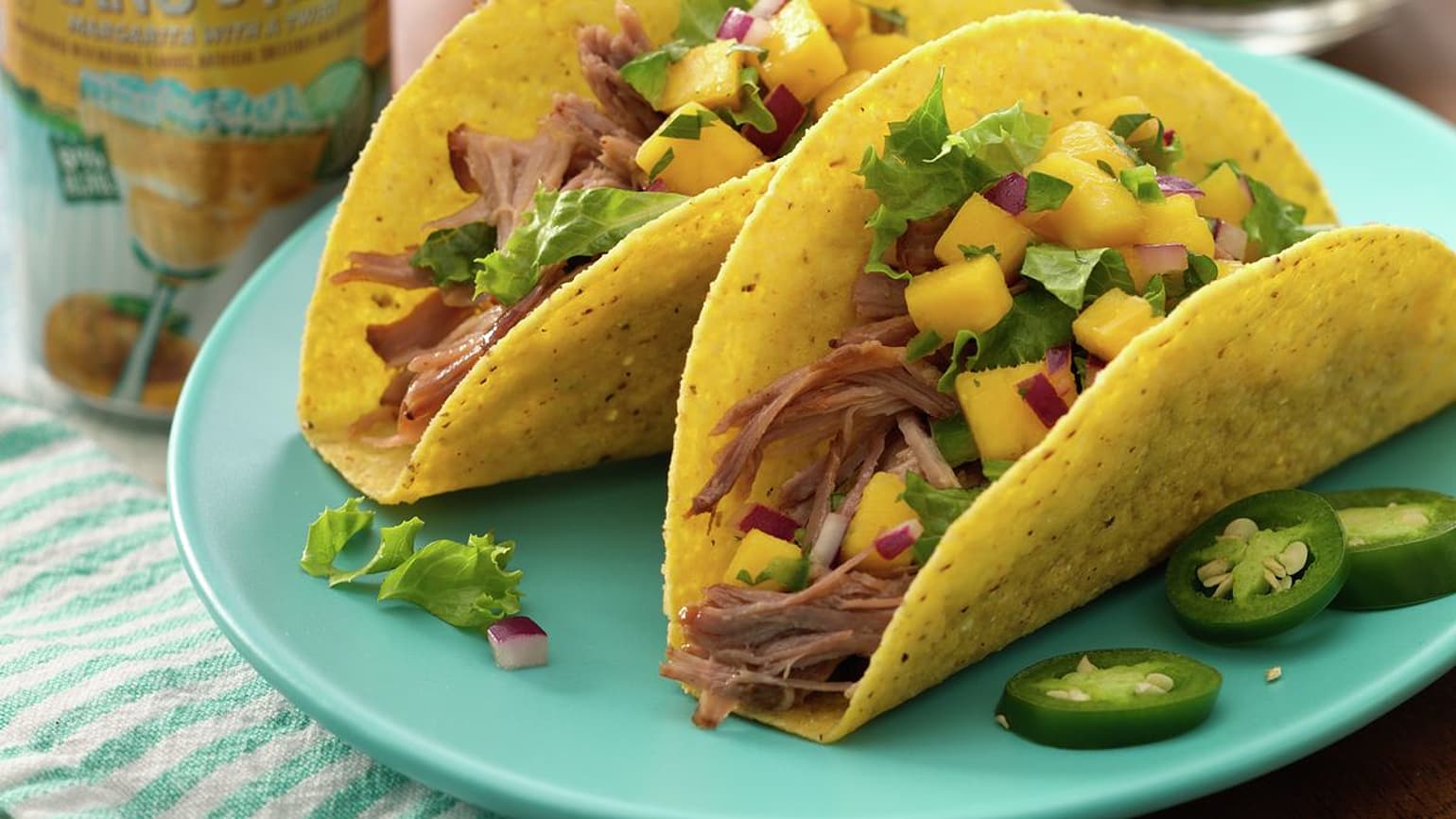 Mang-O-Rita Pulled Pork Tacos
Try this delicious slow cooker taco that will feed a hungry crowd!
Total Time
4 Hours
30 Minutes
Ingredient List
1 large red onion, halved and sliced
2 cans (8 oz each) Bud Light Lime® Mang-O-Rita flavored malt beverage
3 lb boneless pork shoulder
1 teaspoon salt
2 canned chipotle chiles in adobo, chopped
16 taco shells from 2 packages (4.7 oz) Old El Paso™ Stand 'n Stuff Taco Shells (10 Count)
Make it FRESH with toppings like mango salsa, sliced peppers, shredded lettuce, pickled or freshly sliced red onion, guacamole
Advertisement
Recipe Continues Below
Preparation
Spray inside of 5-quart slow cooker with cooking spray. Place onion, 1 can of the beverage, and pork in slow cooker. Sprinkle with salt and chipotle chiles.
Cover; cook on High heat setting 4 to 5 hours or until tender. Remove pork from slow cooker; shred with fork. Place pork in bowl. Add 1/2 cup reserved beverage and 1/2 cup juices from slow cooker to pork.
Spoon pork mixture into warmed taco shells. Add desired toppings.
Nutrition
1 Taco Calories 240 (Calories from Fat 120); Total Fat 13g (Saturated Fat 5g ,Trans Fat 0g); Cholesterol 55mg; Sodium 260mg; Potassium 250mg; Total Carbohydrate 9g (Dietary Fiber 0g ,Sugars 0g); Protein 19g
% Daily Value: Vitamin A 0%; Vitamin C 0%; Calcium 0%; Iron 4%
Carbohydrate Choice: 1/2
*Percent Daily Values are based on a 2,000 calorie diet