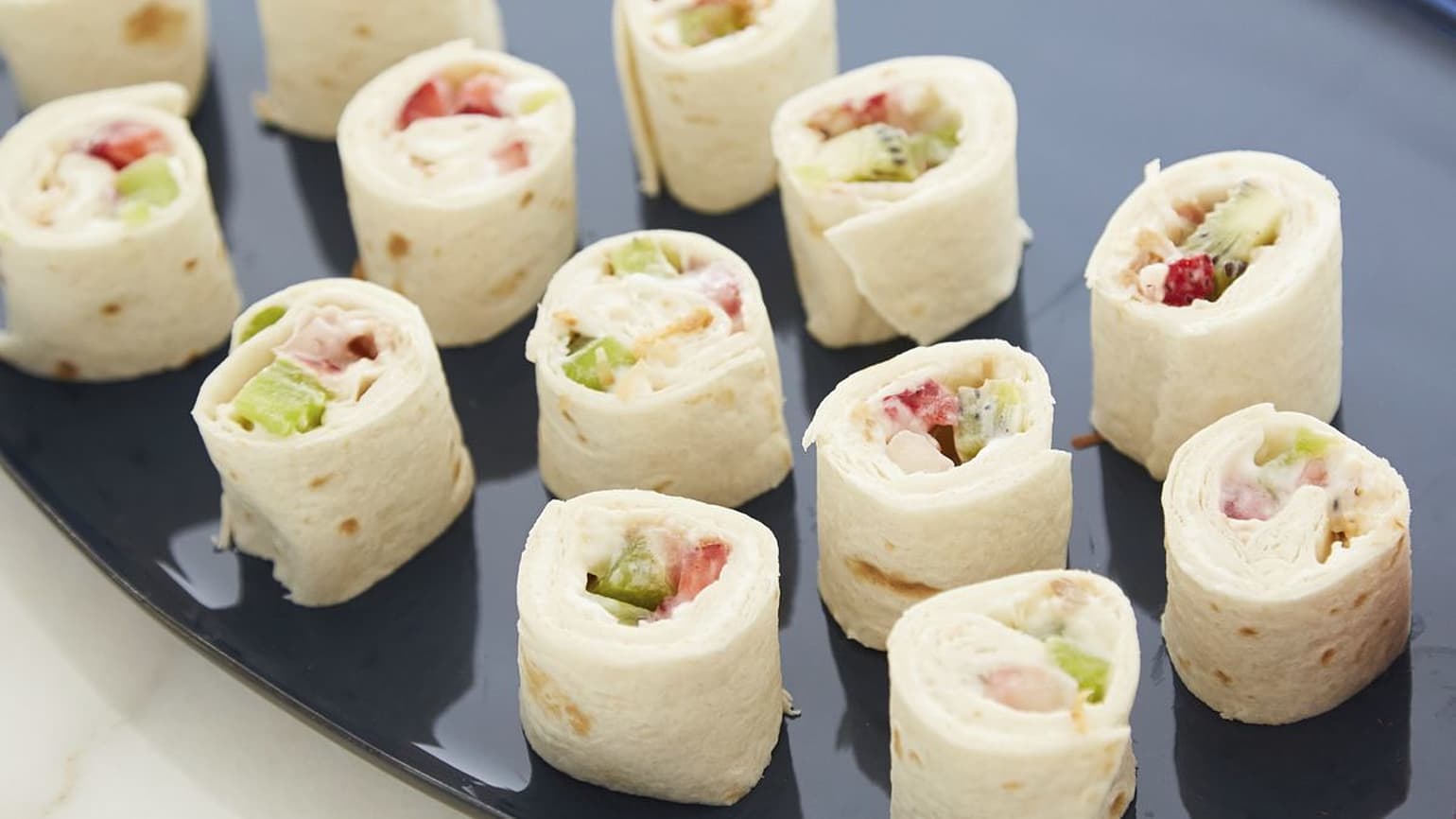 Marshmallow Fruit Dip Tortilla Rolls
Sure, we could have just made everyone's favorite fruit dip and stopped there, but then you never would have known about these game-changing dessert roll-ups. Sweet and refreshing, they're exactly as delicious as you think they are—promise.
Total Time
2 Hours
25 Minutes
Ingredient List
1 container (8 oz) whipped cream cheese
1 cup marshmallow crème (from 7-oz container)
1 package (11 oz) Old El Paso™ Flour Tortillas for Burritos (8 Count)
1 cup diced fresh strawberries
1 cup diced peeled kiwifruit
1 cup toasted coconut, if desired
1 tablespoon powdered sugar
Advertisement
Recipe Continues Below
Preparation
In medium bowl, mix cream cheese and marshmallow crème. Divide cream cheese mixture among tortillas, spreading evenly over tortillas, leaving 1/2-inch border. Top half of each tortilla with strawberries and kiwifruit. Top with coconut.
Starting from side with toppings, roll up very tightly. Wrap with plastic wrap. Refrigerate at least 2 hours but no longer than 3 hours.
To serve, cut 1 inch from end of each roll, and discard. Cut each roll into 4 (1 1/2-inch) slices. Sprinkle with powdered sugar.
Expert Tips
For an extra-decadent treat, serve with chocolate sauce for dipping.
TTo peel kiwifruit easily, slice off top and bottom of fruit, slide large spoon between skin and flesh, and turn to separate.
Nutrition
1 Serving Calories 70 (Calories from Fat 30); Total Fat 3 1/2g (Saturated Fat 1 1/2g ,Trans Fat 0g); Cholesterol 10mg; Sodium 115mg; Potassium 35mg; Total Carbohydrate 9g (Dietary Fiber 0g ,Sugars 3g); Protein 1g
% Daily Value: Vitamin A 2%; Vitamin C 15%; Calcium 2%; Iron 0%
Exchanges: 1/2 Other Carbohydrate; 1/2 Fat
Carbohydrate Choice: 1/2
*Percent Daily Values are based on a 2,000 calorie diet