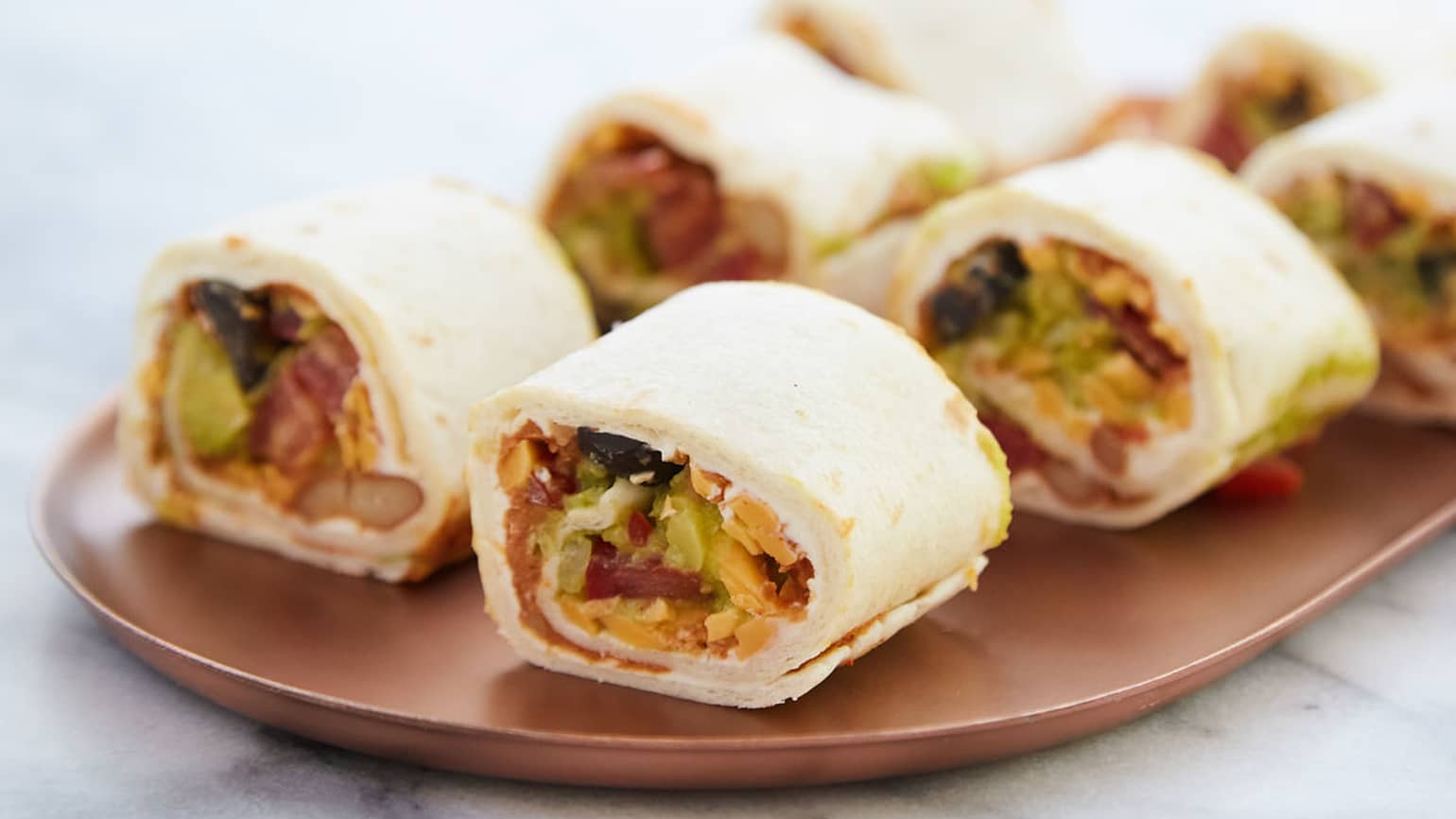 Mexican 7-Layer Tortilla Rolls
Turn your favorite 7-layer dip into flavor-packed Mexican tortilla rolls! With all seven classic and delicious layers in every bite, these tortilla sandwich rolls are sure to become one of your new favorite appetizers. Our recipe makes 32 bite-size rolls but only takes about 25 minutes of prep time, making it a perfect recipe to pull out a couple of hours before entertaining. Next time you need an easy-to-prepare app that's bursting with layers of flavor, ditch the dip and opt for these amazingly good Mexican pinwheels with taco seasoning instead!
Total Time
2 Hours
25 Minutes
Ingredient List
1 cup Old El Paso™ refried beans (from 16-oz can)
1 tablespoon Old El Paso™ taco seasoning mix (from 1-oz package)
1 container (8 oz) cream cheese spread, softened
1 package (11 oz) Old El Paso™ flour tortillas for burritos (8 tortillas; 8 inch)
1 1/2 cups shredded cheddar cheese (6 oz)
2 medium plum (Roma) tomatoes, finely diced (about 1 cup)
1 package (8 oz) guacamole (1 cup)
1 can (2.25 oz) sliced ripe olives (1/2 cup)
2 cups shredded lettuce
Advertisement
Recipe Continues Below
Preparation
In medium bowl, mix beans and taco seasoning mix. Divide cream cheese spread among tortillas, spreading evenly over tortillas, leaving 1/2-inch border. Divide bean mixture among tortillas, and spread evenly over cream cheese. Top half of each tortilla with Cheddar cheese, tomatoes, guacamole and olives. Place lettuce evenly over other toppings.
Starting from side with toppings, roll up very tightly. Wrap with plastic wrap. Refrigerate at least 2 hours but no longer than 3 hours.
To serve, cut 1 inch from end of each roll, and discard. Cut each roll into 4 (1 1/2-inch) slices.
Expert Tips
Use an 8-oz package of cream cheese instead of cream cheese spread if you have that available. Just soften the cream cheese as directed on the package.
Give these Mexican tortilla pinwheels a little extra spice! Add two tablespoons of finely chopped jalapeño chiles in with the other toppings.
These Mexican tortilla appetizers are best when eaten within 2 to 3 hours of preparing. They can get a little soggy when they are made too far in advance before serving.
Nutrition
1 Appetizer Calories 90 (Calories from Fat 50); Total Fat 6g (Saturated Fat 2 1/2g ,Trans Fat 0g); Cholesterol 10mg; Sodium 240mg; Potassium 70mg; Total Carbohydrate 8g (Dietary Fiber 1g ,Sugars 0g); Protein 3g
% Daily Value: Vitamin A 4%; Vitamin C 6%; Calcium 6%; Iron 2%
Exchanges: 1/2 Starch; 1 Fat
Carbohydrate Choice: 1/2
*Percent Daily Values are based on a 2,000 calorie diet