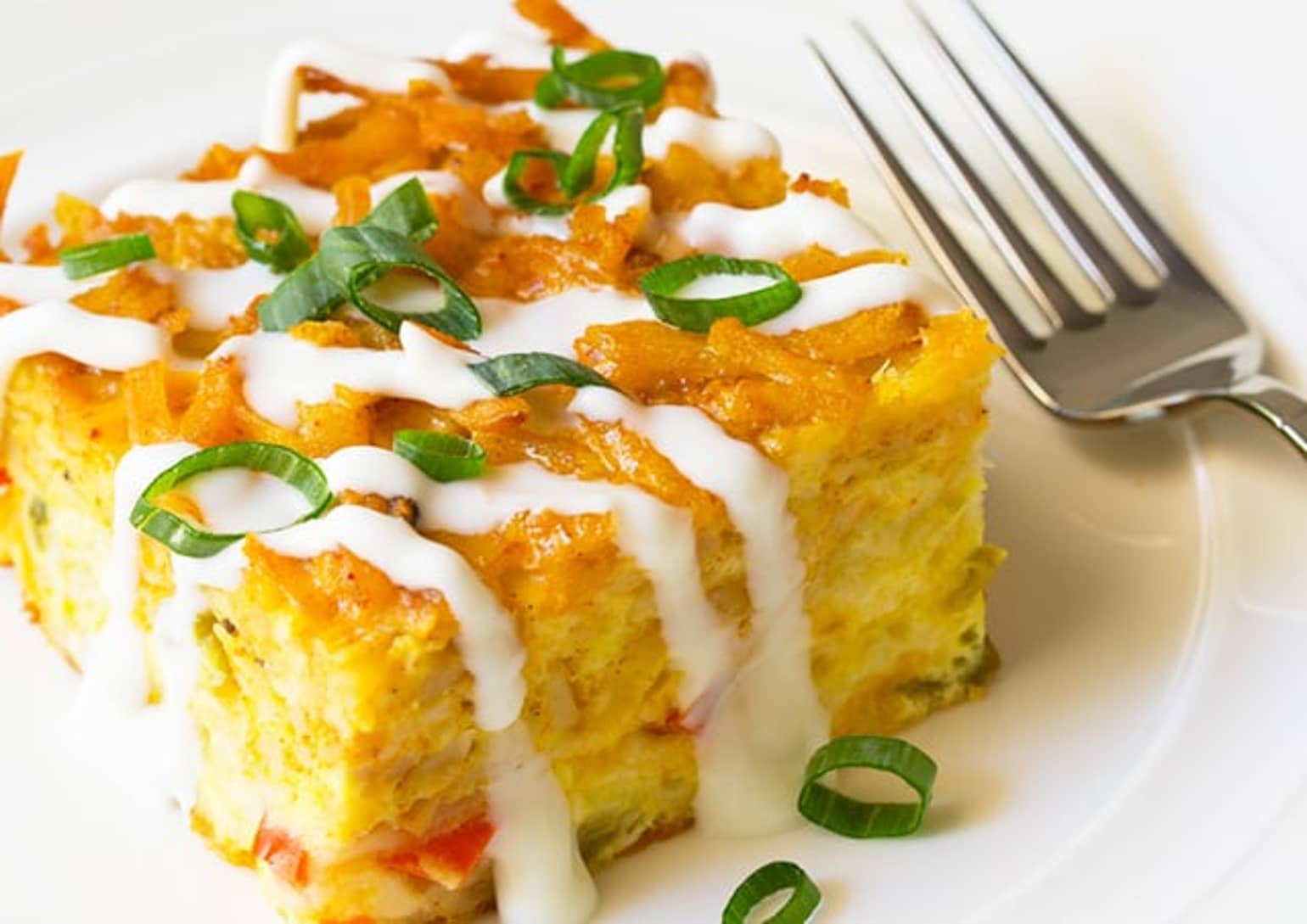 Mexican Breakfast Casserole with Hash Brown Top
Bored of the same ol' breakfast every morning? This irresistible hash brown casserole will pull you out of your rut – golden crunchy potato crust and tender layers of eggs, cheese, tortilla, peppers and chiles.
Ingredient List
16 large eggs
3 cups shredded Mexican cheese blend
4 large Old El Paso™ Flour Tortillas
1 red bell pepper, seeded and chopped
4.5 ounce can Old El Paso™ Chopped Green Chiles
1 bunch green onions, chopped
1 teaspoon salt
4 cups shredded hash brown potatoes, thawed
1 packet Old El Paso™ Low Sodium Taco Seasoning
4 tablespoons butter, melted
1/2 cup crema (optional)
Advertisement
Recipe Continues Below
Preparation
Preheat the oven to 325°F. Spray a large 9x13 inch baking dish with non-stick cooking spray and set aside.
Cut the tortillas in to 1/2 inch by 1 inch strips. Whisk the eggs thoroughly in a large bowl. Then mix in the shredded cheese, chopped bell pepper, chiles, 1 cup chopped green onions, salt and tortillas. Pour the mixture into the baking dish.
In a separate bowl, mix the shredded potato with the Old El Paso™ Taco Seasoning. Then drizzle the butter over the top of the potatoes and toss to coat.
Sprinkle the shredded potatoes over the egg mixture in an even layer. Then place in the oven and bake for 50-60 minutes until the center is puffed up and the hash brown top is crispy. Serve warm, drizzled with crema and sprinkled with green onions if desired.