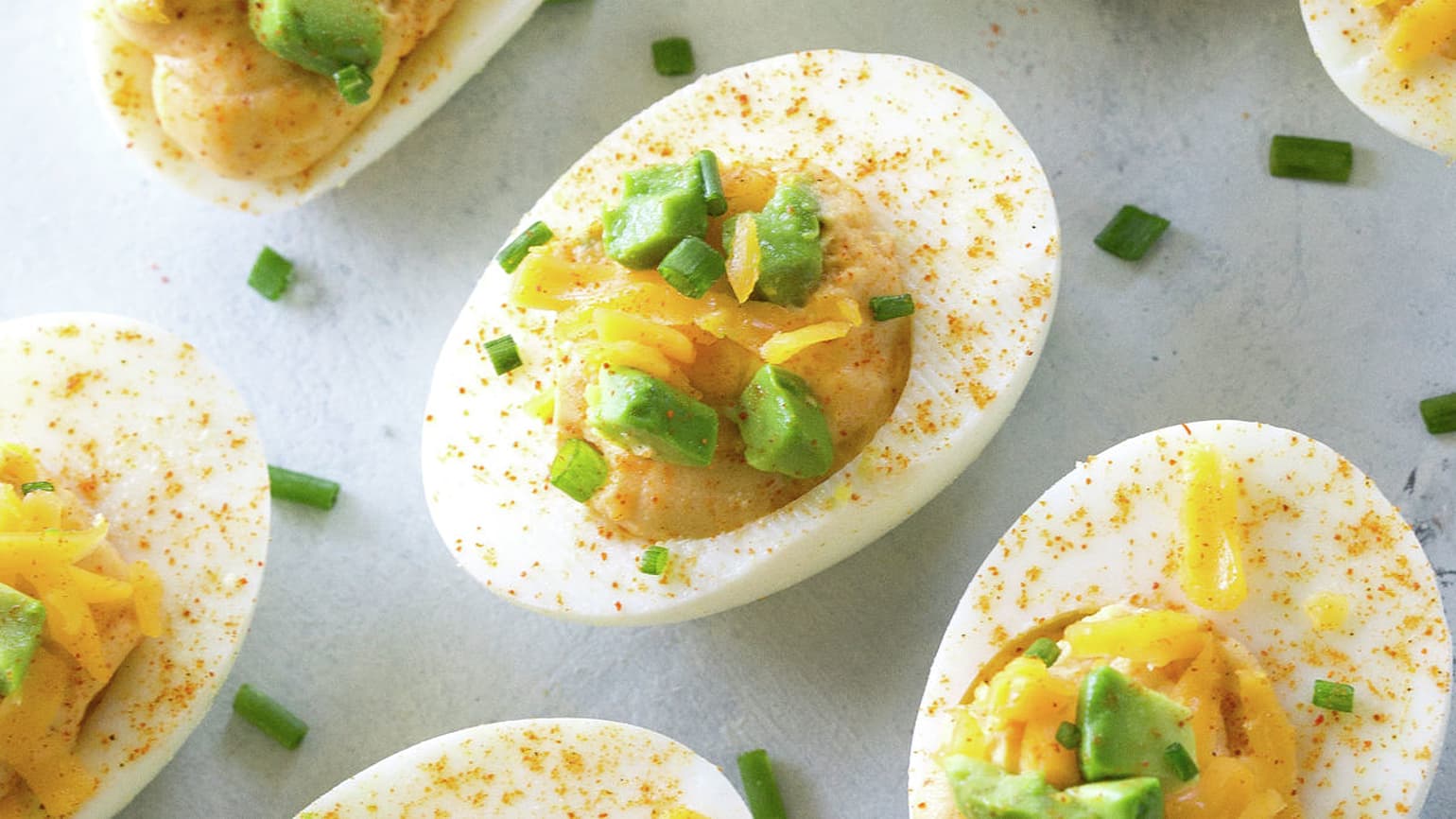 Mexican Deviled Eggs
Looking for an egg-cellent party appetizer? Everyone will love this spicy twist on classic deviled eggs. Made with Old El Paso taco seasoning mix, our Mexican Deviled Eggs with avocado and chopped chives can be whipped up quickly before guests arrive. Just use a resealable plastic bag to help pipe the mixture into the cooked egg whites for Tex-Mex deviled eggs that look as spectacular as they taste.
Ingredient List
8 hard boiled eggs, cooled and halved
1/3 cup mayonnaise
2 tablespoons sour cream
1 tablespoon chopped chives
2 teaspoons from 1 container (6.25 oz) Old El Paso™ Original Taco Seasoning Mix
Toppings: finely diced avocado, chives
Advertisement
Recipe Continues Below
Preparation
Remove yolks from halved eggs and place in a medium bowl. Mash the yolks with a fork and then add the mayonnaise, sour cream, chives, and 1 1/2 teaspoons of taco seasoning. Mix together well.
Place mixture in a resealable plastic bag, snip off the corner, and pipe into the cooked egg whites.
Top with finely diced avocado and chives. Using a strainer add the remaining 1/2 teaspoon of taco seasoning and lightly dust the eggs with it. Refrigerate until serving.
Expert Tips
Kitchen scissors are great to have on hand. Besides snipping herbs, they are also good for cutting up chicken pieces and other kitchen tasks.
Cut a very thin slice off the bottom of each egg white half before filling to help the Mexican-style deviled eggs stay in place on the serving plate.
To finely dice avocado, cut in half and remove pit. Using large spoon, scoop flesh from skin. Place one half avocado cut side down on cutting board. Make horizontal cuts for desired thickness, then cut lengthwise into strips. Turn 90 degrees and cut again. Repeat with other half of avocado.
Nutrition
*Percent Daily Values are based on a 2,000 calorie diet