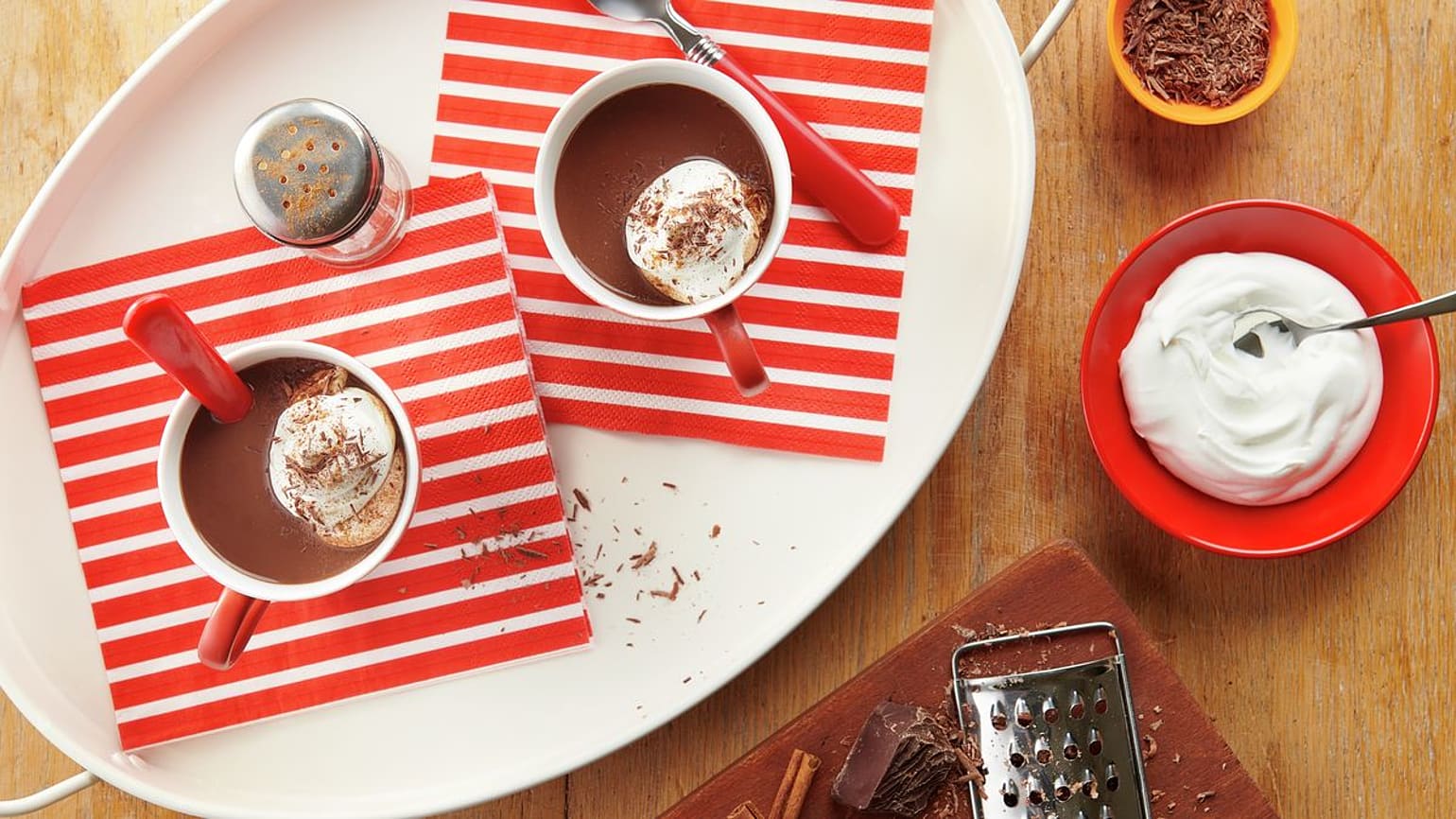 Mexican Hot Chocolate
If you enjoy a warm cup of cocoa, this Mexican Hot Chocolate recipe, with a hint of cinnamon, vanilla and just a pinch of cayenne, is sure to hit the spot. Whether you curl up with a mug of Mexican hot cocoa on chilly nights or serve it up as a sweet treat instead of your regular morning coffee, you'll find the blend of chocolate and heat irresistible.
Ingredient List
Hot Chocolate
4 cups whole milk
1 cup dark chocolate chips
2 tablespoons granulated sugar
1 teaspoon vanilla
1/2 teaspoon ground cinnamon
1/4 teaspoon salt
1/8 teaspoon ground red pepper (cayenne)
Toppings, as desired
Whipped cream
Ground cinnamon
Grated dark chocolate
Advertisement
Recipe Continues Below
Preparation
In 2-quart saucepan, mix Hot Chocolate ingredients over medium-low heat. Cook and stir 5 to 8 minutes or until chocolate is melted and mixture is hot, but not boiling.
Pour into serving cups. Top with desired Toppings.
Expert Tips
Serve this Mexican spiced hot chocolate with a dollop of whipped cream and a sprinkling of cinnamon, grated chocolate or cocoa powder, as desired.
For a fun presentation, look for long cinnamon sticks at the grocery store or spice market, and serve with the Mexican Hot Chocolate as a stirrer.
Using dark chocolate chips in this Mexican hot cocoa recipe, rather than semisweet, gives it an added richness and just enough bittersweet flavor to balance out the sweetness.
Nutrition
1 Serving Calories 410 (Calories from Fat 190); Total Fat 21g (Saturated Fat 12g ,Trans Fat 0g); Cholesterol 30mg; Sodium 260mg; Potassium 560mg; Total Carbohydrate 44g (Dietary Fiber 3g ,Sugars 39g); Protein 9g
% Daily Value: Vitamin A 8%; Vitamin C 0%; Calcium 30%; Iron 20%
Exchanges: 1/2 Starch; 1 1/2 Other Carbohydrate; 1 Milk; 2 1/2 Fat
Carbohydrate Choice: 3
*Percent Daily Values are based on a 2,000 calorie diet