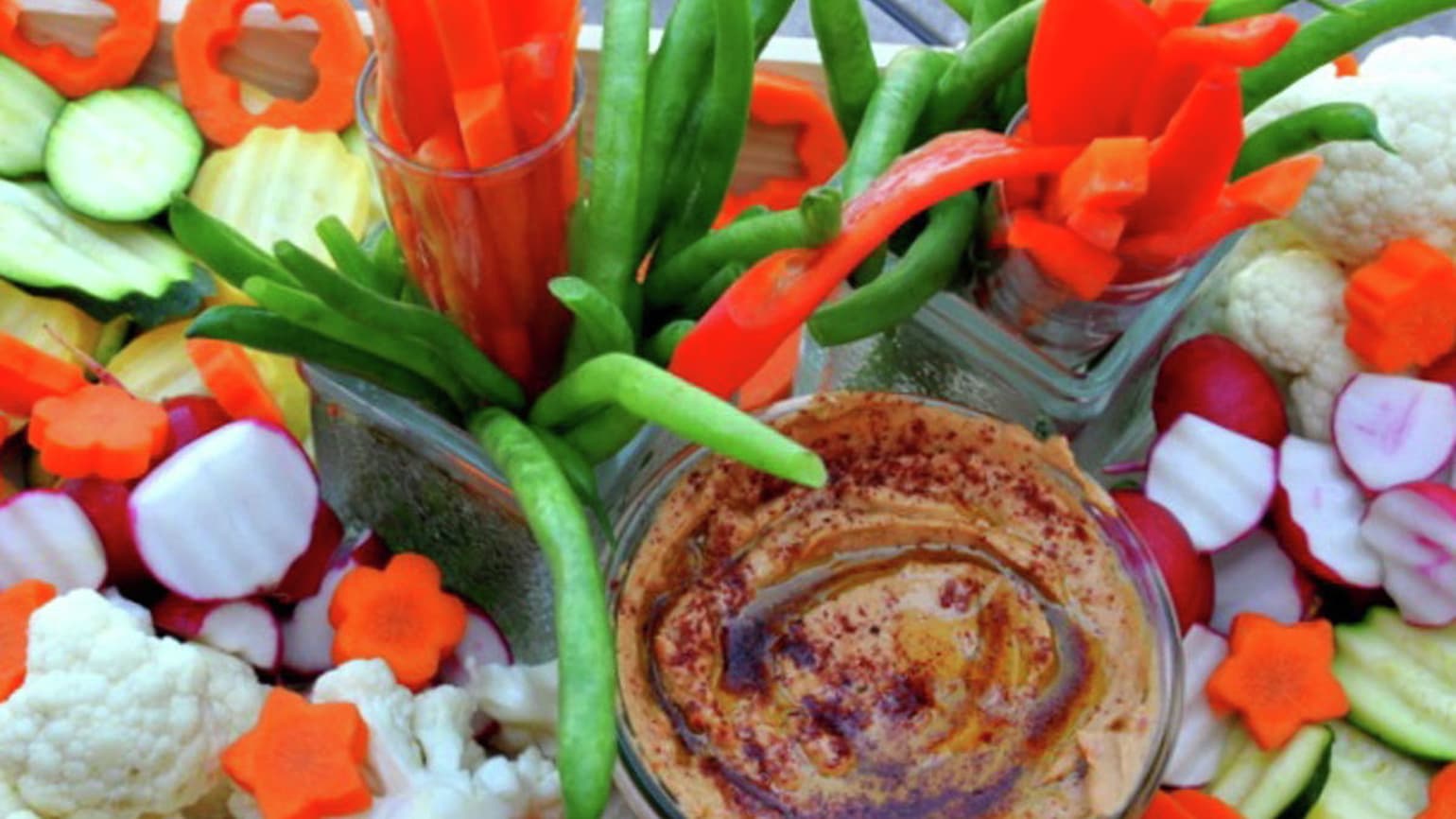 Mexican Hummus Dip
Courtney Nzeribe from
www.coco-cooks.com
. There is a beauty and nature and summers riot of vegetables available at the local Farmers Market. When we shop at them , we feel connected with our earth and community. The past decade, hummus, a Middle Eastern dish of pureed chickpeas, lemon, garlic and chickpeas has become a household staple in American homes and parties. Why not take this recipe and use Old El Paso Refried Beans for a tasty twist on this exotic , and healthy recipe? Serve it up in a spectacular arrangement of vegetables from the farmers market and deep fried soft Old El Paso tortilla wedges seasoned with Sea Salt. Your guests and family will be wowed!
Ingredient List
Mexican Hummus
1 can (16 oz) Old El Paso™ Traditional Refried Beans
Juice of 1 lime
1/4 cup Tahini
1 teaspoon Kosher Salt
3 cloves garlic minced finely
1/4 cup chopped sundried tomatoes
1/4 cup extra virgin olive oil. The fruitier the better
Additional olive oil for finish drizzle
1 teaspoon Sumac for garnish ( found in Middle Eastern section of grocery)
Vegetable Tray
1 head cauliflower (blanched and plunged into ice water)
1/2 lb green beans (blanched and plunged into ice water)
1 large carrot
1 yellow squash
1 zucchini
1 Sweet Red Pepper
1 pot of boiling salt water
Deep Fried Soft Tortillas Wedges
1 package (8.2 oz) Old El Paso™ Flour Tortillas for Soft Tacos and Fajitas (10 Count)
Canola Oil For frying ( approx 2-3 cups )
Sea Salt
Advertisement
Recipe Continues Below
Preparation
Bring a pot of salted water to a rolling boil.
Make an ice bath in a large bowl.
In a glass bowl combine all ingredients, except finishing oil and sumac, for the Hummus. Take and immersion hand blender and pulse until you have a smooth paste. Place in serving dish. Drizzle with oil and sumac. Cover loosely and keep refrigerated until serving.
Prep and cut vegetables. Be creative and use cutters for carrots, ripple slicer for squash and zucchini, etc. Add cut vegetable to ice bath to keep color and crispness.
Plunge cauliflower florets and trimmed green beans in to boiling water to blanch for a few seconds. Quickly remove from water with strainer, and add to the ice bath to stop cooking and retain color.
Arrange on platter with dip. Heat up Deep Fryer at 350-375°. Cut small piles of soft tortillas into eights wedges.
Fry in small batches until golden. Drain on paper towels and salt. Serve with vegetable platter.
Expert Tips
Use your favorite vegetables that inspire you.
Get creative with presentation. I use bud vases inside glasses to create a more dimensional serving effect.
Add some spice of powdered chili instead of sumac, if you prefer your dip on the spicy side.
Substitute fresh jalapenos for sundried tomatoes too.
Keep it all chilled as the party goes on. Use trays on top of ice.
Nutrition
*Percent Daily Values are based on a 2,000 calorie diet