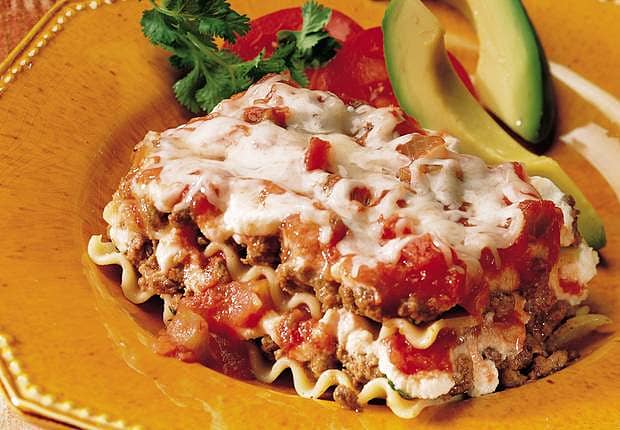 Mexican Lasagna
Let your taste buds do the hat dance with this packed-with-a-punch lasagna. Olé! By Betty Crocker Kitchens
20 Minutes Prep
1 Hours 20 Minutes Total
Ingredient List
10 uncooked lasagna noodles
1 pound lean ground beef
1 medium onion, chopped (1/2 cup)
1/4 cup chopped fresh cilantro
1 teaspoon ground red chilies
1 container (15 ounces) ricotta cheese
1 jar (24 ounces) Old El Paso™ salsa (any variety)
1 cup shredded Monterey Jack cheese (4 ounces)
Preparation
Heat oven to 375ºF. Cook and drain noodles as directed on package.
Cook beef, onion, cilantro and red chilies in 10-inch skillet over medium heat 8 to 10 minutes, stirring occasionally, until beef is brown; drain.
Place 5 of the noodles in bottom of ungreased rectangular baking dish, 13x9x2 inches. Layer with 1 1/2 cups of the beef mixture, 1 cup of the ricotta cheese and 1 1/4 cups of the salsa. Repeat with remaining noodles, beef mixture, ricotta cheese and salsa. Sprinkle with Monterey Jack cheese.
Bake uncovered 35 to 40 minutes or until hot. Let stand 10 minutes before cutting.
Expert Tips
For 12 grams of fat and 335 calories per serving, prepare this recipe with lean ground beef, fat-free ricotta cheese and reduced-fat Monterey Jack cheese.
Cover unbaked lasagna tightly with aluminum foil and refrigerate up to 24 hours or freeze up to two months. Before baking frozen lasagna, thaw in refrigerator overnight. Refrigerated lasagna will need about 10 minutes extra baking time.
Accompany lasagna with a frosty glass of lemonade garnished with slices of lemons or limes.
Nutrition
Calories385 (Calories from Fat155 ),Total Fat17 g(Saturated Fat9 g,),Cholesterol60 mgSodium550 mgTotal Carbohydrate28 g(Dietary Fiber3 g),Protein24 g;% Daily Value*:Vitamin A22%;Vitamin C10%;Calcium30%;Iron16%; Exchanges:2 Starch; *Percent Daily Values are based on a 2,000 calorie diet.