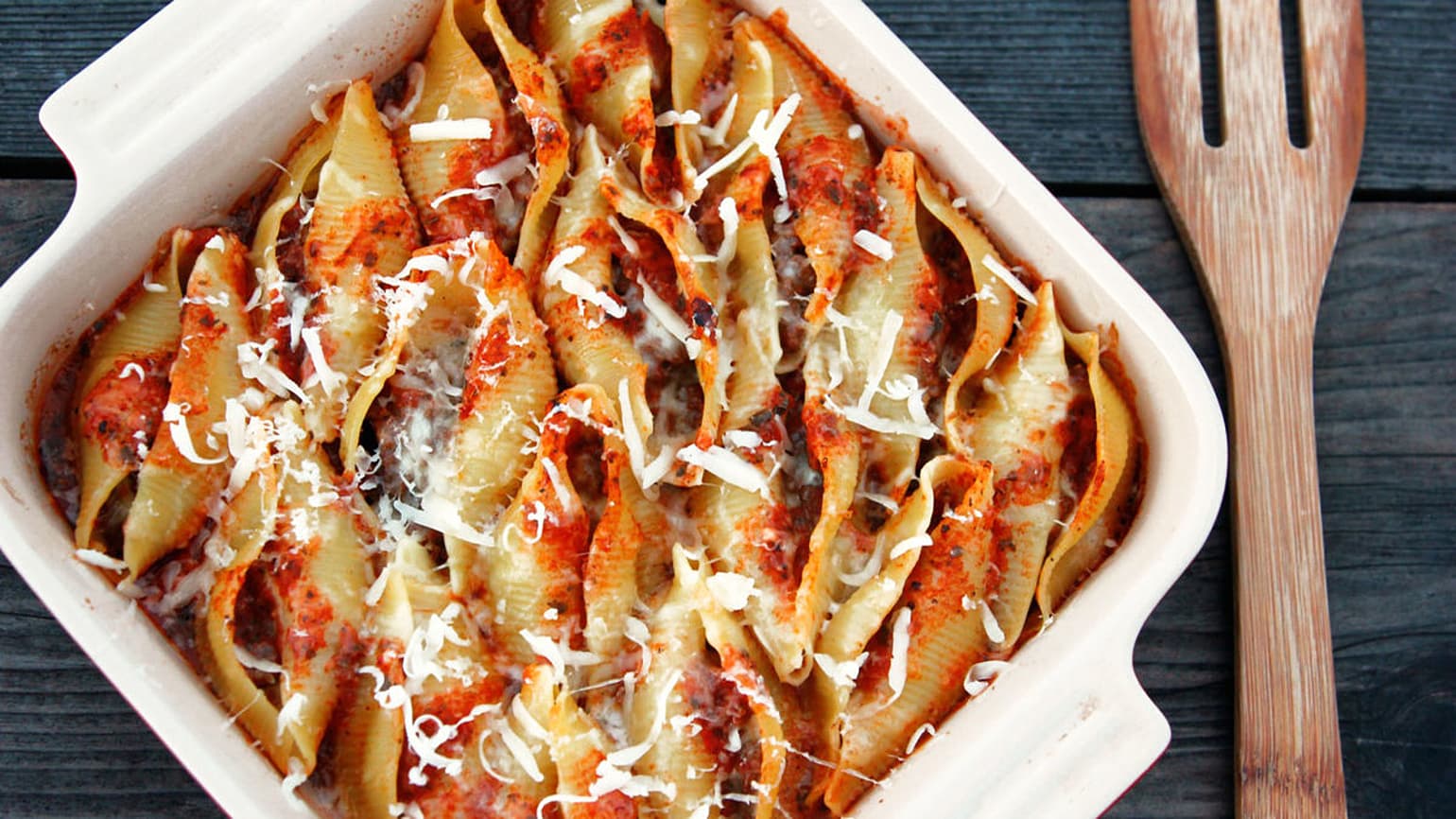 Mexican-Style Stuffed Shells with Salsa Roja
Ingredient List
For the shells:
1 box (12 oz) jumbo shells
For the filling:
1 lb ground beef
4 tablespoons Old El Paso™ taco seasoning mix
For the sauce
1 can (14.5 oz) roasted tomatoes, chopped
1 Serrano pepper
1/4 white onion
1 fresh oregano sprig
2 garlic cloves
1 teaspoon salt
8 fresh cilantro sprigs
1 cup water
To serve:
2 cups Monterrey Jack cheese, grated
Advertisement
Recipe Continues Below
Preparation
Preheat oven to 400° F.
For the shells: Cook pasta per the instructions on the box, approximately for 9 minutes.
For the filling: Combine ground beef with taco seasoning and cook on medium-high heat until the meat is browned.
For the sauce: In a blender, combine tomatoes, Serrano pepper, onion, oregano, garlic, salt, cilantro and water and process until smooth. Add 1/2 of the sauce over the meat. Set the other half aside.
To bake: Once pasta is cooked, drain water and let cool for a few minutes until you can handle it without burning yourself. Add 1 cup of the sauce to the bottom of a baking dish.
Take one pasta shell, fill with 1 tablespoon ground beef and a little grated cheese. Place in the baking dish. Repeat the process with remaining shells and meat.
Pour remaining sauce over shells and sprinkle with grated cheese. Cover with aluminum foil and bake for 25-30.
Remove from oven. Serve and enjoy!
Expert Tips
If you can't find fresh oregano, use 2 teaspoons of dried Mexican oregano.
In my house, pasta is one of those recipes that we eat frequently because it's economic, goes a long way and everyone enjoys it. Today, I felt like making stuffed shells with ground beef, cheese and salsa roja. Everyone loves this dish!
For a spicier taste, add 1 chile de árbol to the sauce.
Nutrition
*Percent Daily Values are based on a 2,000 calorie diet