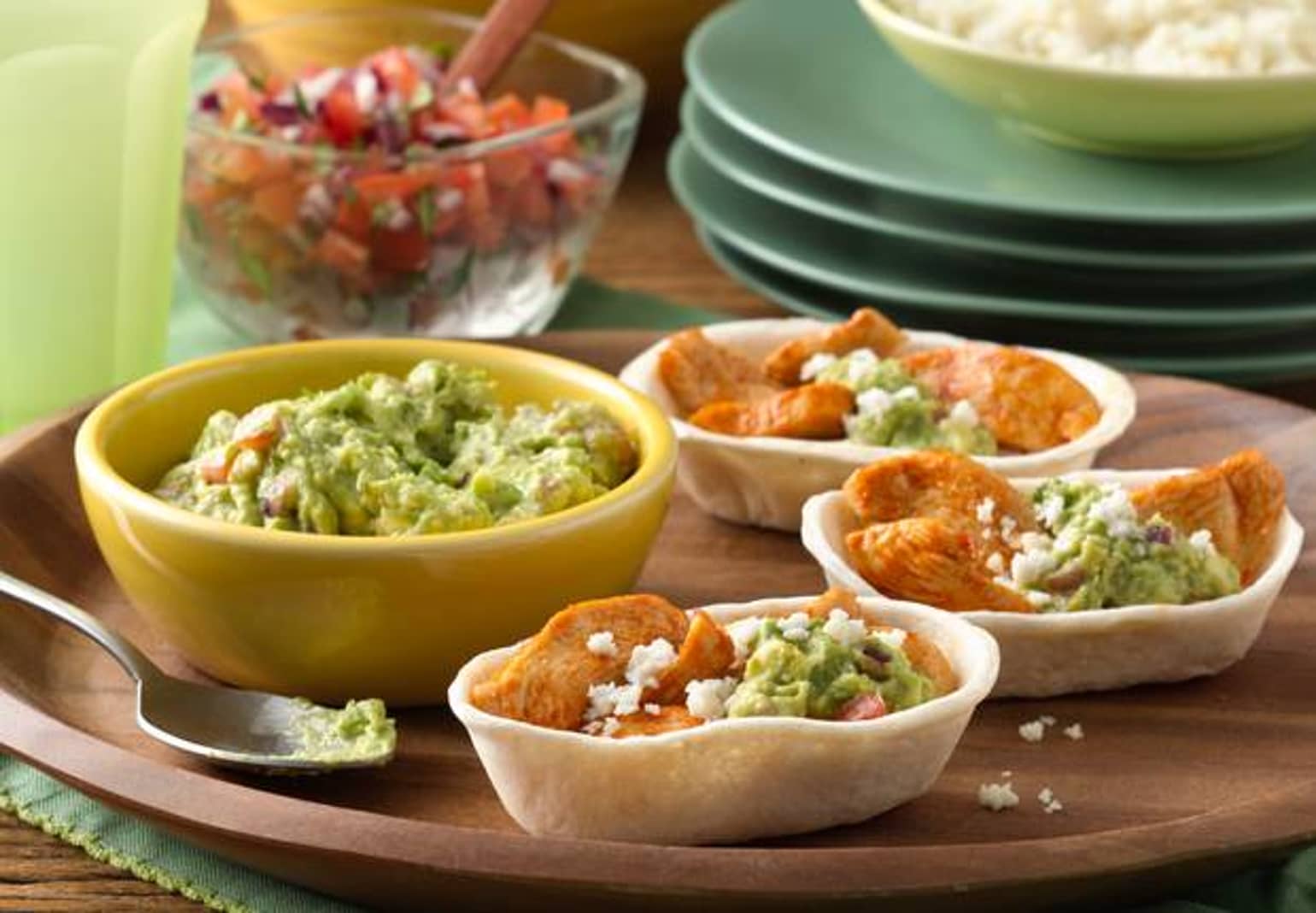 Chicken and Guacamole Ten Minute Mini Tortilla Bowls
Try these quick and easy delicious new bowls for your next taco night; they will be a hit with both adults and kids!
Ingredient List
1 tablespoon vegetable oil
3 boneless skinless chicken breasts (about 1 1/4 lb), cut into very small thin strips
1 package (1 oz) Old El Paso™ taco seasoning mix
12 Old El Paso™ Taco Bowls™ mini soft flour tortillas
1/2 cup homemade guacamole, using Avocados from Mexico™ (see tip below)
1/2 cup crumbled queso fresco cheese
Make it FRESH toppings, as desired (see below)
Advertisement
Recipe Continues Below
Preparation
In 10-inch nonstick skillet, heat oil over medium heat. Add chicken; cook, stirring occasionally, until brown on both sides. Sprinkle with taco seasoning mix. Cook just until chicken is no longer pink in center, stirring occasionally.
Heat bowls as directed on package.
Divide chicken mixture among warmed bowls; add guacamole, crumbled cheese and FRESH toppings.
Expert Tips
For great tasting homemade guacamole, try this easy version. In medium bowl, mix 3 pitted, peeled and diced ripe Avocados from Mexico™ with 1/4 cup chopped fresh cilantro leaves, 1/2 teaspoon salt and the juice of 1 lime. Smash with a potato masher or fork, and serve!
Ideas for Make it FRESH toppings: diced tomatoes, sliced jalapeño chiles, cilantro leaves