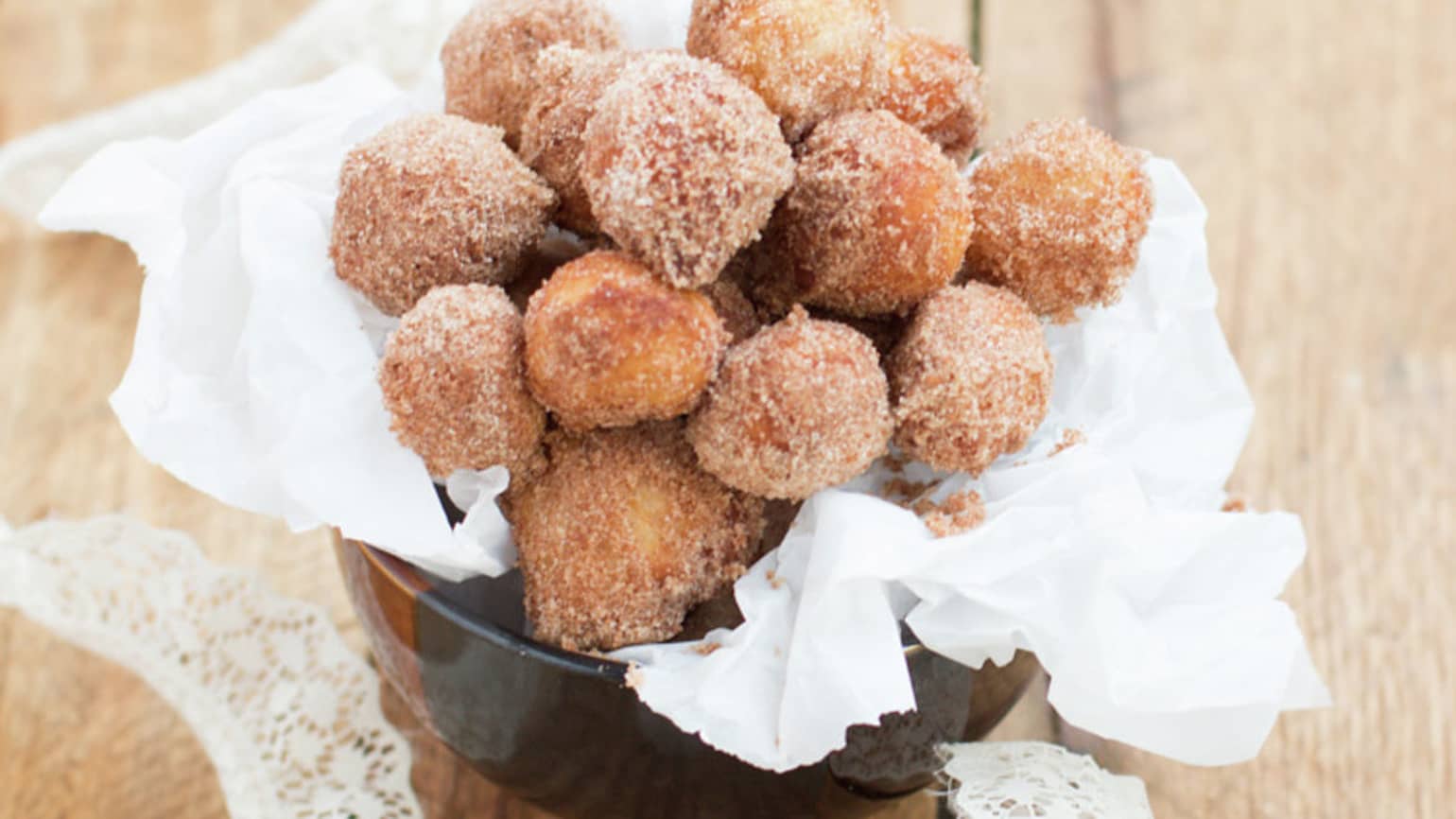 Mini Churro Doughnut Holes
This DIY version of fair food goes bite-size and gets an added flavor boost from caramel.
Ingredient List
Canola oil for deep-frying
1/2 cup cinnamon-sugar
1/3 cup powdered sugar
1 can (16.3 oz) refrigerated Pillsbury™ Grands!™ Flaky Layers Original Biscuits (8 Count)
Caramel sauce, if desired
Advertisement
Recipe Continues Below
Preparation
Fill 3-quart saucepan one-third full with oil. Heat over medium heat to about 350°F. Line plate with paper towels; set aside.
In small bowl, stir together cinnamon-sugar and powdered sugar; set aside.
Separate dough into 8 biscuits. Split each biscuit into 2 rounds; place on cutting board. Using very small doughnut-hole cutter or mouth of an empty bottle, cut out mini-sized doughnut holes.
When oil is hot, carefully drop a few of the doughnut holes into oil at a time. (See Tip.) Using slotted metal spoon or kitchen spider, continuously turn holes over and over until golden brown. Remove from oil; place on paper towel-lined plate to drain. Immediately place holes in sugar mixture; coat completely. Serve doughnut holes immediately drizzled with caramel sauce.
Expert Tips
The safest way to fry is to bring your hand close to the oil and gently drop in the dough versus quickly dropping and splashing the oil.
To prep ahead by a few hours, you can cut the dough and store it in a zipper-topped plastic bag in the fridge.
Nutrition
1 Serving Calories 320 (Calories from Fat 140); Total Fat 15g (Saturated Fat 3g ,Trans Fat 0g); Cholesterol 0mg; Sodium 450mg; Potassium 0mg; Total Carbohydrate 41g (Dietary Fiber 1g ,Sugars 19g); Protein 4g
% Daily Value: Vitamin A 0%; Vitamin C 0%; Calcium 0%; Iron 6%
Exchanges: 1 1/2 Starch; 1 Other Carbohydrate; 3 Fat
Carbohydrate Choice: 3
*Percent Daily Values are based on a 2,000 calorie diet