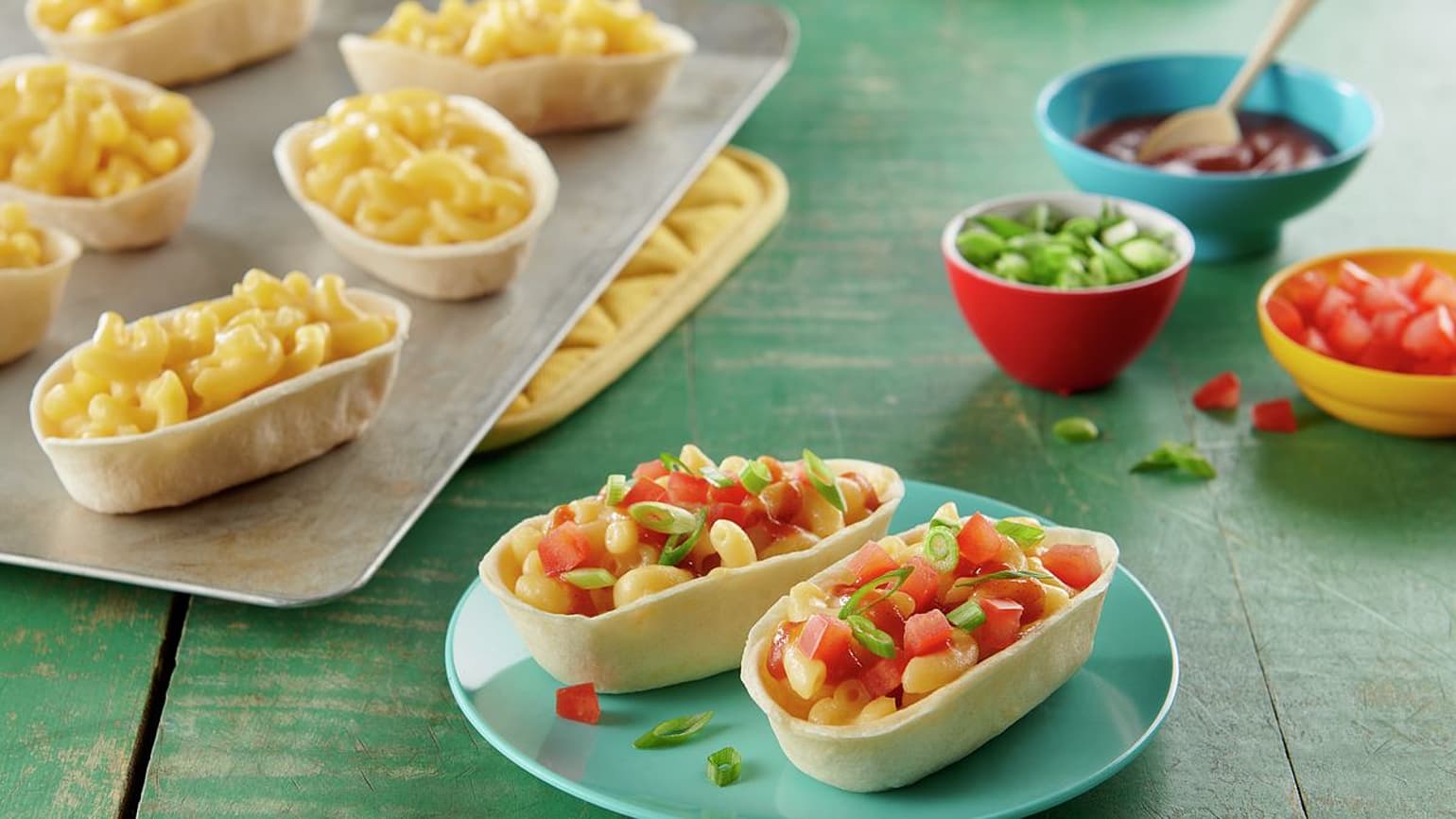 Mini Mac and Cheese Taco Bowls
Just when you thought everyone's favorite mac and cheese meal couldn't get any better—it does—by making mac and cheese bowls! Mac and cheese taco bowls turn this classic favorite into a fun bite-size appetizer or light meal with an easy, made-from-scratch creamy cheese sauce.
Old El Paso™ Mini Soft Tortilla Bowls
create a new way to enjoy the go-to family meal that's calling for the addition of tasty toppings for a taco twist.
Ingredient List
3 tablespoons butter
1 package (12 count) Old El Paso™ Mini Soft Tortilla Bowls
1 1/4 cups uncooked elbow macaroni
1 tablespoon all-purpose flour
1/2 teaspoon salt
1 1/4 cups milk
1 1/2 cups Old El Paso™ Shredded Mexican Style 4 Cheese Blend (6 oz)
Serve with, if desired
Chopped green onions
Chopped tomatoes
1 bottle (9 oz) Old El Paso™ Mild Taco Sauce
Advertisement
Recipe Continues Below
Preparation
Heat oven to 325°F. In small microwavable bowl, microwave 1 tablespoon of the butter uncovered on High 20 to 30 seconds or until melted. Lightly brush melted butter on all sides of tortilla bowls. Place bowls in ungreased 13x9-inch (3-quart) baking dish. Set aside.
Cook macaroni as directed on package; drain, and set aside.
Meanwhile, in 2-quart saucepan, melt remaining 2 tablespoons butter over medium heat. Stir in flour and salt until well blended. Gradually stir in milk. Cook and stir 6 to 8 minutes or until bubbly and thickened. Remove from heat.
Stir in cheese until melted and smooth. Return to heat; stir in macaroni, and cook over low heat until heated through, stirring frequently. Divide mixture evenly among tortilla bowls.
Bake 7 to 10 minutes or until edges of bowls feel firm. Let stand 5 minutes. Top with remaining ingredients.
Expert Tips
Want a little more heat? Top your mini mac and cheese bowls with Old El Paso™ Medium Taco Sauce.
These macaroni bowls are a great way to use up leftover cooked macaroni! You will need 2 2/3 cups of cooked macaroni for this recipe.
Stir, stir, stir! The cheese sauce is a snap to make, but it requires attentive stirring.
Nutrition
2 Mini Tortilla Bowls Calories 390 (Calories from Fat 170); Total Fat 19g (Saturated Fat 11g ,Trans Fat 1/2g); Cholesterol 45mg; Sodium 600mg; Potassium 130mg; Total Carbohydrate 40g (Dietary Fiber 1g ,Sugars 3g); Protein 14g
% Daily Value: Vitamin A 10%; Vitamin C 0%; Calcium 30%; Iron 10%
Exchanges: 2 1/2 Starch; 1 High-Fat Meat; 2 Fat
Carbohydrate Choice: 2 1/2
*Percent Daily Values are based on a 2,000 calorie diet