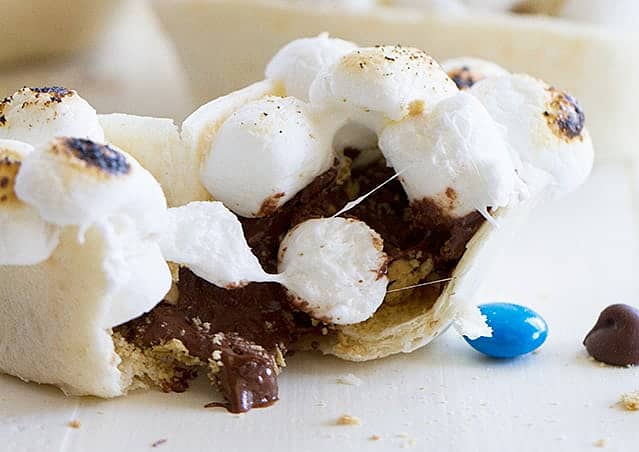 Mini S'mores Bowls
This is a fun dessert for the whole family, and would be great for a party, as well. Put out all the ingredients on a table and let everyone make their own favorite combination. Fun and delicious!
5 Minutes Prep
15 Minutes Total
Ingredient List
1 package (5.1 oz) Old El Paso™ Soft Tortilla Taco Bowls mini
4 whole graham cracker sheets
3/4 cup chocolate chips, candy coated chocolate pieces, or favorite chocolate candy bars cut into small pieces
3 cups miniature marshmallows
Preparation
Preheat the oven to 350ºF.
Break each graham cracker into 4 rectangles. Crumble one rectangle into the bottom of each mini taco bowl. Top with 1 tablespoon of chocolate chips or candy, followed by 1/4 cup of miniature marshmallows. Crumble a little bit of additional graham cracker on the top. Place the bowls on a baking sheet.
Transfer the baking sheet to the oven and bake until the marshmallows are soft and slightly puffed, about 3 minutes. Remove from the oven. If desired, you can use a kitchen torch to toast the tops of the marshmallows, or place under the broiler for a few seconds (be careful as they can burn quickly). Let the bowls cool for a minute or two and serve.
Made With