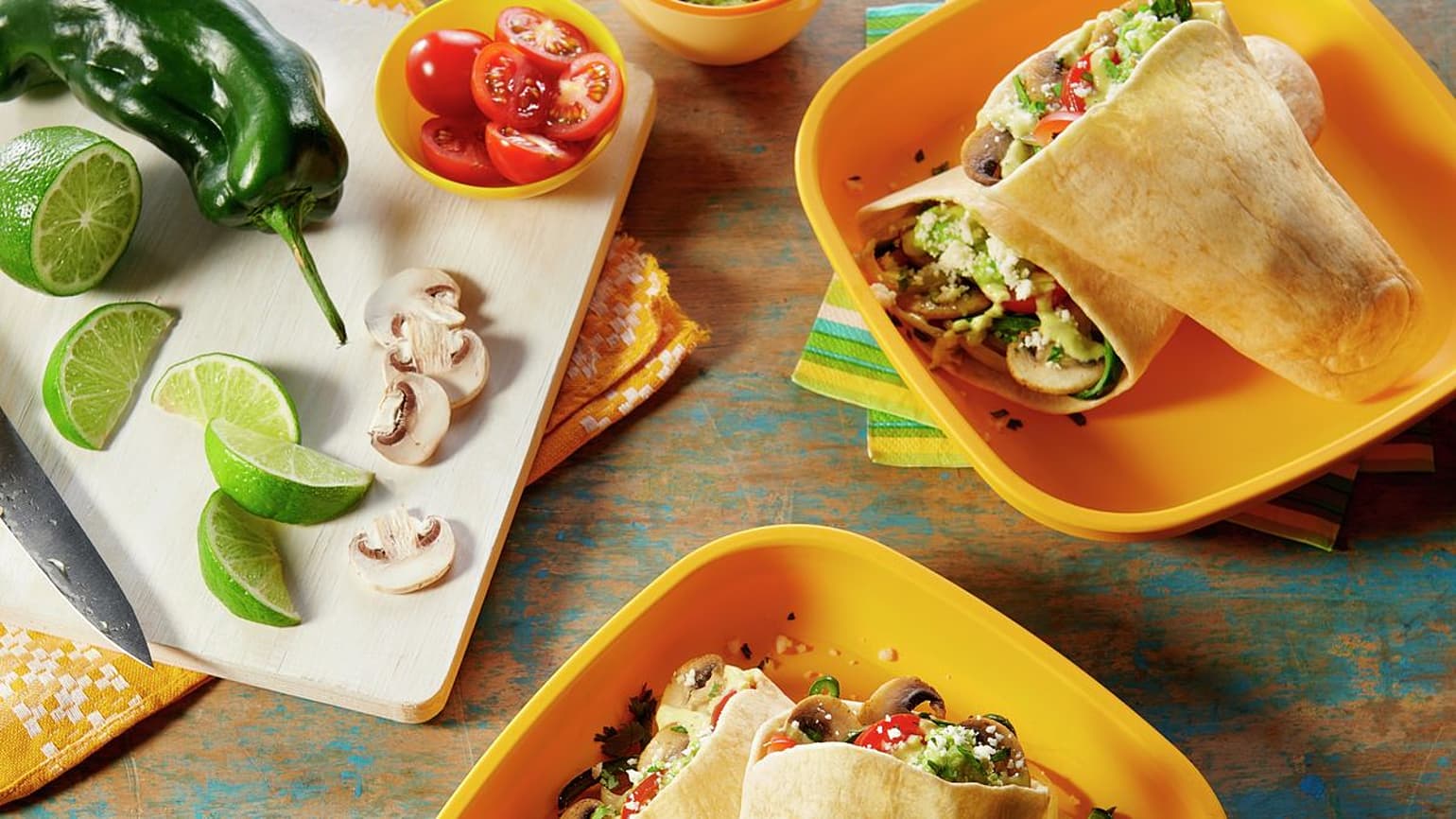 Mushroom and Poblano Tortilla Pockets
Attention veggie lovers and picky eaters alike: You're going to love this recipe! Packed with crispy yet tender sauteed mushrooms and chiles and topped with creamy guacamole, queso and sweet cherry tomatoes, these veggie-stuffed tortilla pockets are hearty, satisfying and sure to please. Whether you're meat-free or looking for a way to work more yummy vegetables into your diet, this meal is the real (delicious) deal.
Ingredient List
2 tablespoons vegetable oil
8 oz mushrooms, sliced
2 large poblano chiles, seeded and cut into thin strips
1 medium onion, sliced
1/2 teaspoon salt
2 teaspoons lime juice
1 package (8.4 oz) Old El Paso™ Tortilla Pockets™ (8 Count), heated as directed on package
1 cup guacamole
1/2 cup queso fresco
1/2 cup halved cherry tomatoes
1/4 cup chopped fresh cilantro leaves
1/2 cup from 1 bottle (9 oz) Old El Paso™ Creamy Salsa Verde Sauce
Advertisement
Recipe Continues Below
Preparation
In 12-inch nonstick skillet, heat oil over medium-high heat. Add mushrooms; cook about 4 minutes, stirring occasionally, until they begin to brown. Add chiles, onion and salt; cook 6 to 8 minutes, stirring occasionally, until just tender. Remove from heat; stir in lime juice.
Stuff tortilla pockets with mushroom and chile filling. Top with guacamole, queso fresco, tomatoes, cilantro and sauce.
Expert Tips
You can purchase premade guacamole or, for the best results, add a little chopped onion, jalapeño and cilantro, along with a splash of lime juice and salt, to mashed avocados.
Poblano chiles can vary in heat, with some being as mild as green bell peppers and others being much hotter. If you enjoy some extra heat in your tortilla pockets, add a seeded, chopped jalapeño chile along with the poblanos and onions in this recipe.
Queso fresco, "fresh cheese" in Spanish, is a mild, salty and acidic cheese that's perfect for crumbling over any number of dishes, from these Mushroom and Poblano Tortilla Pockets to enchiladas. Think of it as akin to goat cheese or feta in that it's fresh and light. It's also widely available in large grocery stores.
Nutrition
2 Pockets Calories 490 (Calories from Fat 250); Total Fat 28g (Saturated Fat 7g ,Trans Fat 0g); Cholesterol 10mg; Sodium 1230mg; Potassium 690mg; Total Carbohydrate 49g (Dietary Fiber 4g ,Sugars 6g); Protein 11g
% Daily Value: Vitamin A 15%; Vitamin C 70%; Calcium 15%; Iron 15%
Exchanges: 2 Starch; 3 Vegetable; 5 1/2 Fat
Carbohydrate Choice: 3
*Percent Daily Values are based on a 2,000 calorie diet