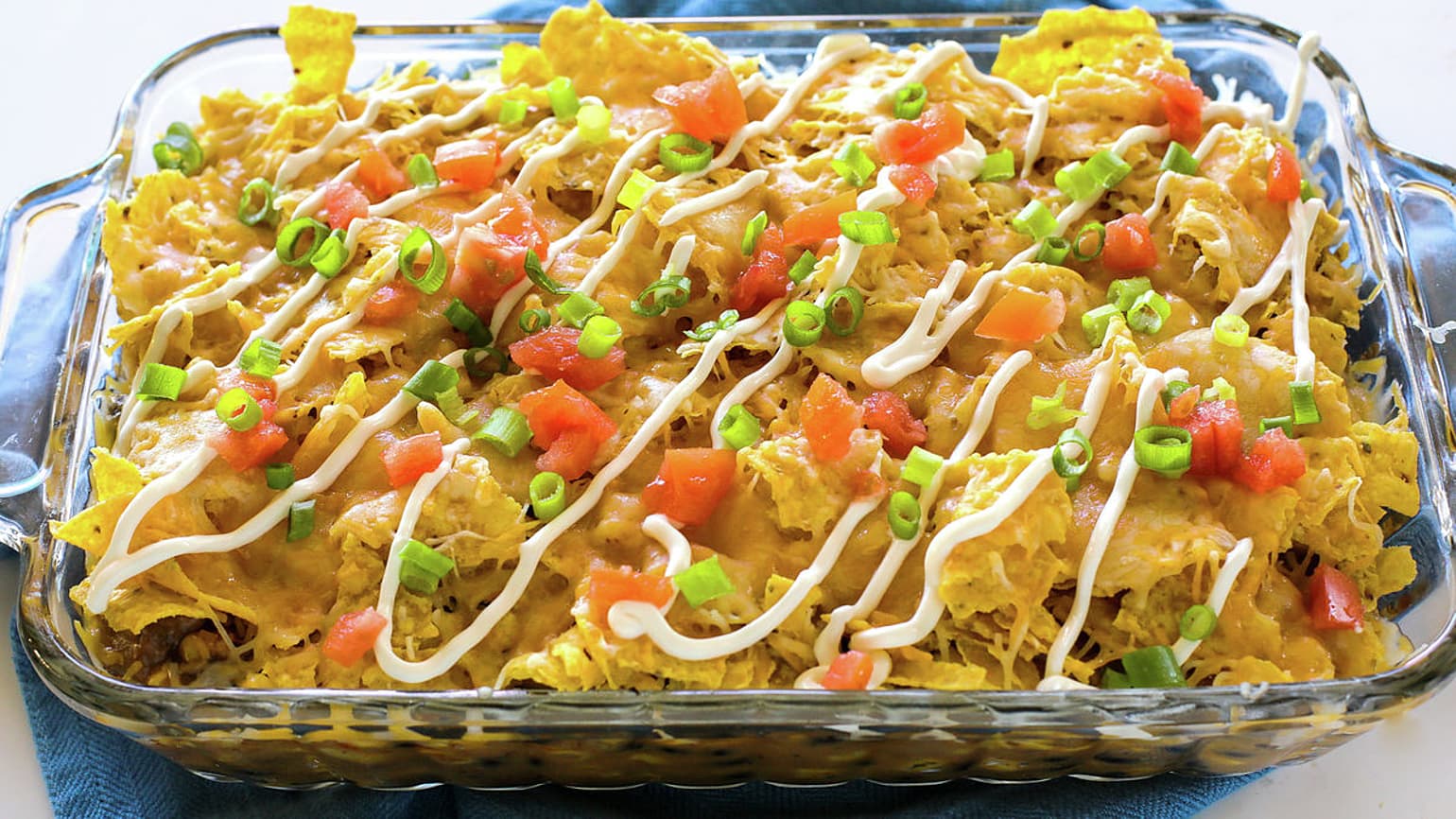 Nacho Pie
This Nacho Pie is a warm and comforting dish that is great on a cold night.
Ingredient List
1 lb ground beef
1/2 cup onion, diced
1 teaspoon minced garlic
1 packet (1 oz) Old El Paso™ Original Taco Seasoning Mix, divided
1/3 cup water
1/2 cup butter
1/2 teaspoon salt
1/2 teaspoon pepper
1/2 cup flour
3 cups beef broth
1/4 cup milk
12 ounces frozen corn, thawed
1 (15 ounce) can black beans, drained and rinsed
3 cups tortilla chips
1 1/2 cups shredded Mexican blend cheese
Optional toppings: sour cream, green onions, tomatoes
Advertisement
Recipe Continues Below
Preparation
Preheat oven to 350°F.
In a large pot or Dutch oven, brown the beef and onions. Add the garlic and cook for another minute. Drain. Add 2 tablespoons of the taco seasoning and 1/3 cup water and cook until liquid has reduced. Remove from pan and set aside.
In the same pot, melt butter over medium heat. Stir in remaining 2 tablespoons of taco seasoning, salt, and pepper. Add the flour and cook for a couple of minutes until thick. Slowly whisk in the beef broth and milk until combined and cook for 3-5 minutes or until mixture is thick. Stir in the reserved meat mixture, corn, and beans.
Pour into an 11x17 inch baking dish. Top with crushed tortillas. Bake for 10 minutes. Sprinkle the cheese on top and bake for 2-4 minutes or until cheese is melted.
Top with sour cream, green onions, and tomatoes.
Expert Tips
For pretty presentation, place the sour cream in a resealable plastic bag. Snip off the corner of the bag and pipe it on top.
Make the beef mixture ahead of time to speed up the process for a weeknight meal.
Nutrition
*Percent Daily Values are based on a 2,000 calorie diet