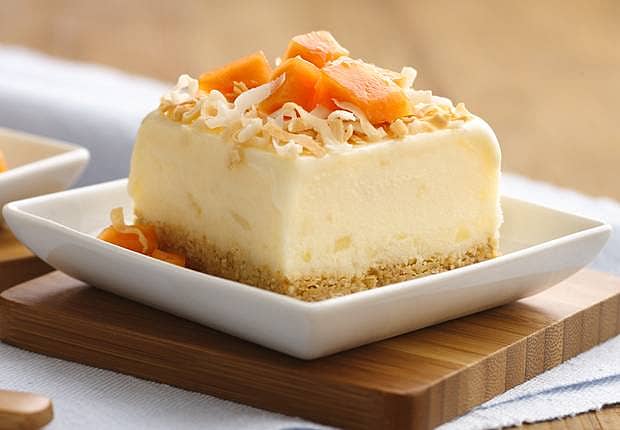 Piña Colada Frozen Dessert
Betty Crocker's Heart Healthy Cookbook shares a recipe! Pineapple juice, coconut and rum added to ice cream create a cool tropical paradise. By Betty Crocker Kitchens
20 Minutes Prep
7 Hours Total
Ingredient List
1 1/4 cups graham cracker crumbs (about 16 squares)
1/4 cup butter (melted), or canola or soybean oil
1 tablespoon sugar
1 quart (4 cups) vanilla no-sugar-added, reduced-fat ice cream, slightly softened
1 can (8 oz) crushed pineapple in juice, undrained
2 teaspoons rum extract or 1/4 cup rum
2 teaspoons coconut extract, if desired
1/4 cup flaked coconut, toasted*
Advertisement
Recipe Continues Below
Preparation
Heat oven to 350°F. In small bowl, mix cracker crumbs, butter and sugar. Press into ungreased 8-inch square (2-quart) glass baking dish. Bake about 10 minutes or until dry. Cool completely, about 1 hour.
In large bowl, beat ice cream, pineapple with juice and extracts with electric mixer on low speed just until blended. Spread in baked crust. Freeze about 6 hours or until firm.
Remove dessert from freezer about 5 minutes before serving. Sprinkle coconut over top.
Expert Tips
*To toast coconut, bake uncovered in an ungreased shallow pan in a 350ºF oven 5 to 7 minutes, stirring occasionally, until golden brown.
Nutrition
Calories190(Calories from Fat80),Total Fat9g(Saturated Fat5g,Trans Fat0g),Cholesterol20mgSodium130mgTotal Carbohydrate21g(Dietary Fiber1g Sugars10g),Protein2g;% Daily Value*:Vitamin A6%;Vitamin C0%;Calcium8%;Iron2%; Exchanges:1/2 Starch; 1/2 Fruit; 1/2 Other Carbohydrate; 0 Skim Milk; 0 Low-Fat Milk; 0 Milk; 0 Vegetable; 0 Very Lean Meat; 0 Lean Meat; 0 High-Fat Meat; 2 Fat; Carbohydrate Choices:1 1/2 *Percent Daily Values are based on a 2,000 calorie diet.