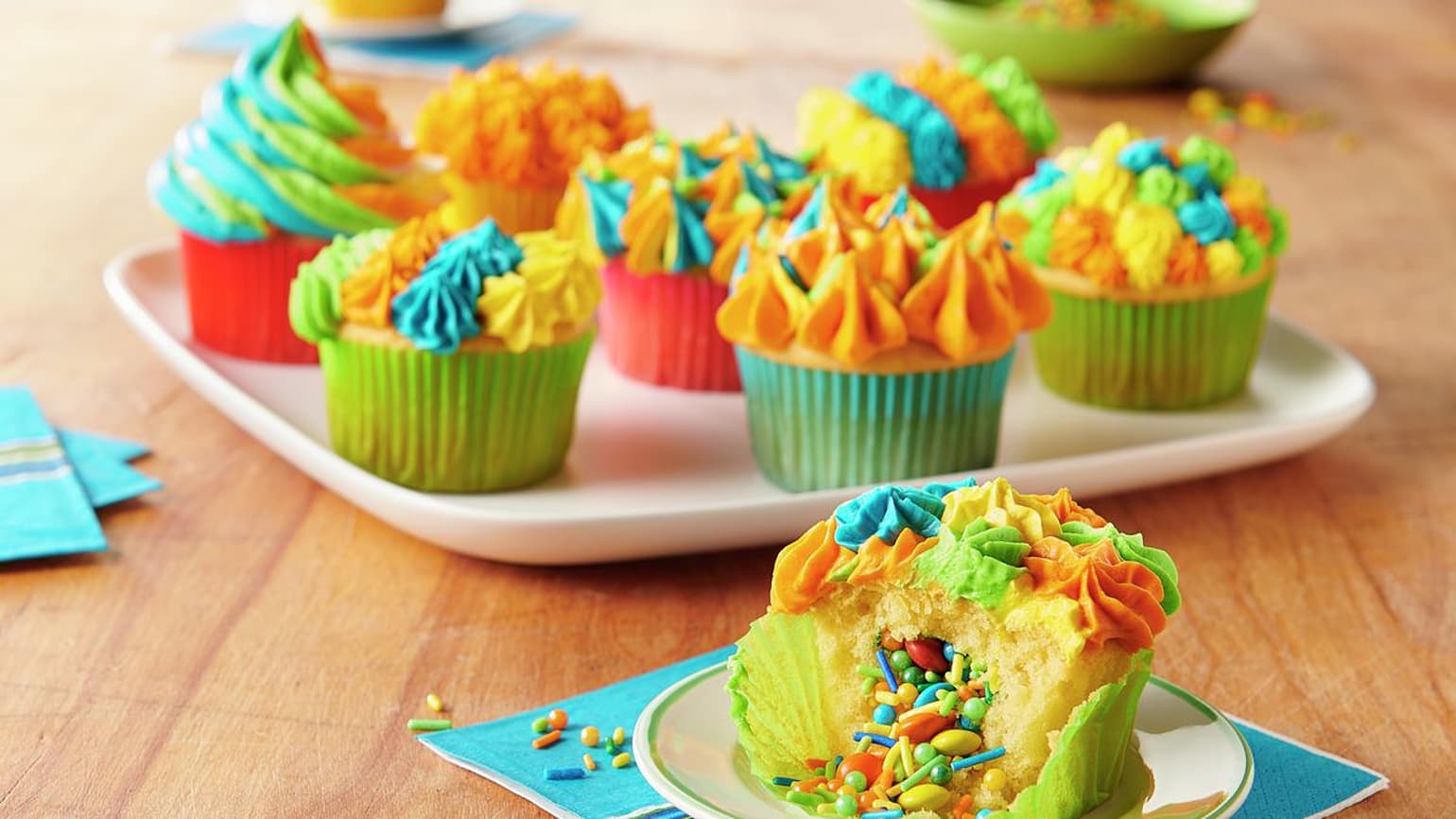 Piñata Cupcakes
Learn how to make Piñata Cupcakes, and you'll have everyone looking forward to your next party. Make and bake the cake mix, then cut a small hole to create a pocket in the center of the cupcake to fill it with your piñata goodies (rainbow-colored sprinkles and mini chocolate-covered candies). Want even more color? Divide the frosting up, and add different gel food colors for a fun rainbow effect. A cupcake is always a treat, but every bite of this fun, candy-filled Piñata Cupcakes recipe is a fiesta.
Ingredient List
1 box (15.25 oz) Betty Crocker™ Super Moist™ Yellow Cake Mix
Water, oil and eggs called for on cake mix box
1 1/4 cups mini candy-coated chocolate candies
1/2 cup candy sprinkles
6 1/2 cups powdered sugar
3/4 cup butter, softened
1/2 teaspoon vanilla
5 to 7 tablespoons milk
Gel food colors
Advertisement
Recipe Continues Below
Preparation
Heat oven to 350°F. Make and bake cake mix as directed on box for 24 cupcakes. Cool cupcakes completely on cooling rack, about 15 minutes.
In small bowl, mix mini candy-coated chocolate candies and candy sprinkles.
Using sharp knife, cut a circle/hole into center of cupcake to create a little pocket about 1 inch deep, leaving 1/4-inch of cake at bottom. Trim baked side of plug to 1/2 inch, and set aside.
Place about 1 tablespoon candy mixture inside cupcake. Replace cupcake plug to cover candy mixture. Repeat with remaining cupcakes and candy mixture.
In large bowl, mix powdered sugar and butter with electric mixer on low speed. Stir in vanilla and 4 tablespoons of the milk.
Gradually beat in just enough remaining milk to make frosting smooth and spreadable. If frosting is too thick, beat in more milk, a teaspoon at a time. If frosting becomes too thin, beat in a small amount of powdered sugar.
Divide frosting (about 1 cup each) into four separate small bowls. Stir gel food color into each bowl to make desired colors. Spoon each color frosting into separate pastry bag fitted with desired tip. Frost cupcakes, as desired.
Expert Tips
We recommend using gel food color, which can bring vibrant colors that won't change the frosting consistency.
Pipe frosting onto cupcakes using a pastry bag and piping tip to give a more polished decorating look. For easy cleanup, look for disposable pastry bags, which often come with various piping tips.
To give these Piñata Cupcakes a festive look, we've used a variety of gel food colors. Try to look for inside-of-the-cupcake sprinkles and candies that match the frosting colors.
For a quick and easy way to make the pockets in the cupcakes, use a 1-inch round cookie cutter.
For the maximum piñata effect of candy spilling out of the cupcakes, fill the cupcakes with the sprinkles and candy on the same day they'll be enjoyed.
Nutrition
1 Cupcake Calories 380 (Calories from Fat 140); Total Fat 15g (Saturated Fat 7g ,Trans Fat 0g); Cholesterol 40mg; Sodium 190mg; Potassium 50mg; Total Carbohydrate 58g (Dietary Fiber 0g ,Sugars 49g); Protein 2g
% Daily Value: Vitamin A 4%; Vitamin C 0%; Calcium 6%; Iron 4%
Exchanges: 1/2 Starch; 3 1/2 Other Carbohydrate; 3 Fat
Carbohydrate Choice: 4
*Percent Daily Values are based on a 2,000 calorie diet