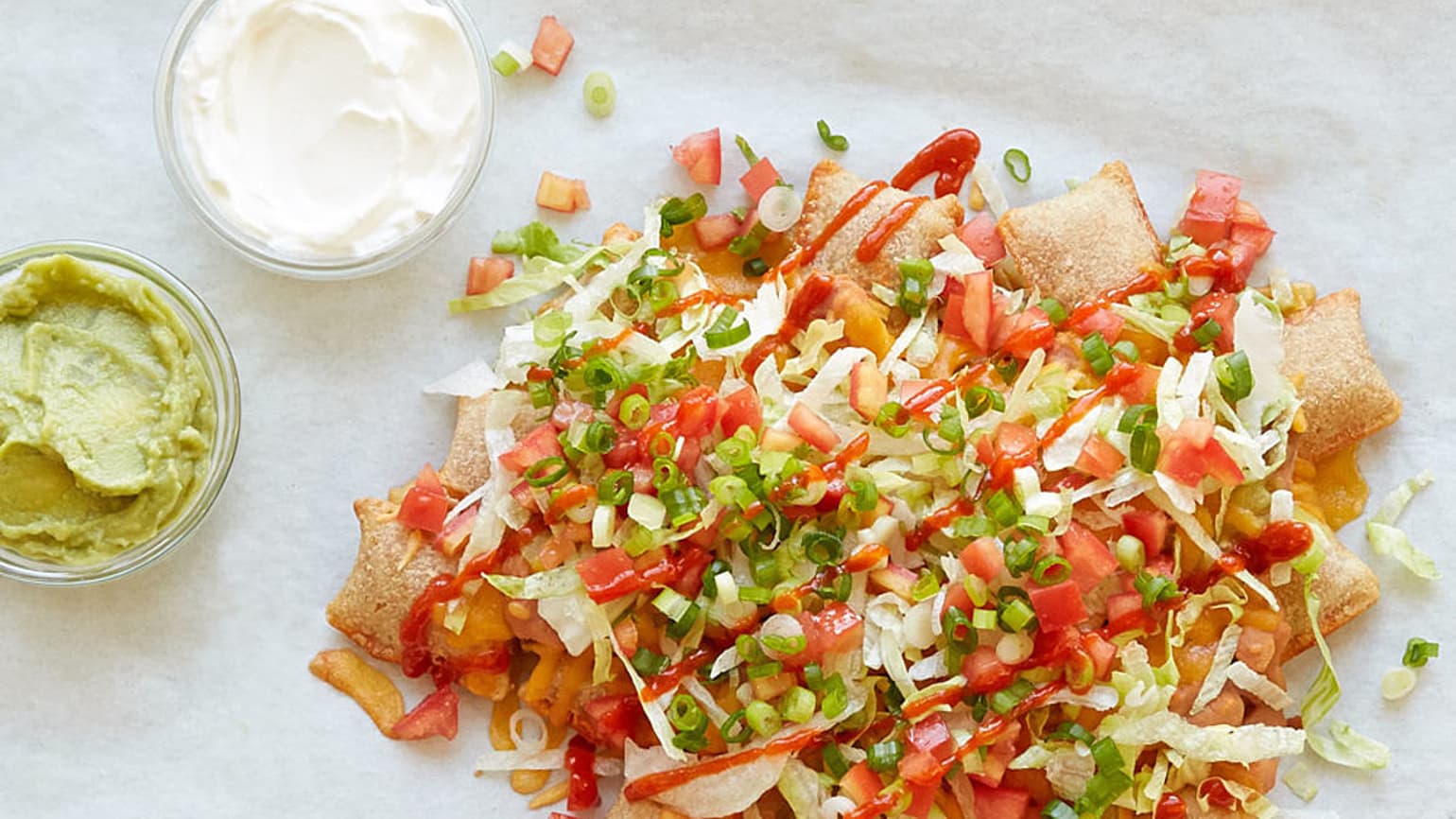 Pizza Roll™ Nachos
Don't make plain old nachos when you can have pizza roll nachos instead!
Ingredient List
1 box (7.5 oz) Totino's™ Pizza Rolls™ frozen cheese pizza snacks
1/3 cup Old El Paso™ traditional refried beans (from 16-oz can)
2 tablespoons Old El Paso™ salsa
1 cup shredded Cheddar cheese (4 oz)
3 tablespoons from 1 can (4.5 oz) Old El Paso™ Chopped Green Chiles
1/2 cup shredded lettuce
1 plum (Roma) tomato, seeded and diced
2 green onions, thinly sliced
1 teaspoon Sriracha sauce
1/4 cup guacamole (from 8-oz package)
1/4 cup sour cream
Advertisement
Recipe Continues Below
Preparation
Heat oven to 425°F. Line large rimmed baking pan with cooking parchment paper or foil.
Spread pizza rolls in single layer on pan. Bake 10 to 11 minutes or until crispy and sizzling. Push pizza rolls together until touching.
In small microwavable bowl, microwave refried beans and salsa uncovered on High 30 seconds to 1 minute or until spreadable. Sprinkle 1/2 cup of the cheese over pizza rolls. Drop bean mixture by dollops over cheese. Top with green chiles. Sprinkle with remaining 1/2 cup cheese. Bake 2 to 3 minutes or until cheese is melted.
Sprinkle with shredded lettuce. Top with tomato and green onions. Drizzle with Sriracha sauce. Serve with guacamole and sour cream.
Expert Tips
Add your favorite nacho toppings, such as cilantro, black olives and sliced jalapeños.
Mix it up – try these nachos using your favorite flavor of Totino's™ Pizza Rolls™, from combination to jalapeno popper.
Nutrition
1 Serving Calories 210 (Calories from Fat 110); Total Fat 13g (Saturated Fat 6g ,Trans Fat 0g); Cholesterol 25mg; Sodium 450mg; Potassium 120mg; Total Carbohydrate 17g (Dietary Fiber 2g ,Sugars 3g); Protein 8g
% Daily Value: Vitamin A 15%; Vitamin C 8%; Calcium 15%; Iron 6%
Exchanges: 1/2 Starch; 1/2 Other Carbohydrate; 1 1/2 Fat
Carbohydrate Choice: 1
*Percent Daily Values are based on a 2,000 calorie diet