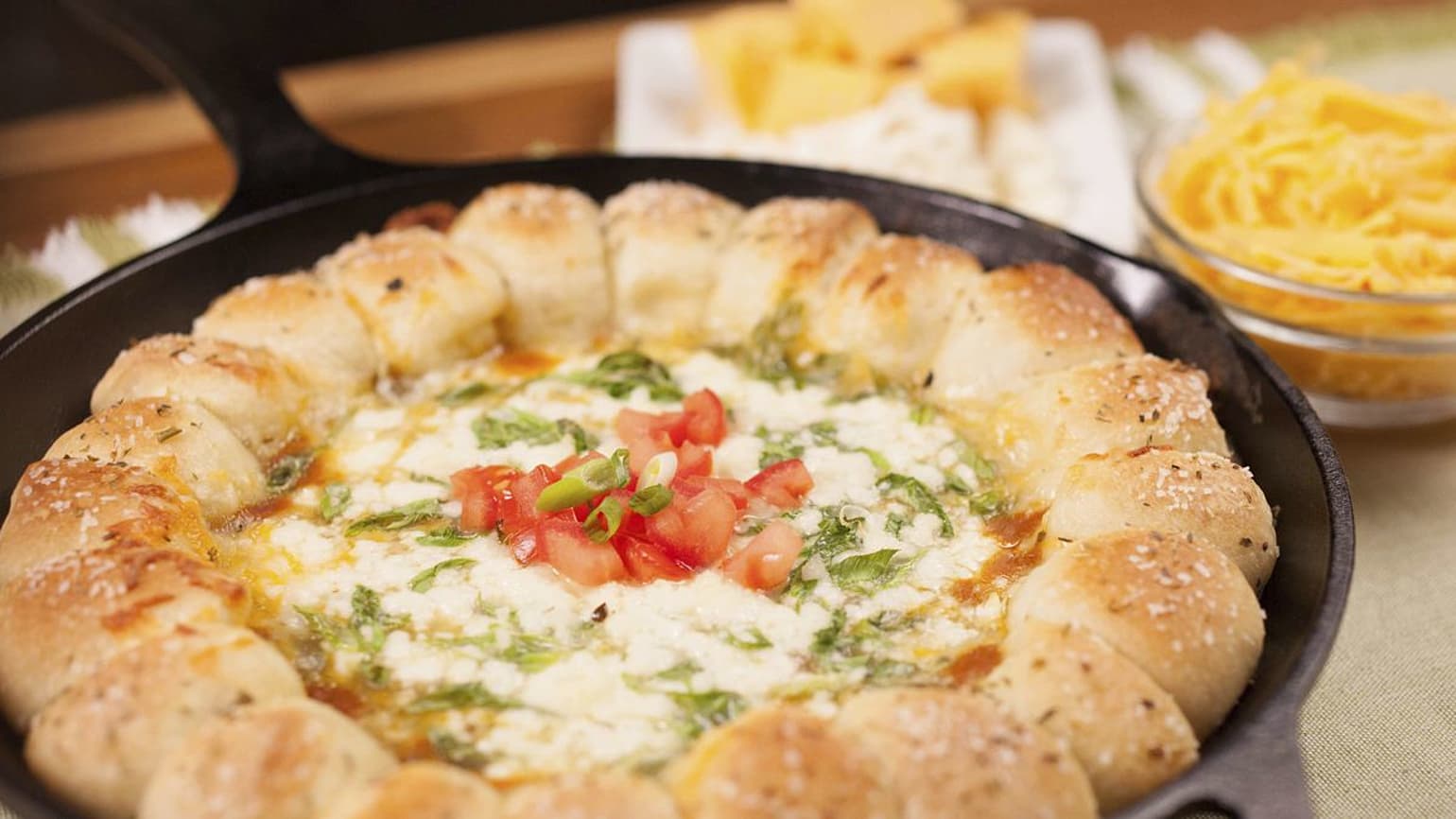 Pull-Apart Bread & Bean Dip
This skillet bean dip with pull-apart bread will win over your game day crowd!
Ingredient List
1 can (16 oz) Old El Paso™ Traditional Refried Beans
4 teaspoons from 1 container (6.25 oz) Old El Paso™ Original Taco Seasoning Mix
1 can (4.5 oz) Old El Paso™ Chopped Green Chiles
3 ounces from 1 can (10 oz) Old El Paso™ Mild Green Chile Enchilada Sauce
1/2 cup from 1 package (7 oz) Old El Paso™ Shredded Mexican Style 4 Cheese Blend
1/2 cup queso fresco, crumbled - divided
6 Bake and Serve dinner rolls (thawed, cut in half - allow to double in size)
3 green onion, chopped
Kosher salt
1/4 tsp. oregano
Advertisement
Recipe Continues Below
Preparation
Preheat oven to 375° F. With kitchen scissors cut 6 thawed dinner rolls in quarters. Pinch cut sides together to form a ball. Place each ball along the inside edge of a greased 10" oven-safe skillet. Cover with a towel and allow to rise, doubling in size, in a warm place.
In a small bowl mix 1/2 a can of refried beans with 4 tsp. Old El Paso™ taco seasoning mix, spread in the center of the skillet, working up to the dough balls.
Cover refried bean mix with green chilies. Top with the Mexican cheese blend, enchilada sauce and 1/4 cup queso fresco. Sprinkle with chopped green onion and top with remaining 1/4 cup queso fresco.
Brush tops of dough balls with olive oil and season with kosher salt, and oregano.
Bake for 20 minutes or until the bread has browned and the cheese has melted. Allow to cool for 4-5 minutes. To serve, top with additional green onion and tomato.
Nutrition
*Percent Daily Values are based on a 2,000 calorie diet