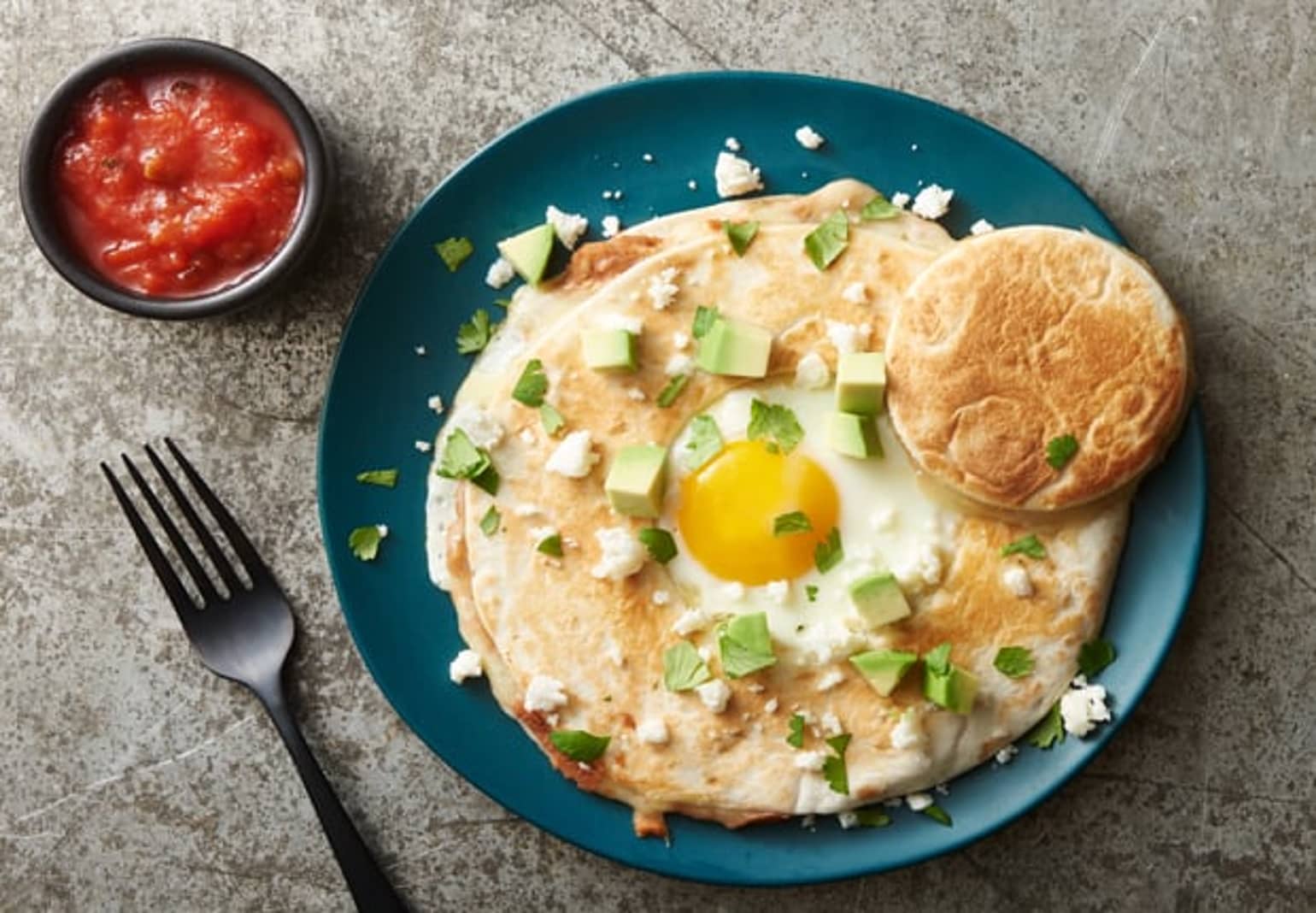 Quesadilla Egg in a Hole
Why would you ever settle for a plain slice of bread when you could have a quesadilla? With beans, cheese, avocado and herbs, this fast and easy mashup of huevos rancheros and egg-in-a-hole is the clear winner.
Ingredient List
1/4 cup Old El Paso™ refried beans (from 14-oz can)
2 Old El Paso™ flour tortillas for soft tacos & fajitas (6 inch)
2 slices (1 oz each) pepper Jack cheese, quartered
1 egg
1/2 teaspoon water
2 tablespoons diced avocado
1 tablespoon crumbled queso fresco cheese
1 tablespoon chopped fresh cilantro leaves
Old El Paso™ salsa, as desired
Advertisement
Recipe Continues Below
Preparation
Spread beans evenly on 1 tortilla. Top with pepper Jack cheese, arranging pieces as necessary to fit in one even layer. Top with second tortilla. With 2 1/2-inch round cutter, cut hole from center of quesadilla.
Heat 10-inch nonstick skillet over medium heat. Add smaller (center-cut) quesadilla to skillet; cook 3 to 4 minutes, turning once, until cheese melts and quesadilla is toasted. Remove from skillet; set aside.
Reduce heat to medium-low. Add larger quesadilla to skillet. Cook 1 minute; turn. Gently crack egg into hole in quesadilla. Drizzle egg with water. Reduce heat to low. Cover and cook 6 to 8 minutes or until egg yolk is firm, not runny. Sprinkle with avocado, queso fresco cheese and cilantro. Serve with salsa.
Expert Tips
To avoid a broken yolk or rogue pieces of eggshell in your quesadilla, first crack egg into small bowl or ramekin, then slide egg into skillet.
Don't like it hot? Substitute plain Monterey Jack or Cheddar for the pepper Jack cheese.
Nutrition
1 Serving: Calories 550 Calories from Fat 300; Total Fat 34g; Saturated Fat 17g; Trans Fat 1/2g; Cholesterol 245mg; Sodium 1010mg; Potassium 230mg; Total Carbohydrate 35g; Dietary Fiber 5g; Sugars 2g; Protein 26g; % Daily Value*: Vitamin A 25%, Vitamin C 0%, Calcium 40%, Iron 15% Exchanges: 2 Starch; 0 Fruit; 0 Other Carbohydrate; 0 Skim Milk; 0 Low-Fat Milk; 0 Milk; 1/2 Vegetable; 2 1/2 Very Lean Meat; 0 Lean Meat; 0 High-Fat Meat; 6 1/2 Fat; *Percent Daily Values are based on a 2,000 calorie diet.