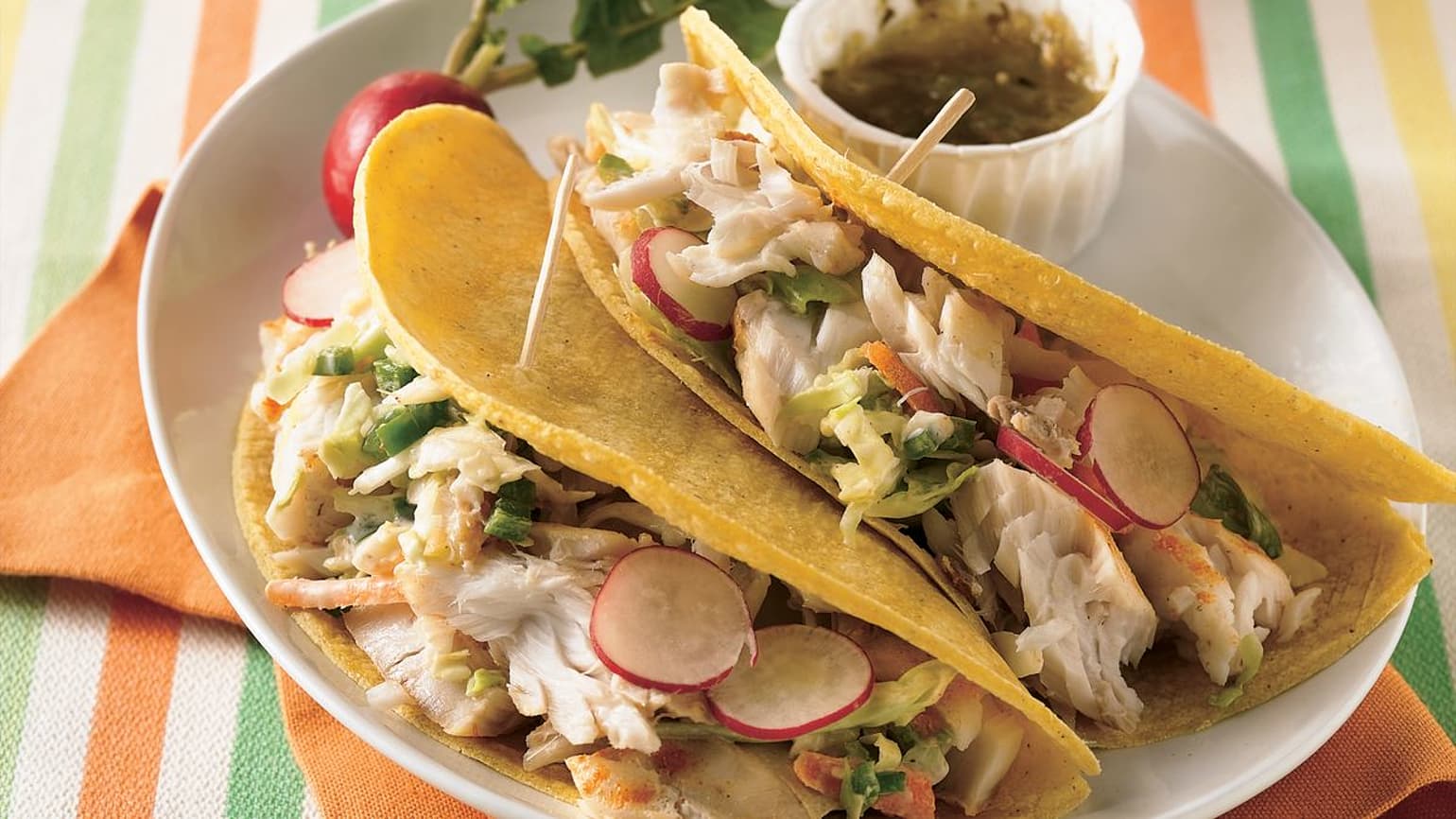 Quick Grilled Fish Tacos
Nothing fishy going on here! Just pure deliciousness in the form of Quick Grilled Fish Tacos. We're talking flaky fish and crunchy, creamy coleslaw—all ready to go in just 30 minutes. Here's how to make grilled fish tacos.
Ingredient List
1 lb white fish fillets, such as tilapia or catfish
2 tablespoons from 1 container (6.25 oz) Old El Paso™ 25% Less Sodium Taco Seasoning Mix
3 tablespoons reduced-fat ranch dressing
4 cups coleslaw mix (shredded cabbage and carrots)
1 small jalapeño chile, seeded, finely chopped
10 corn tortillas (6 inch)
1 1/4 cups sliced radishes (about 10)
Red pepper sauce to taste, if desired
Tomatillo salsa, if desired
Advertisement
Recipe Continues Below
Preparation
Heat gas or charcoal grill. Cut 1 (18x12-inch) sheet of heavy-duty foil; spray with cooking spray. Sprinkle both sides of fish fillets with 2 teaspoons of the seasoning mix. Place fish on center of foil sheet. Bring up 2 sides of foil so edges meet. Seal edges, making tight 1/2-inch fold; fold again, allowing space for heat circulation and expansion. Fold other sides to seal.
Place packet on grill over high heat. Cover grill; cook about 10 minutes, rotating packet 1/2 turn after 5 minutes, until fish flakes easily with fork. Let cool slightly; cut into bite-size chunks.
Meanwhile, in large bowl, mix dressing and remaining 4 teaspoons seasoning mix. Add coleslaw mix and chile; toss to coat. Let stand 10 minutes. Meanwhile, wrap stack of tortillas in sheet of foil; place on coolest part of grill 5 to 10 minutes, turning occasionally, until steaming.
To serve, spoon about 1/4 cup fish chunks and 1/4 cup coleslaw mixture onto each tortilla; top with 2 tablespoons radishes. Fold tortillas around filling. Serve with pepper sauce and tomatillo salsa.
Expert Tips
When chopping the jalapeño chile for this Quick Grilled Fish Tacos recipe, wear gloves to prevent skin irritation from the oils.
To warm tortillas in the microwave: Place a stack of tortillas between slightly dampened microwavable paper towels; microwave on High about 45 seconds or until warm.
Nutrition
2 Tacos Calories 260 (Calories from Fat 45); Total Fat 5g (Saturated Fat 1g ,Trans Fat 0g); Cholesterol 45mg; Sodium 360mg; Potassium 570mg; Total Carbohydrate 31g (Dietary Fiber 5g ,Sugars 6g); Protein 22g
% Daily Value: Vitamin A 60%; Vitamin C 20%; Calcium 8%; Iron 10%
Exchanges: 1 1/2 Starch; 1 1/2 Vegetable; 2 Very Lean Meat; 1/2 Fat
Carbohydrate Choice: 2
*Percent Daily Values are based on a 2,000 calorie diet