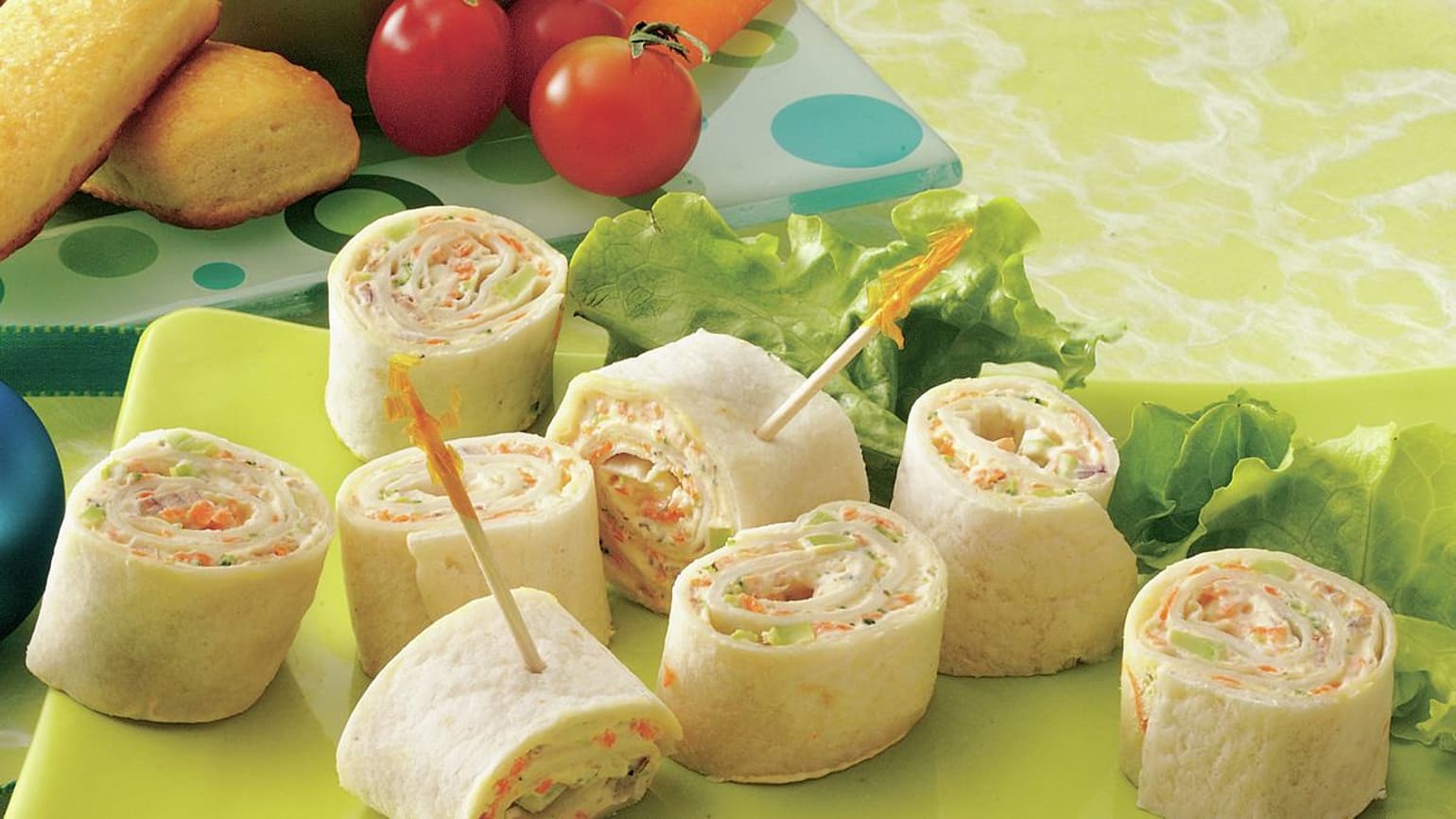 Ranch Pinwheel Snacks
These tasty bacon ranch pinwheels offer your favorite veggie flavors in bite-sized portions. Serve them up as a delightful little side to soup or salad, or bring them out as an appetizer while the party's getting started. Our recipe makes plenty of cream cheese ranch pinwheels, so you'll have enough to share with a crowd!
Total Time
2 Hours
15 Minutes
Ingredient List
3 oz cream cheese (from 8-oz package), softened
1 container (8 oz) ranch sour cream dip
1/2 cup finely chopped broccoli
1/2 cup shredded carrot
1/4 cup finely chopped red onion
4 slices precooked bacon, chopped
5 Old El Paso™ flour tortillas for burritos, 8 inch (from 11-oz package)
Advertisement
Recipe Continues Below
Preparation
In small bowl with electric mixer, beat cream cheese on medium speed until smooth. Beat in dip until well blended. Stir in broccoli, carrot, onion and bacon.
Spread mixture evenly onto each tortilla to edges. Roll up each; wrap tightly in plastic wrap. Refrigerate at least 2 hours or up to 8 hours before serving.
To serve, cut each roll into 8 pieces.
Expert Tips
For a change of flavor, make these cream cheese bacon pinwheels using French onion dip and flavored flour tortillas.
Nutrition
1 Appetizer Calories 40 (Calories from Fat 25); Total Fat 2 1/2g (Saturated Fat 1g ,Trans Fat 0g); Cholesterol 0mg; Sodium 100mg; Potassium 25mg; Total Carbohydrate 3g (Dietary Fiber 0g ,Sugars 0g); Protein 1g
% Daily Value: Vitamin A 6%; Vitamin C 2%; Calcium 0%; Iron 0%
Exchanges: 1/2 Fat
*Percent Daily Values are based on a 2,000 calorie diet