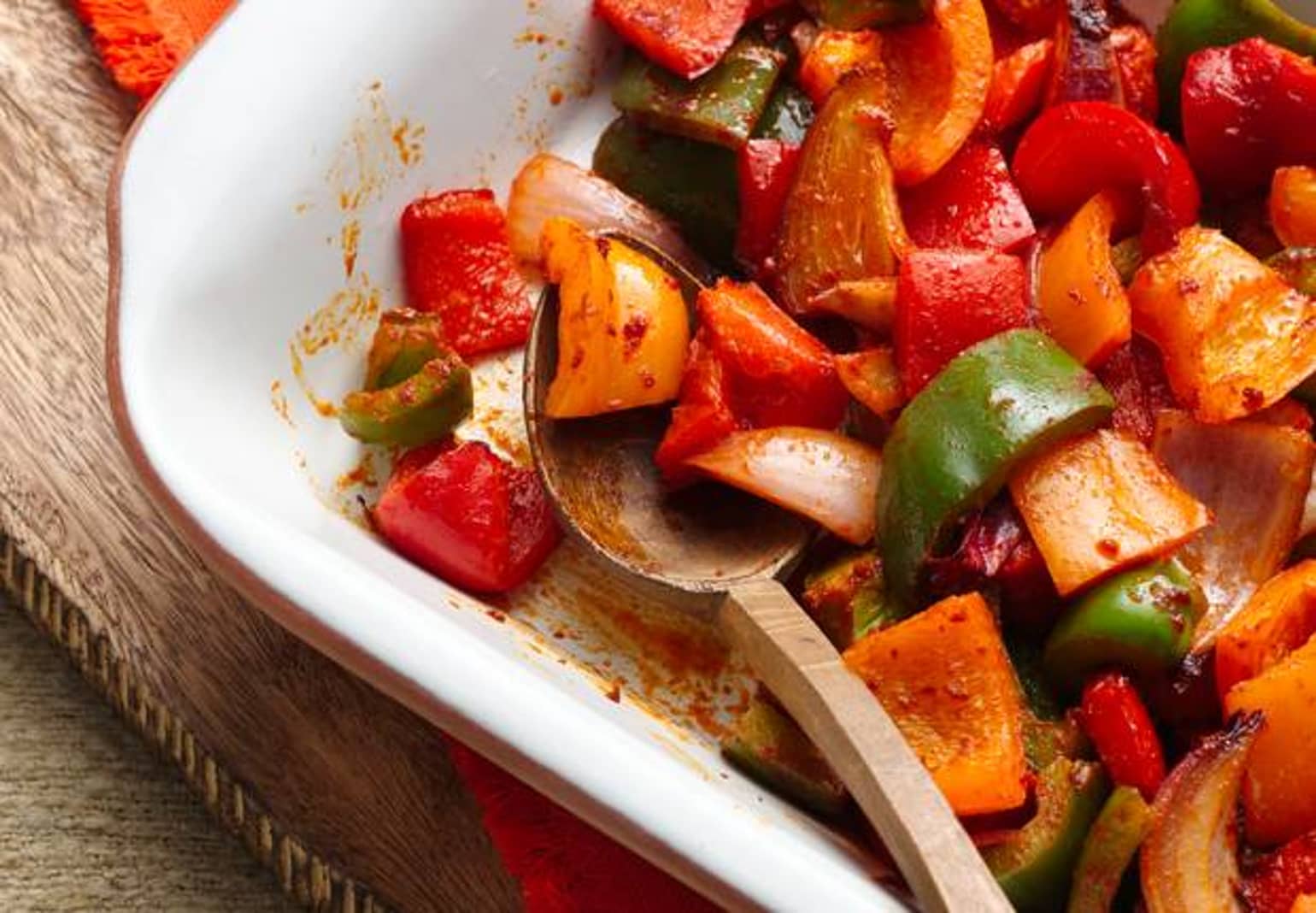 Seasoned Oven Roasted Veggies Recipe
Trying to get your family to eat more veggies? How about seasoning them up with Old El Paso® taco seasoning....it will be a hit at your next meal, even if you do not have any veggie lovers in the house. By Betty Crocker Kitchens
Ingredient List
2 tablespoons vegetable oil
1 tablespoon plus 2 teaspoons Old El Paso™ taco seasoning mix (from 1-oz package)
1 large red bell pepper, cut into 1 1/2-inch pieces
1 large green bell pepper, cut into 1 1/2-inch pieces
1 large orange bell pepper, cut into 1 1/2-inch pieces
1 large red onion (4-inch diameter), cut into 1-inch pieces
Advertisement
Recipe Continues Below
Preparation
Heat oven to 450°F.
In large bowl, mix oil and 1 tablespoon plus 2 teaspoons taco seasoning mix. Add vegetables; toss to coat. Spread in single layer in ungreased 15x10x1-inch pan.
Roast uncovered 10 minutes; turn. Roast about 7 minutes longer or until vegetables are crisp-tender.
Expert Tips
Got leftover veggies? Add them to scrambled eggs or in tortillas for vegetarian fajitas. Another meal...rápido!
To grill these veggies, place in grill basket (grill "wok"). Place on grill over medium-high heat. Cover grill; cook 10 to 15 minutes, stirring occasionally, until crisp-tender.
Save remaining taco seasoning mix for another use.
Nutrition
Calories40(Calories from Fat20),Total Fat2 1/2g(Saturated Fat0g,Trans Fat0g),Cholesterol0mgSodium65mgTotal Carbohydrate4g(Dietary Fiber1g Sugars2g),Protein0g;% Daily Value*:Vitamin A10%;Vitamin C50%;Calcium0%;Iron0%; Exchanges:0 Starch; 0 Fruit; 0 Other Carbohydrate; 0 Skim Milk; 0 Low-Fat Milk; 0 Milk; 1/2 Vegetable; 0 Very Lean Meat; 0 Lean Meat; 0 High-Fat Meat; 1/2 Fat; Carbohydrate Choices:0
*Percent Daily Values are based on a 2,000 calorie diet.