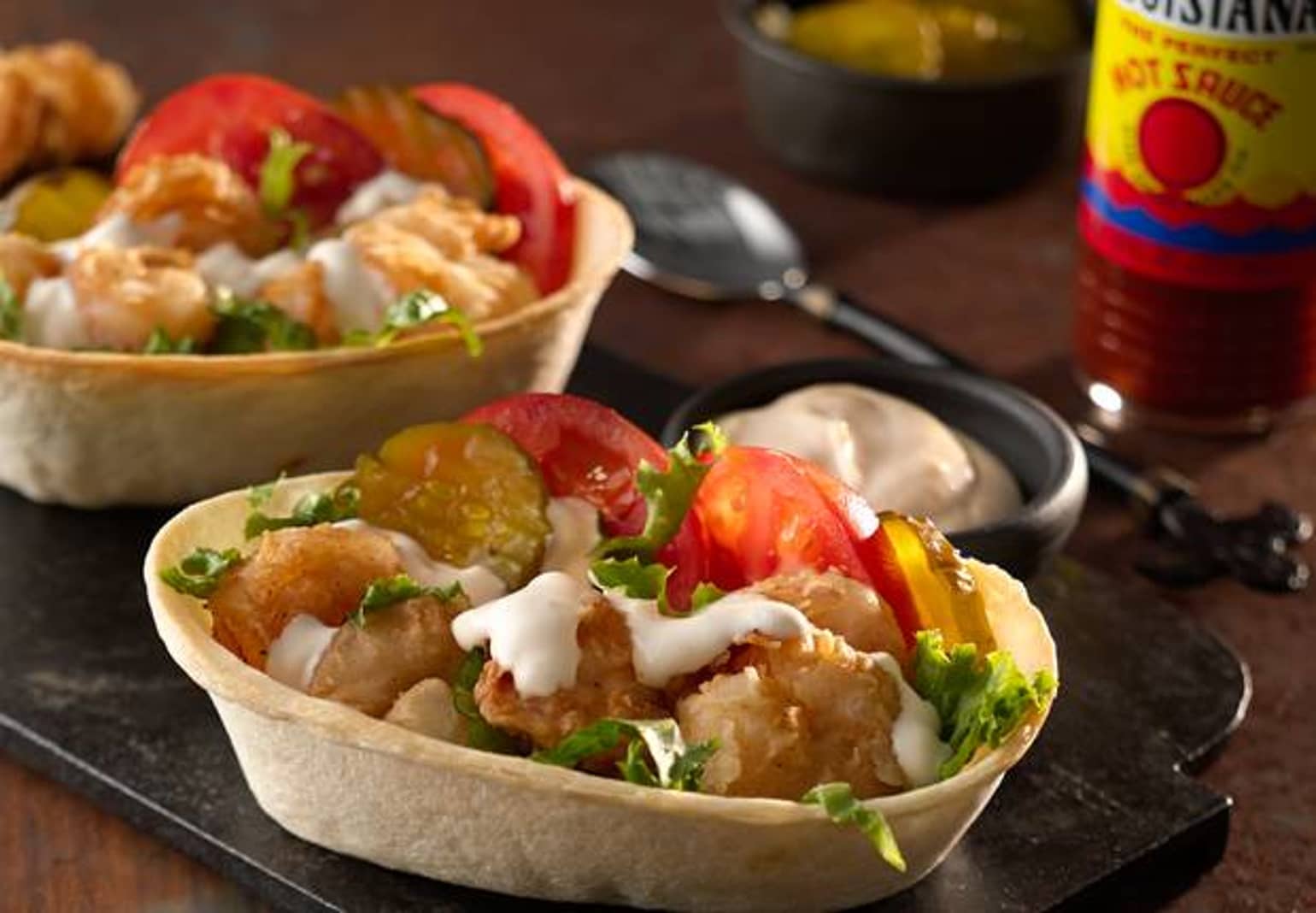 Shrimp Po' Boy Taco Bowls™
We didn't use voodoo to turn your delicious shrimp po' boys into Taco Bowls™, but you might think we did with how good these taste. Don't forget to top them off with Louisiana™ hot sauce and serve with Hurricane cocktails!
Ingredient List
1/2 cup mayonnaise
1 teaspoon Dijon mustard
1/2 teaspoon finely chopped garlic
1 teaspoon hot sauce
1/2 teaspoon fresh lemon juice
Vegetable oil for deep frying
1/4 cup butter, melted
1/2 teaspoon finely chopped garlic
1 package Old El Paso™ Soft Tortilla Bowls
1/2 cup buttermilk
1 cup all-purpose flour
1 1/2 teaspoons Cajun seasoning with salt
1 lb uncooked deveined peeled (tail shells removed) medium shrimp
Shredded lettuce, tomato slices, pickles, hot sauce, if desired
Advertisement
Recipe Continues Below
Preparation
In small bowl, stir Spicy Remoulade ingredients until blended. Cover and refrigerate.
In deep fryer or heavy-bottomed pot, heat at least 2 inches oil to 350°F.
Heat oven to 325°F. In small bowl, stir together melted butter and 1/2 teaspoon garlic. Lightly brush melted butter mixture on all sides of each bowl to coat. Place bowls on cookie sheet. Bake 5 to 7 minutes or until warm.
In shallow dish, pour buttermilk. Mix flour and Cajun seasoning in another shallow dish. Dip shrimp into buttermilk, allowing excess to drip back into dish. Coat shrimp with flour mixture, shaking off excess. Place coated shrimp in batches in preheated oil, 2 to 3 minutes per batch, stirring occasionally in oil, until golden brown and just cooked through. Drain on paper towel-lined cookie sheet. Keep warm while frying remaining shrimp.
Evenly divide shrimp among warmed bowls. Top with remoulade, shredded lettuce, tomato slices, pickles and hot sauce.
Expert Tips
Remoulade is a classic French mayonnaise-based sauce typically served with fish and shellfish.
Using a candy thermometer/deep frying thermometer helps to ensure correct temperature when frying to give best results.
Nutrition
Calories470(Calories from Fat300),Total Fat33g(Saturated Fat9g,Trans Fat0g),Cholesterol130mgSodium610mgTotal Carbohydrate25g(Dietary Fiber0g Sugars1g),Protein17g;% Daily Value*:Vitamin A4%;Vitamin C0%;Calcium8%;Iron10%; Exchanges:1 Starch; 0 Fruit; 1/2 Other Carbohydrate; 0 Skim Milk; 0 Low-Fat Milk; 0 Milk; 0 Vegetable; 2 Very Lean Meat; 0 Lean Meat; 0 High-Fat Meat; 6 1/2 Fat; Carbohydrate Choices:1 1/2
*Percent Daily Values are based on a 2,000 calorie diet.