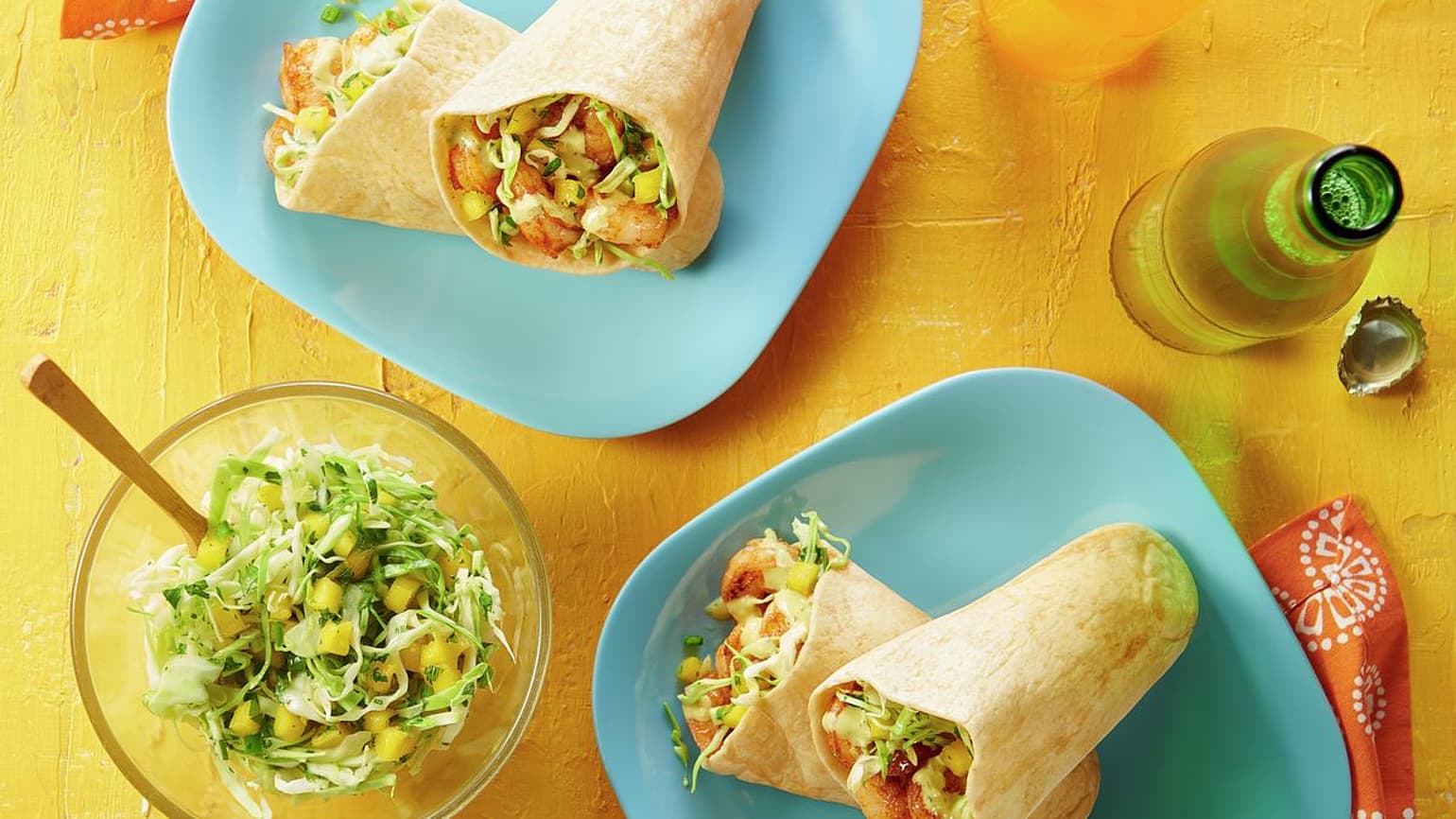 Shrimp Tortilla Pockets with Mango Slaw
Taste the tropics with every bite of these flavorful Shrimp Tortilla Pockets. A crunchy mango slaw, studded with jalapeño chiles, delivers a deliciously sweet heat that complements the shrimp without overwhelming it. These would be perfect for a hot day, or for bringing a little sunshine and vacation flair to the colder months!
Ingredient List
3 tablespoons vegetable oil
2 tablespoons fresh lime juice
1 1/2 teaspoons honey
1/4 teaspoon salt
2 cups shredded green cabbage
1/2 cup chopped mango
1/4 cup chopped fresh cilantro leaves
1 medium jalapeño chile, seeded and finely chopped
1 1/2 lb uncooked deveined peeled medium shrimp, thawed if frozen, tail shells removed
2 tablespoons from 1 container (6.25 oz) Old El Paso™ Original Taco Seasoning Mix
1 package (8.4 oz) Old El Paso™ Tortilla Pockets™ (8 Count), heated as directed on package
1/2 cup from 1 bottle (9 oz) Old El Paso™ Creamy Salsa Verde Sauce
Advertisement
Recipe Continues Below
Preparation
In medium bowl, beat 2 tablespoons of the oil, 1 tablespoon of the lime juice, the honey and salt, using whisk. Add cabbage, mango, cilantro and chile. Toss until evenly coated. Cover and refrigerate until ready to use.
In medium bowl, mix shrimp, taco seasoning mix and remaining 1 tablespoon lime juice; stir to coat.
In 12-inch nonstick skillet, heat remaining 1 tablespoon oil over medium-high heat. Add shrimp mixture; cook and stir 2 to 4 minutes or until shrimp turn pink and are cooked through. Remove from heat.
Stuff tortilla pockets with shrimp filling. Top with mango slaw and sauce.
Expert Tips
Cutting your own cabbage into thin slices for the slaw will give you an ultra-crunchy texture, but preshredded cabbage, sold in bags for coleslaw, will also work well.
Fresh and frozen shrimp are sold by a descriptive size name, such as "jumbo" or "large," and by "count," or number per pound. The larger the shrimp, the lower the count. Size and count vary throughout the United States.
Want to dice a mango like a pro? First, stand the mango stem-end down, and hold in place. Look for two wide sides or "cheeks." Starting at top, place knife about 1/4 inch from widest center line and cut down through mango, cutting around flat seed in center of fruit. Repeat with opposite remaining wide side. Cut flesh of wide sides by slicing them in a cross-hatch pattern, making sure not to cut through to skin. To remove mango pieces, push skin inside out so cut mango pieces fan out, then cut pieces free from skin. Cut two remaining narrow sides from pit by cutting around pit. Peel and cut mango pieces.
Nutrition
2 Pockets Calories 540 (Calories from Fat 210); Total Fat 24g (Saturated Fat 5g ,Trans Fat 0g); Cholesterol 235mg; Sodium 990mg; Potassium 550mg; Total Carbohydrate 46g (Dietary Fiber 2g ,Sugars 7g); Protein 35g
% Daily Value: Vitamin A 8%; Vitamin C 25%; Calcium 15%; Iron 15%
Exchanges: 2 Starch; 1 Other Carbohydrate; 1/2 Vegetable; 4 Very Lean Meat; 4 Fat
Carbohydrate Choice: 3
*Percent Daily Values are based on a 2,000 calorie diet