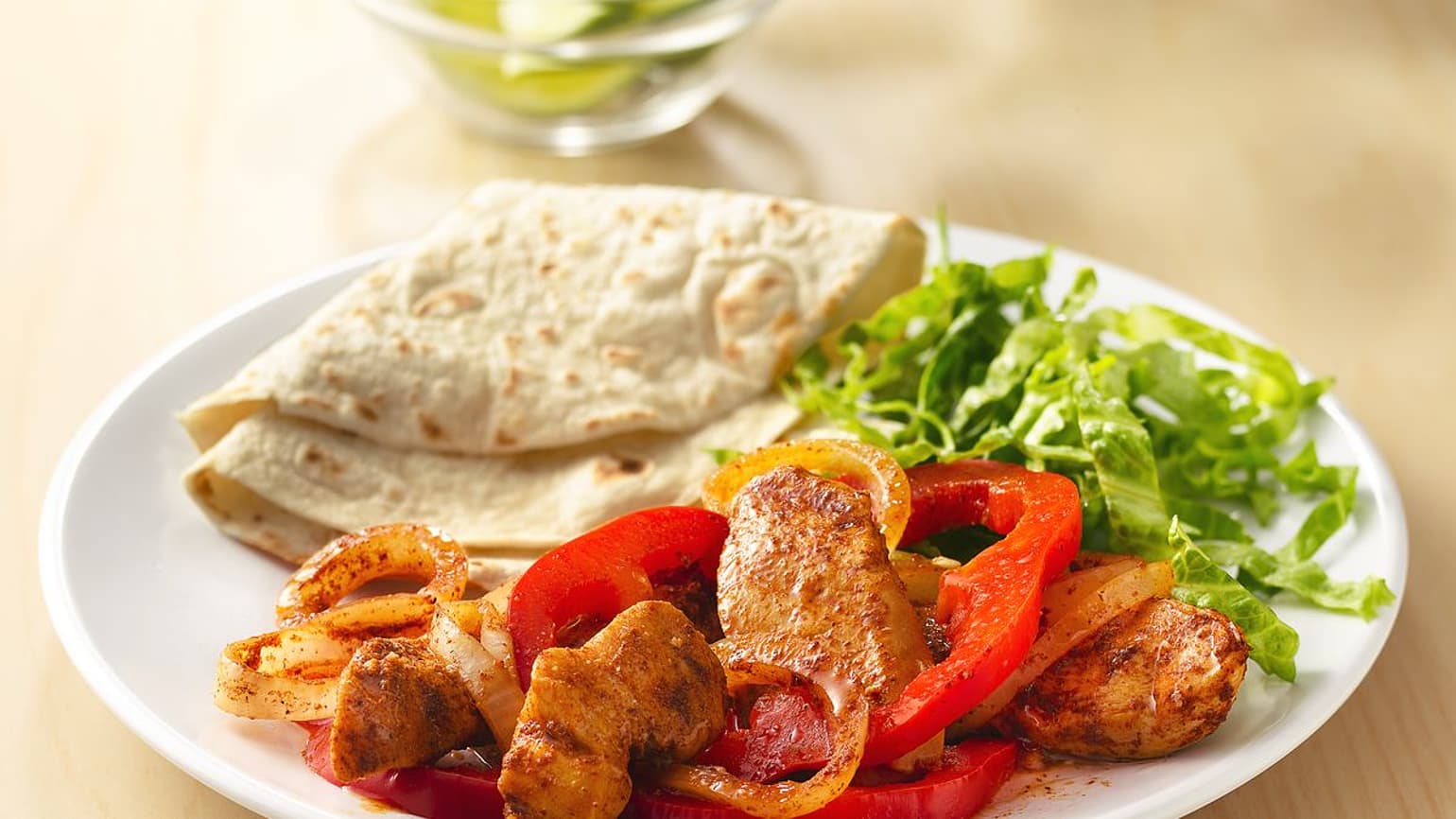 Sizzling Grilled Chicken Fajitas
A great way to make grilled chicken fajitas during summer grilling season with a spicy kick that lets your chicken and veggies soak up all the flavor while you relax and enjoy your night. When you're done, just wrap up the foil pouches and toss 'em. Summer grilling, yummy chicken fajitas for the family to love, easy cleanup, and maybe everyone eats their veggies tonight, a perfect combination for everyone.
Ingredient List
2 teaspoons chili powder
1/2 teaspoon ground cumin
1/4 teaspoon salt
2 cloves garlic, finely chopped
2 tablespoons lime juice
2 boneless skinless chicken breasts, cut into 1/2-inch strips
1 red or yellow bell pepper, seeded, cut into rings
1 small onion, thinly sliced, separated into rings
4 Old El Paso™ flour tortillas for burritos (8 inch; from 11-oz package)
Advertisement
Recipe Continues Below
Preparation
In medium bowl, mix chili powder, cumin, salt, garlic and lime juice. Add chicken, bell pepper and onion; stir to coat. Cover bowl; refrigerate at least 2 hours to marinate, turning once.
Heat gas or charcoal grill. Cut 2 (18x12-inch) sheets of heavy-duty foil. Remove chicken and vegetables from marinade; discard marinade. Place half of chicken and vegetables on center of each sheet. Bring up 2 sides of foil so edges meet. Seal edges, making tight 1/2-inch fold; fold again, allowing space for heat circulation and expansion. Fold other sides to seal. Cut another sheet of foil; wrap tortillas securely in foil.
Place packets on grill over medium heat. Cook chicken and vegetables 10 to 15 minutes or until chicken is no longer pink in center and vegetables are crisp-tender. Cook tortillas 2 to 3 minutes or until warm. Open foil carefully to allow hot steam to escape.
Serve each chicken and vegetable packet with 2 tortillas. If desired, top tortillas with shredded lettuce, sour cream, guacamole, shredded cheese and salsa.
Expert Tips
To get the most juice from fresh limes, use the limes at room temperature, and roll them on the counter with your hands before cutting.
Serve these fajitas with frosty margaritas.
Oven Directions: Heat oven to 425°F. Marinate chicken and vegetables and prepare packets as directed above; place packets on cookie sheet. Prepare tortilla packet as directed above. Bake chicken and vegetable packets 15 to 20 minutes or until chicken is no longer pink in center and vegetables are crisp-tender. Bake tortillas 3 to 5 minutes or until warm. Serve as directed above.
Nutrition
1 Serving Calories 450 (Calories from Fat 110); Total Fat 13g (Saturated Fat 3g ,Trans Fat 2g); Cholesterol 75mg; Sodium 990mg; Potassium 470mg; Total Carbohydrate 50g (Dietary Fiber 3g ,Sugars 5g); Protein 34g
% Daily Value: Vitamin A 50%; Vitamin C 70%; Calcium 15%; Iron 25%
Exchanges: 3 Starch; 1/2 Vegetable; 3 Lean Meat; 1/2 Fat
Carbohydrate Choice: 3
*Percent Daily Values are based on a 2,000 calorie diet