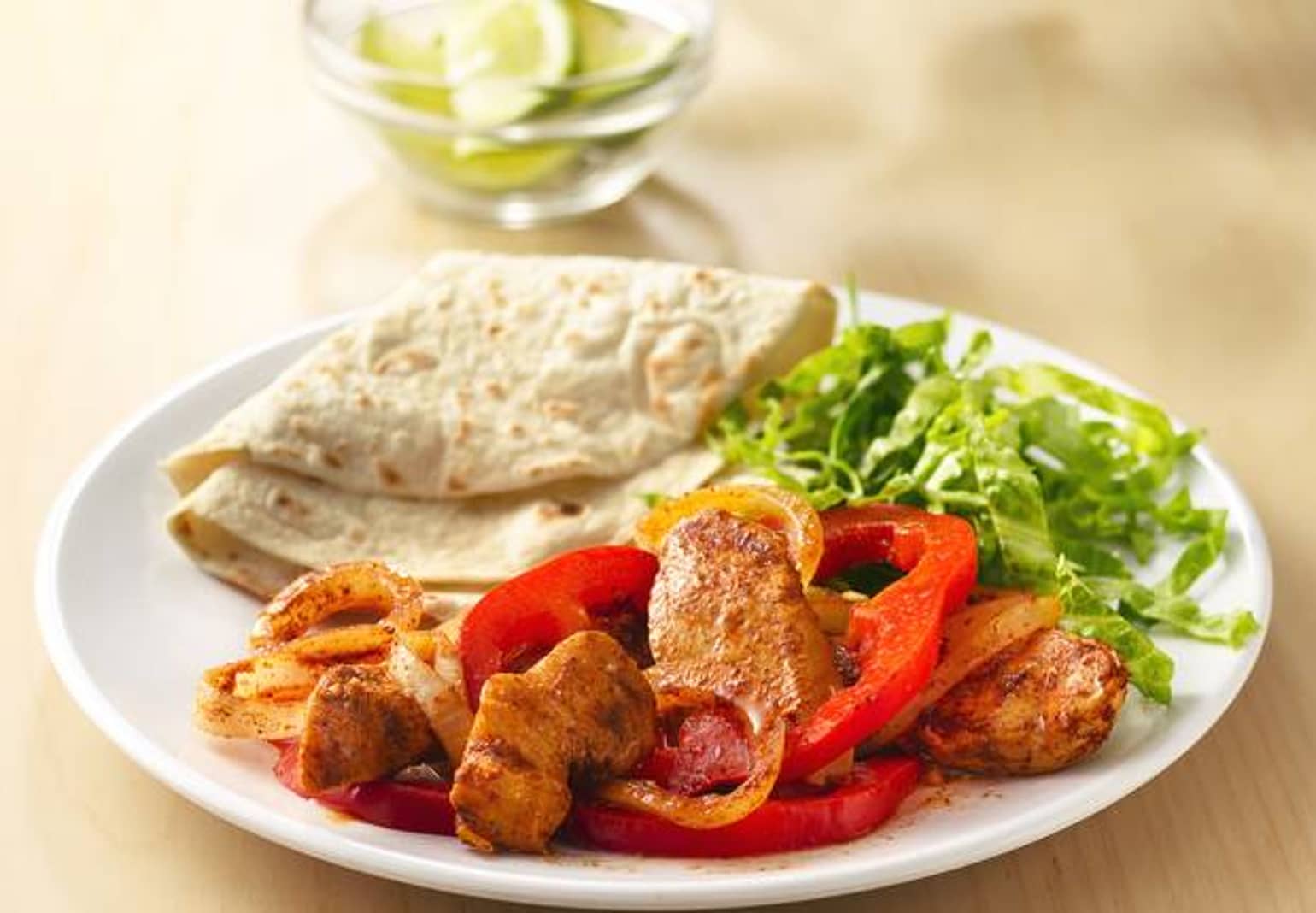 Sizzling Chicken Fajitas Recipe
A great way to make grilled chicken fajitas during summer grilling season with a spicy kick that lets your chicken and veggies soak up all the flavor while you relax and enjoy your night. When you're done, just wrap up the foil pouches and toss 'em. Summer grilling, yummy chicken fajitas for the family to love, easy cleanup, and maybe everyone eats their veggies tonight, a perfect combination for everyone.
Ingredient List
1/4 cup lime juice
1 tablespoon vegetable oil
1 teaspoon chili powder
1 pound boneless skinless chicken breast halves, cut into 4x1/4-inch strips
1 medium onion, cut into 1/4-inch slices
8 Old El Paso™ flour tortillas (8 inches in diameter)
1 cup Old El Paso™ salsa (any variety)
1 cup Old El Paso™ salsa (any variety)
Advertisement
Recipe Continues Below
Preparation
Mix lime juice, oil and chili powder in shallow glass or plastic dish or heavy-duty resealable plastic food-storage bag. Add chicken and onion; turn to coat with marinade. Cover dish or seal bag and refrigerate at least 1 hour but no longer than 24 hours.
Brush grill rack with vegetable oil. Heat coals or gas grill for direct heat.
Remove chicken and onion from marinade; reserve marinade. Cover and grill chicken and onion 4 to 6 inches from medium heat 8 to 10 minutes, brushing frequently with marinade and turning once, until chicken is no longer pink in center. Discard any remaining marinade.
Divide chicken and onion among tortillas, placing in center. Fold one end of tortilla up about 1 inch over chicken mixture; fold right and left sides over folded end, overlapping. Fold remaining end down. Top with salsa and guacamole.
Expert Tips
To get the most juice from fresh limes, use the limes at room temperature, and roll them on the counter with your hands before cutting.
Serve these fajitas with frosty margaritas.
Nutrition
Calories450(Calories from Fat110),Total Fat13g(Saturated Fat3g,Trans Fat2g),Cholesterol75mgSodium990mgTotal Carbohydrate50g(Dietary Fiber3g Sugars5g),Protein34g;% Daily Value*:Vitamin A50%;Vitamin C70%;Calcium15%;Iron25%; Exchanges:3 Starch; 0 Fruit; 0 Other Carbohydrate; 0 Skim Milk; 0 Low-Fat Milk; 0 Milk; 1/2 Vegetable; 0 Very Lean Meat; 3 Lean Meat; 0 High-Fat Meat; 1/2 Fat; Carbohydrate Choices:3
*Percent Daily Values are based on a 2,000 calorie diet.