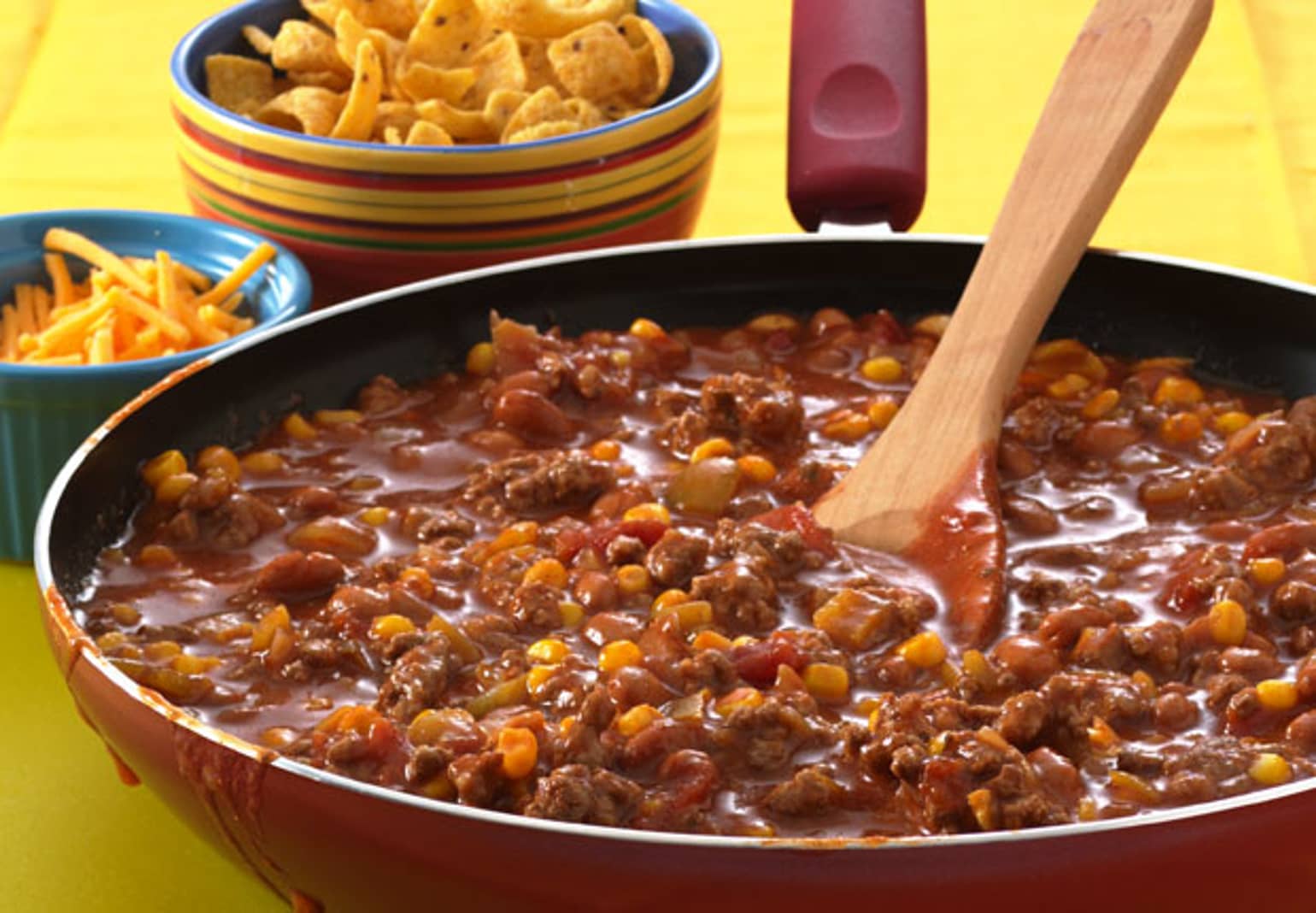 Skillet Nacho Chili
Looking for hearty chili recipe? Then check out this great skillet beef and bean dinner – ready in 40 minutes.
Ingredient List
1 can (19 ounces) ready-to-serve hearty tomato soup
1 can (15 ounces) spicy chili beans, undrained
1 can (4.5 ounces) chopped green chiles
1 cup frozen whole kernel corn
1 medium onion
1 lb lean (at least 80%) ground beef
2 cups corn chips
1 bag (4 ounces) shredded Cheddar cheese (1 cup)
Advertisement
Recipe Continues Below
Preparation
Spray extra-large nonstick skillet with nonstick cooking spray. Add ground beef and onion; cook over medium-high heat until beef is browned, stirring frequently.
Add soup, chili beans, green chiles and corn; mix well. Bring to a boil. Reduce heat to medium; cook 8 to 10 minutes or until beef is thoroughly cooked and sauce is slightly thickened, stirring occasionally.
Sprinkle each serving with 1/4 cup cheese. Serve with chips.
Expert Tips
There are lots of yummy things you can put on top of this chili. A spoonful of sour cream, a slice of avocado or chopped onion are all delicious ideas.
Nutrition
1 Serving Calories 580 (Calories from Fat 260); Total Fat 29g (Saturated Fat 12g, Trans Fat 1g); Cholesterol 100mg; Sodium 1730mg; Total Carbohydrate 45g (Dietary Fiber 7g, Sugars 11g); Protein 35g
% Daily Value: Vitamin A 15%; Vitamin C 25%; Calcium 25%; Iron 30%;
Exchanges: 3 Starch, nc Fruit, nc Other Carbohydrate, nc Skim Milk, nc Low-Fat Milk, nc Milk, nc Vegetable, nc Very Lean Meat, 4 Lean Meat, nc Medium-Fat Meat, nc High-Fat Meat, 3 Fat
Carbohydrate Choice: 3