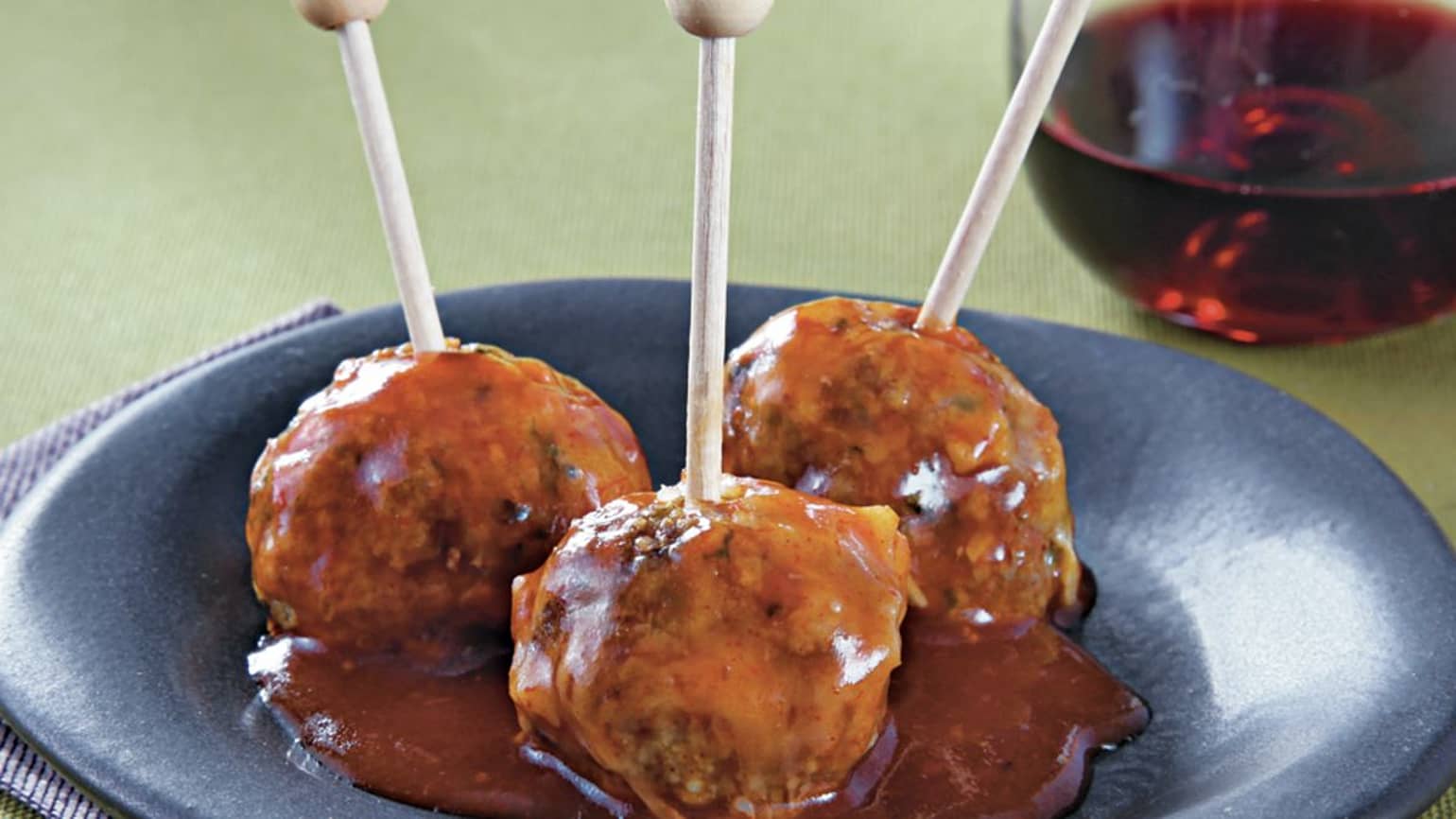 Slow-Cooker Enchilada Meatballs
Old El Paso® enchilada sauce and taco seasoning mix provide a tasty addition to these slow cooked beef meatballs. Perfect if you love Mexican cuisine.
Total Time
2 Hours
15 Minutes
Ingredient List
1 1/4 cups shredded Mexican cheese blend (5 oz)
3/4 cup crumbled cornbread
1/4 cup chopped fresh cilantro
1/4 cup finely chopped onion
1 tablespoon from 1 container (6.25 oz) Old El Paso™ Original Taco Seasoning Mix
2 cloves garlic, finely chopped
1 egg, slightly beaten
1 1/2 lb ground beef round
1 can (10 oz) Old El Paso™ mild enchilada sauce
Advertisement
Recipe Continues Below
Preparation
Heat oven to 475°F. Line 17x12-inch half-sheet pan with foil; spray foil with cooking spray.
In large bowl, mix 3/4 cup of the cheese, the cornbread, cilantro, onion, taco seasoning mix, garlic and egg. Crumble beef into cheese mixture, mixing with hands just until blended (do not overmix). Shape mixture into 32 (1-inch) balls. Place in pan. Bake uncovered 15 minutes or until lightly browned.
Spray 4- to 5-quart slow cooker with cooking spray. With slotted spatula, remove meatballs from pan to slow cooker. Pour enchilada sauce over meatballs; stir to coat.
Cover; cook on Low heat setting 1 hour 30 minutes. Transfer meatballs to serving dish; pour sauce over meatballs. Sprinkle with remaining 1/2 cup cheese. Serve meatballs with toothpicks or cocktail forks. Meatballs can be held on Low heat setting up to 1 hour; stir occasionally.
Expert Tips
Quickly shape meatballs with the help of a small cookie scoop.
Nutrition
1 Serving Calories 60 (Calories from Fat nc); Total Fat 3 1/2g (Saturated Fat 1 1/2g ,Trans Fat ncg); Cholesterol ncmg; Sodium 110mg; Potassium ncmg; Total Carbohydrate 2g (Dietary Fiber 0g ,Sugars ncg); Protein 5g
% Daily Value: Vitamin A 0%; Vitamin C 0%; Calcium 0%; Iron 0%
Exchanges: nc Starch; nc Fruit; nc Other Carbohydrate; nc Skim Milk; nc Milk; nc Vegetable; nc Very Lean Meat; nc Lean Meat; nc High-Fat Meat; nc Fat
*Percent Daily Values are based on a 2,000 calorie diet