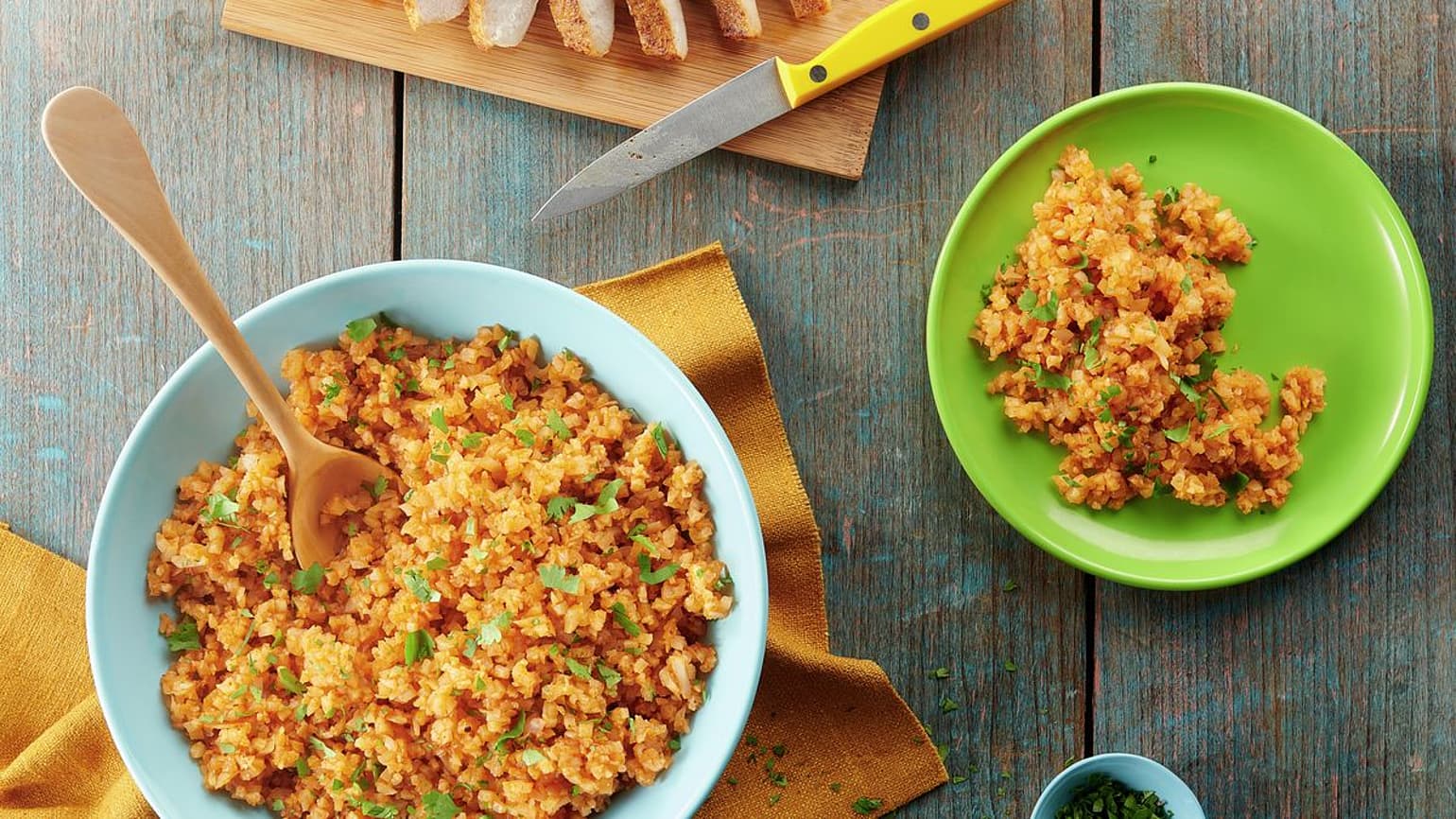 Spanish Cauliflower Rice
Looking for a sneaky way to get some extra veggies into your meal? Spanish Cauliflower Rice is a delicious option. Frozen cauliflower rice and Old El Paso™ Taco Seasoning Mix make this "rice-less" side dish a snap to pull together.
Ingredient List
1 tablespoon olive oil
1/2 cup finely chopped onion
3 cloves garlic, finely chopped
2 tablespoons tomato paste
1 tablespoon Old El Paso™ Original Taco Seasoning Mix (from 1-oz package)
1/2 teaspoon salt
1/2 cup water
2 packages (10 oz each) frozen riced cauliflower
2 tablespoons chopped fresh cilantro
Advertisement
Recipe Continues Below
Preparation
In 12-inch skillet, heat oil over medium heat. Add onion; cook and stir 3 to 4 minutes or until softened. Add garlic; cook 30 seconds to 1 minute or until fragrant. Add tomato paste; cook and stir 1 minute. Add taco seasoning mix, salt and water; stir to combine.
Add frozen riced cauliflower; cook 8 to 10 minutes, stirring frequently, until riced cauliflower is cooked through and all liquid evaporates.
Transfer to serving dish; garnish with cilantro.
Expert Tips
Green onions also make a nice garnish for this Spanish Cauliflower Rice.
Cauliflower is a cruciferous vegetable in the same family as cabbage, broccoli, kale and others.
Cauliflower rice is quick and easy to make and gives you an extra helping of vegetables, too!
Nutrition
1 Serving Calories 60 (Calories from Fat 20); Total Fat 2 1/2g (Saturated Fat 0g ,Trans Fat 0g); Cholesterol 0mg; Sodium 290mg; Potassium 200mg; Total Carbohydrate 7g (Dietary Fiber 3g ,Sugars 2g); Protein 2g
% Daily Value: Vitamin A 2%; Vitamin C 25%; Calcium 2%; Iron 4%
Exchanges: 1 Vegetable; 1/2 Fat
Carbohydrate Choice: 1/2
*Percent Daily Values are based on a 2,000 calorie diet