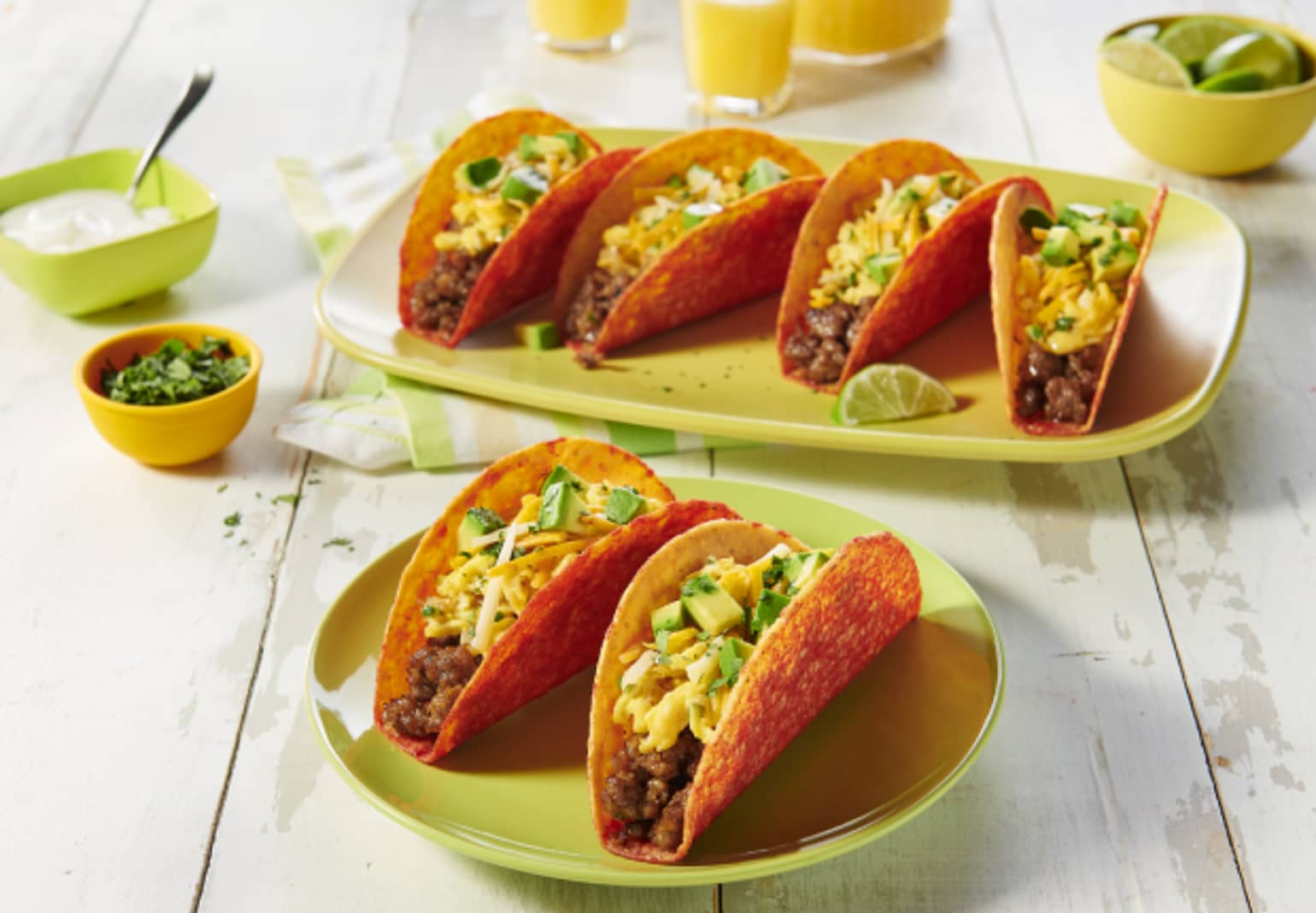 Spicy Breakfast Takis® Fuego® Tacos
Tacos for breakfast? Incredible. Takis® tacos for breakfast? Life-changing. Turn breakfast up a notch with these easy, spicy sausage, egg and cheese Takis® tacos! They're done in just 35 minutes, which means you can jump-start your day in the tastiest way.
Ingredient List
1 lb bulk breakfast sausage
8 eggs
1/4 teaspoon salt
2 tablespoons butter
1/2 cup chopped yellow onion
2 tablespoons jalapeño or serrano chile, seeds and membranes removed, finely diced
1 package (4.7 oz) Old El Paso™ Stand 'N Stuff™ Takis® Fuego® Taco Shells (10 shells), heated as directed on package
1 cup Old El Paso™ Shredded 3 Pepper Cheese Blend (4 oz)
1 avocado, pitted, peeled and diced
2 tablespoons chopped fresh cilantro leaves
1/2 cup Old El Paso™ Crema Mexicana
Advertisement
Recipe Continues Below
Preparation
In 10-inch nonstick skillet, cook sausage over medium-high heat 5 to 7 minutes, stirring occasionally, until brown; drain. Transfer to medium bowl, and cover with foil to keep warm. Carefully wipe out skillet.
Meanwhile, in medium bowl, beat eggs and salt with fork or whisk until well mixed. Return skillet to medium-high heat; heat butter just until it begins to sizzle and look hot. Add onion and chile; cook 1 to 3 minutes, stirring frequently, until softened. Pour egg mixture into skillet; reduce heat to medium. Cook 2 to 3 minutes, stirring frequently, until eggs are thickened throughout but still moist and creamy.
Spoon 1/4 cup sausage into each shell. Divide egg mixture evenly, about 1/3 cup each, over filling, then top with cheese, avocado and cilantro. Serve with crema.
Expert Tips
Trademarks referred to herein are the properties of their respective owners.
Serve these spicy Takis® tacos with your favorite Takis® chips!
Can't take the heat? Substitute 2 tablespoons finely diced bell pepper for the jalapeño chile to tone down these Takis® tacos.
Feel like branching out? Try this recipe with bulk chorizo instead of bulk breakfast sausage.
Nutrition
1 Taco Calories 460 (Calories from Fat 330); Total Fat 37g (Saturated Fat 16g, Trans Fat 1g); Cholesterol 210mg; Sodium 870mg; Total Carbohydrate 16g (Dietary Fiber 2g, Sugars 4g); Protein 15g
% Daily Value: Vitamin A 6%; Vitamin C 4%; Calcium 15%; Iron 6%;
Exchanges: 1/2 Starch, 1/2 Other Carbohydrate, 1/2 Medium-Fat Meat, 1 1/2 High-Fat Meat, 4 1/2 Fat
Carbohydrate Choice: 1