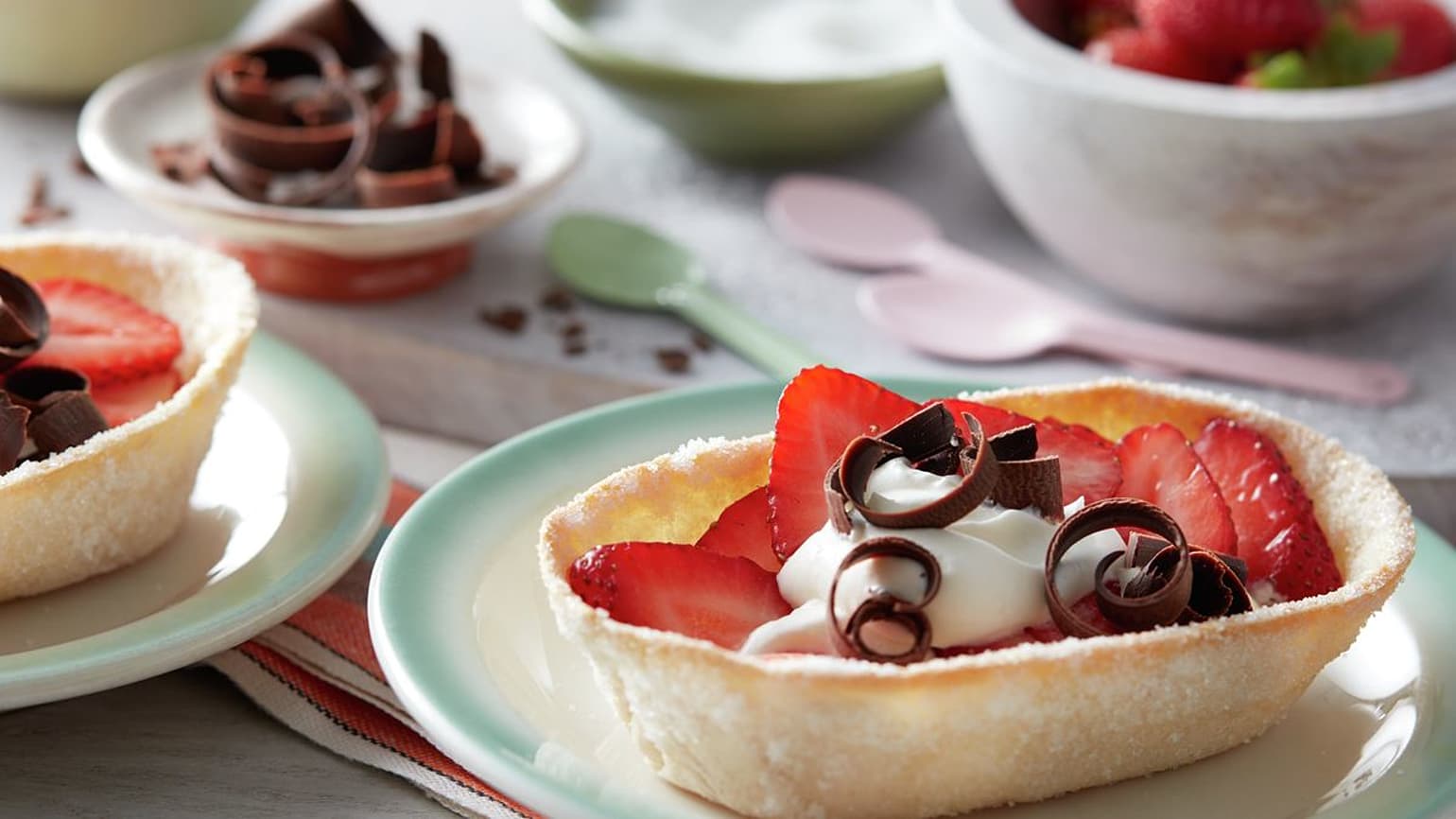 Strawberry Chocolate Taco Bowls
Fresh strawberries, sweetened whipped cream in a sugar-coated bowl: need we say more? Anything goes in Old El Paso™!
Ingredient List
1 1/2 lb strawberries, sliced (4 cups)
3/4 cup plus 2 tablespoons sugar
3 tablespoons butter, melted
1 package (6.7 oz) Old El Paso™ Soft Tortilla Bowls
1 1/2 cups heavy whipping cream
1 teaspoon vanilla
1 oz (from 4-oz package) semisweet chocolate baking bar
Advertisement
Recipe Continues Below
Preparation
In medium bowl, mix strawberries with 1/4 cup of the sugar; refrigerate while juices develop, at least 30 minutes.
Meanwhile, heat oven to 375°F. Line cookie sheet with foil. Lightly brush melted butter on all sides of each bowl. Place 1/2 cup of the sugar in large resealable food-storage plastic bag. Place 1 bowl at a time into bag, and gently shake until bowl is coated in sugar. Place bowls on cookie sheet. Bake 7 to 9 minutes or until browned on edges and firm to the touch. Bowls will crisp as cooled. Remove to cooling rack to cool.
In chilled medium bowl, beat whipping cream, remaining 2 tablespoons sugar and the vanilla with electric mixer on high speed until stiff peaks form.
Spread 2 tablespoons whipped cream in each bowl. Use slotted spoon to divide strawberries among bowls. Divide remaining whipped cream evenly among strawberry-filled bowls. Sprinkle each with chocolate curls.
Expert Tips
To make chocolate curls, pull a swivel-bladed vegetable peeler down the edge of chocolate bar, using long, thin strokes.
Sliced bananas make a nice addition to the strawberry filling.
Nutrition
1 Bowl Calories 420 (Calories from Fat 230); Total Fat 25g (Saturated Fat 15g ,Trans Fat 1g); Cholesterol 75mg; Sodium 210mg; Potassium 170mg; Total Carbohydrate 44g (Dietary Fiber 2g ,Sugars 30g); Protein 3g
% Daily Value: Vitamin A 15%; Vitamin C 80%; Calcium 6%; Iron 6%
Exchanges: 1 Starch; 1 Fruit; 1 Other Carbohydrate; 5 Fat
Carbohydrate Choice: 3
*Percent Daily Values are based on a 2,000 calorie diet