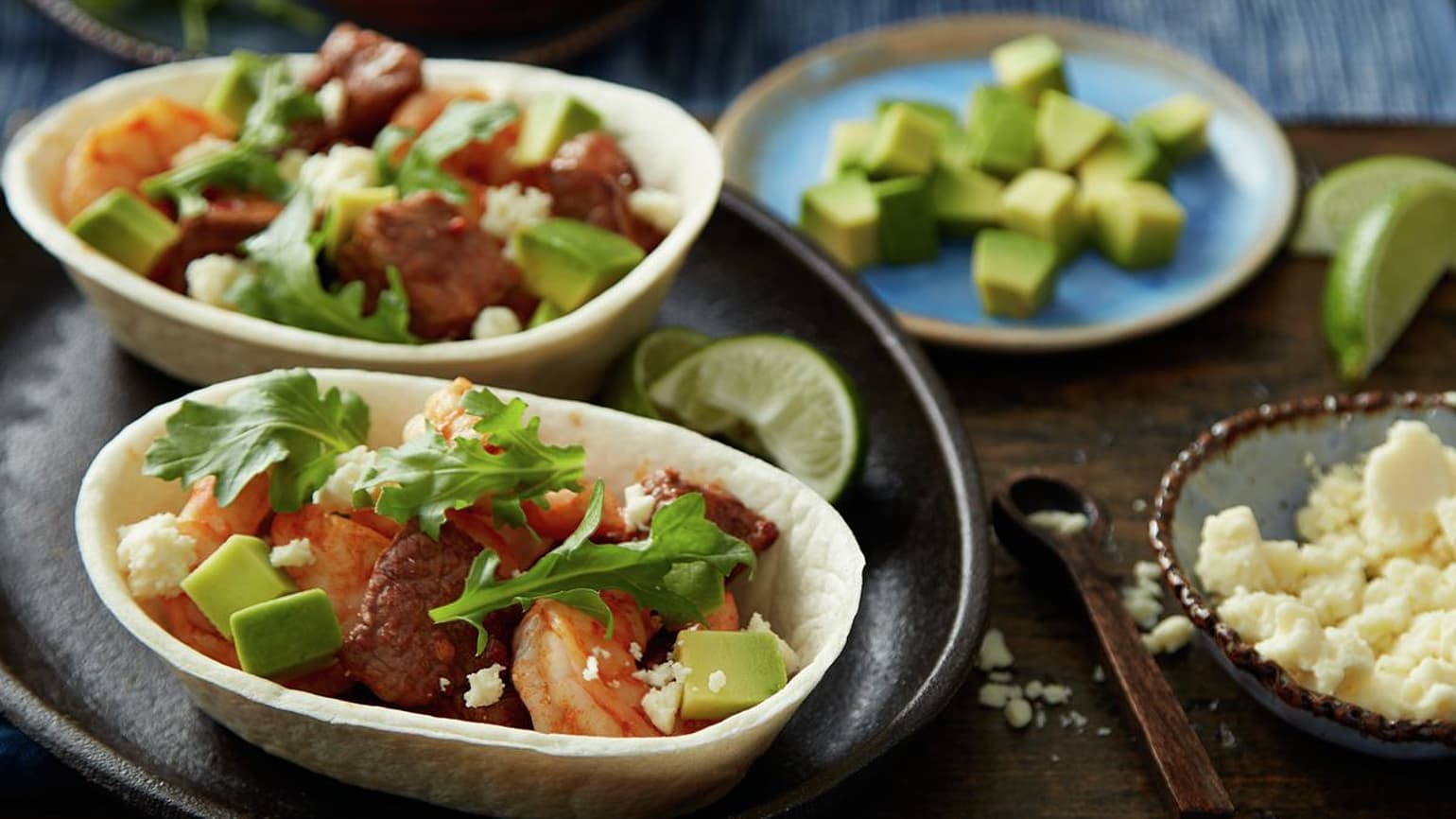 Surf & Turf Taco Bowls
Surf and Turf Taco Bowls may seem like a restaurant-exclusive entrée, but this easy recipe will help you get a homecooked meal on the table in just 35 minutes! "Surf and turf" is a fun descriptor for dishes that feature both seafood and beef. Old El Paso™ Original Taco Seasoning Mix just so happens to be the perfect seasoning for both! For these surf and turf bowls, you'll cook the shrimp and steak separately and add them to Old El Paso™ Soft Tortilla Bowls. The next part is entirely up to you! Surf and turf recipes are easily customizable to what your family loves best.
Ingredient List
1 lb boneless beef sirloin steak
1 package (1 oz) Old El Paso™ original taco seasoning mix
2 tablespoons vegetable oil
1 lb uncooked deveined peeled large shrimp, tail shells removed
1 package (6.7 oz) Old El Paso™ Soft Tortilla Bowls
Make it FRESH toppings, as desired (see below)
Advertisement
Recipe Continues Below
Preparation
Trim excess fat from beef. Cut beef into 1-inch pieces; place in medium bowl. Add 2 tablespoons of the taco seasoning mix; toss to coat.
In 10-inch skillet, heat 1 tablespoon of the oil over medium-high heat. Cook beef in oil 4 to 6 minutes, stirring frequently, until no longer pink. Remove from heat; place beef in clean bowl. Cover and keep warm.
In another medium bowl, place shrimp and remaining taco seasoning mix; toss to coat. In same skillet, heat remaining 1 tablespoon oil over medium-high heat until hot. Add shrimp; cook and stir 2 to 4 minutes or until shrimp turn pink. Add beef back to skillet; heat to warm.
Meanwhile, heat bowls as directed on package. Divide beef and shrimp mixture evenly among warmed bowls. Top with desired toppings.
Expert Tips
For Make it FRESH toppings, try baby arugula, chopped avocado, Cotija cheese or fresh lime wedges.
Fresh and frozen shrimp for surf and turf bowls are sold by a descriptive size name like "jumbo" or "large" and by "count" or number per pound. The larger the shrimp, the lower the count. Size and count vary throughout the United States.
Boneless ribeye or New York strip steaks can be used in these Surf and Turf Taco Bowls in place of the sirloin.
Nutrition
1 Bowl Calories 230 (Calories from Fat 80); Total Fat 8g (Saturated Fat 2g ,Trans Fat 0g); Cholesterol 110mg; Sodium 450mg; Potassium 260mg; Total Carbohydrate 14g (Dietary Fiber 0g ,Sugars 0g); Protein 23g
% Daily Value: Vitamin A 4%; Vitamin C 0%; Calcium 6%; Iron 10%
Exchanges: 1 Starch; 1 1/2 Very Lean Meat; 1 1/2 Lean Meat; 1/2 Fat
Carbohydrate Choice: 1
*Percent Daily Values are based on a 2,000 calorie diet