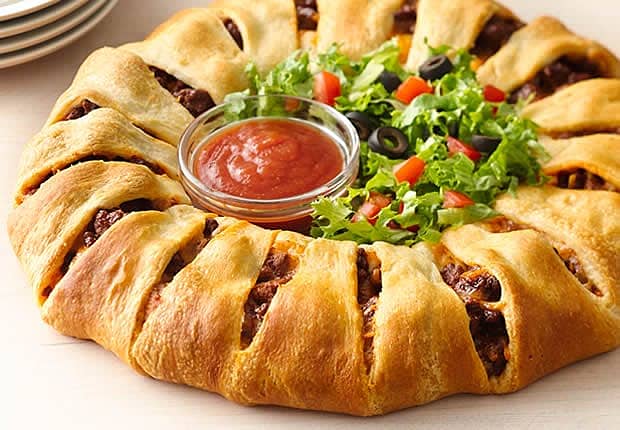 Taco Crescent Ring
This taco-filled crescent ring is the perfect meal for Taco Night! Dress it up with fresh shredded lettuce, chopped tomatoes and taco sauce... By Pillsbury Kitchens
20 Minutes Prep
45 Minutes Total
Ingredient List
1 lb ground beef
1 package (1 oz) Old El Paso™ taco seasoning mix
1/2 cup water
1 cup shredded Cheddar cheese (4 oz)
2 cans (8 oz each) Pillsbury™ refrigerated crescent dinner rolls
Shredded lettuce, chopped tomatoes, sliced ripe olives, taco sauce or salsa, as desired
Advertisement
Recipe Continues Below
Preparation
Heat oven to 375°F. In 10-inch nonstick skillet, cook beef until no longer pink. Add taco seasoning mix and 1/2 cup water. Simmer 3 to 4 minutes or until slightly thickened. In medium bowl, mix beef mixture and cheese.
Unroll both cans of dough; separate into 16 triangles. On ungreased large cookie sheet, arrange triangles in ring so short sides of triangles form a 5-inch circle in center. Dough will overlap. Dough ring should look like the sun.
Spoon beef mixture on the half of each triangle closest to center of ring.
Bring each dough triangle up over filling, tucking dough under bottom layer of dough to secure it. Repeat around ring until entire filling is enclosed (some filling might show a little).
Bake 20 to 25 minutes or until dough is golden brown and thoroughly baked. Cool 5 to 10 minutes before cutting into serving slices.
Expert Tips
Don't care for ground beef? Substitute chicken instead!
Spicy taco seasoning mix is a nice option for those who prefer a little more kick! Or, sliced jalapeño chiles will also do the trick.
Nutrition
Calories 360 (Calories from Fat 190), Total Fat 21g (32%), Saturated Fat 9g (47%), Trans Fat 1/2g, Cholesterol 50mg (17%), Sodium 810mg (34%), Potassium 120mg (3%), Total Carbohydrate 26g (9%), Dietary Fiber 0g (0%), Sugars 6g, Protein 17g. % Daily Value*: Vitamin A 8%, Vitamin C 0%, Calcium 8%, Iron 10%. *Percent Daily Values are based on a 2,000 calorie diet.
Made With