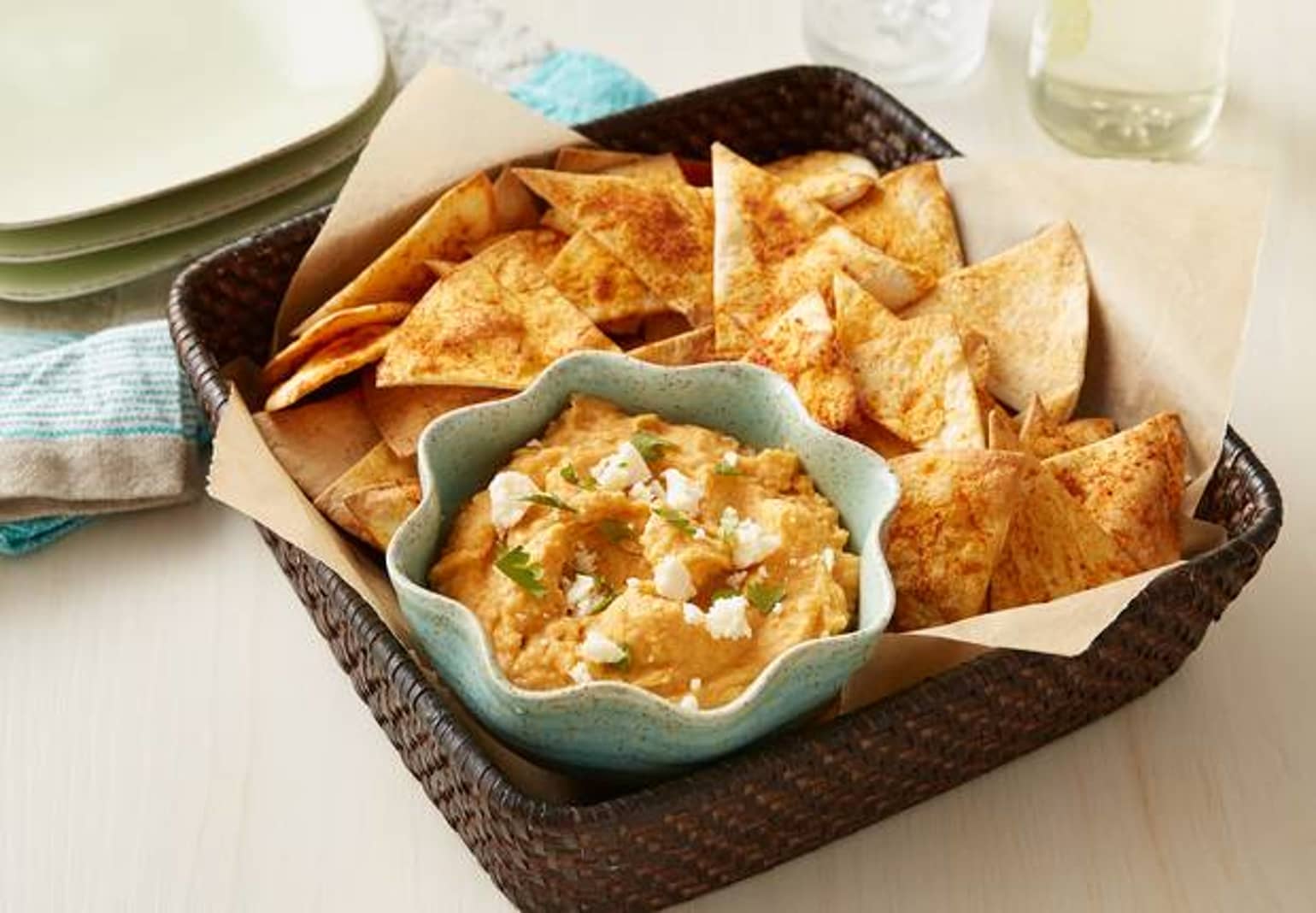 Taco Hummus and Tortilla Chips
An easy flavorful hummus dip with homemade tortilla chips. By Betty Crocker Kitchens
25 Minutes Prep
25 Minutes Total
Ingredient List
4 Old El Paso™ flour tortillas for soft taco & fajitas (6 inch)
1 tablespoon water
1 tablespoon plus 1/2 teaspoon Old El Paso™ taco seasoning mix (from 1-oz package)
1 can (15 oz) Progresso™ chick peas (garbanzo beans), undrained
2 teaspoons olive oil
1 tablespoon lemon juice
1 clove garlic, chopped
2 tablespoons chopped fresh cilantro, if desired
1/4 cup crumbled queso fresco cheese, if desired
Advertisement
Recipe Continues Below
Preparation
Heat oven to 400°F. Spray cookie sheet with cooking spray.
To make tortilla chips, lightly brush both sides of each tortilla with water. Lightly sprinkle taco seasoning mix over both sides of each tortilla. Cut each tortilla into 8 wedges; place on cookie sheet. Bake 4 to 5 minutes or until light golden brown. Remove from cookie sheet to cooling rack. Cool completely, about 10 minutes.
Meanwhile, to make hummus, drain chick peas, reserving liquid. In blender or food processor, place chick peas, oil, lemon juice, garlic and remaining 1 tablespoon taco seasoning mix. Cover; blend until smooth. Add reserved chick pea liquid, 1 teaspoon at a time, until desired consistency.
Garnish hummus with cilantro and queso fresco. Serve with tortilla chips.
Expert Tips
You can also serve this tasty dip with sliced veggies.
What to do with the leftovers? Top a sandwich or burger with a dollop of hummus for an easy way to get lots of flavor.
Nutrition
Calories60(Calories from Fat15),Total Fat1 1/2g(Saturated Fat0g,Trans Fat0g),Cholesterol0mgSodium140mgTotal Carbohydrate9g(Dietary Fiber1g Sugars0g),Protein2g;% Daily Value*:Vitamin A0%;Vitamin C0%;Calcium0%;Iron4%; Exchanges:1/2 Starch; 0 Fruit; 0 Other Carbohydrate; 0 Skim Milk; 0 Low-Fat Milk; 0 Milk; 0 Vegetable; 0 Very Lean Meat; 0 Lean Meat; 0 High-Fat Meat; 1/2 Fat; Carbohydrate Choices:1/2
*Percent Daily Values are based on a 2,000 calorie diet.