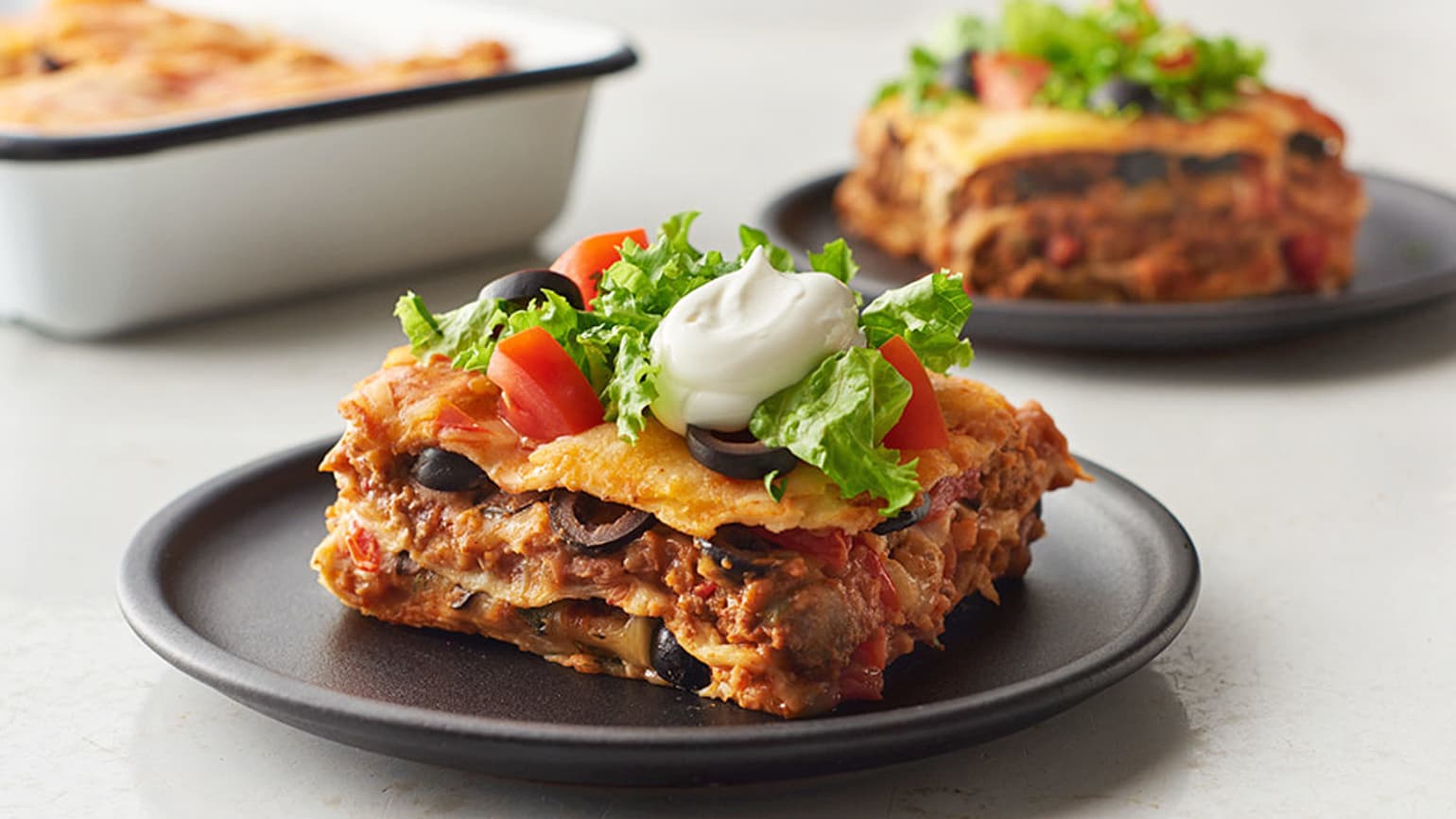 Taco Lasagna
Turn Taco Tuesday into Taco Lasagna Tuesday. Okay, while the name may not roll off the tongue as easily, this Mexican lasagna recipe made with tortillas, ground beef, enchilada sauce, refried beans, cheese, tomatoes and taco toppings is a delicious twist on traditional lasagna that is sure to become a dinnertime favorite.
Total Time
1 Hours
10 Minutes
Ingredient List
1 package (21.5 oz) Old El Paso™ Restaurant Style Grande Flour Tortillas (6 Count)
1 lb ground beef (at least 80% lean)
1 packet Old El Paso™ taco seasoning mix
1/3 medium onion, diced
1 can (19 oz) Old El Paso™ Mild Red Enchilada Sauce
1 can (16 oz) Old El Paso™ Traditional Refried Beans (or your favorite variety)
1 1/2 cup cheddar or Mexican blend cheese
3 small or medium tomatoes, diced
Cilantro, as desired
Black olives, as desired
Sour cream, for topping
Shredded lettuce, for topping
Advertisement
Recipe Continues Below
Preparation
Preheat oven to 350°F. In a large non-stick skillet on stove, cook onions and beef until cooked through. Remove skillet from heat, drain off grease and stir in taco seasoning. Set aside.
Cover the bottom of a 9x13-inch baking dish with a thin coat of enchilada sauce. Layer tortilla halves in the bottom of the pan with the cut (straight) sides facing outward toward edges of pan. Cut pieces of another tortilla as needed to fill in any gaps and create a solid tortilla layer in the bottom of the pan.
Continue layering ingredients in the following order, making sure to save enough of each ingredient to form a second layer: refried beans, enchilada sauce, beef and onion mixture, shredded cheese, diced tomatoes, and chopped cilantro and black olives (if desired).
Using equal amounts of ingredients as the first layer, form your second layer in the following order: tortillas, beans, enchilada sauce, meat and onions, cheese, tomatoes, cilantro and olives.
Top with a final layer of tortillas, and cover with a thin coating of enchilada sauce and cheese.
Bake lasagna for 30-45 minutes until cheese is melted and tortillas start to crisp. Serve with sour cream, lettuce and additional toppings as desired.
Expert Tips
Use ground chicken or turkey in place of ground beef in this Mexican-style lasagna.
For an extra kick, try Old El Paso™ hot and spicy taco seasoning mix.
Use any toppings you'd use for tacos such as salsa, chopped-up onion or fresh jalapeño slices.
Feel free to tailor this recipe to your taste by replacing refried beans with black bean refried beans.
Just like with tacos, there's a million different ways to make this taco-inspired Mexican lasagna. You can swap in ground turkey or chicken instead of beef. If you prefer hot enchilada sauce to mild, go for it! Don't like black olives? That's okay. This Mexican lasagna is basically a blank slate, so you can use whatever your favorite taco toppings are to customize the recipe.
Nutrition
1 Serving Calories 300 (Calories from Fat 120); Total Fat 13g (Saturated Fat 6g ,Trans Fat 1g); Cholesterol 45mg; Sodium 940mg; Potassium 210mg; Total Carbohydrate 27g (Dietary Fiber 3g ,Sugars 3g); Protein 16g
% Daily Value: Vitamin A 10%; Vitamin C 4%; Calcium 15%; Iron 15%
Exchanges: 1/2 Starch; 1 1/2 Other Carbohydrate; 1 High-Fat Meat
Carbohydrate Choice: 2
*Percent Daily Values are based on a 2,000 calorie diet