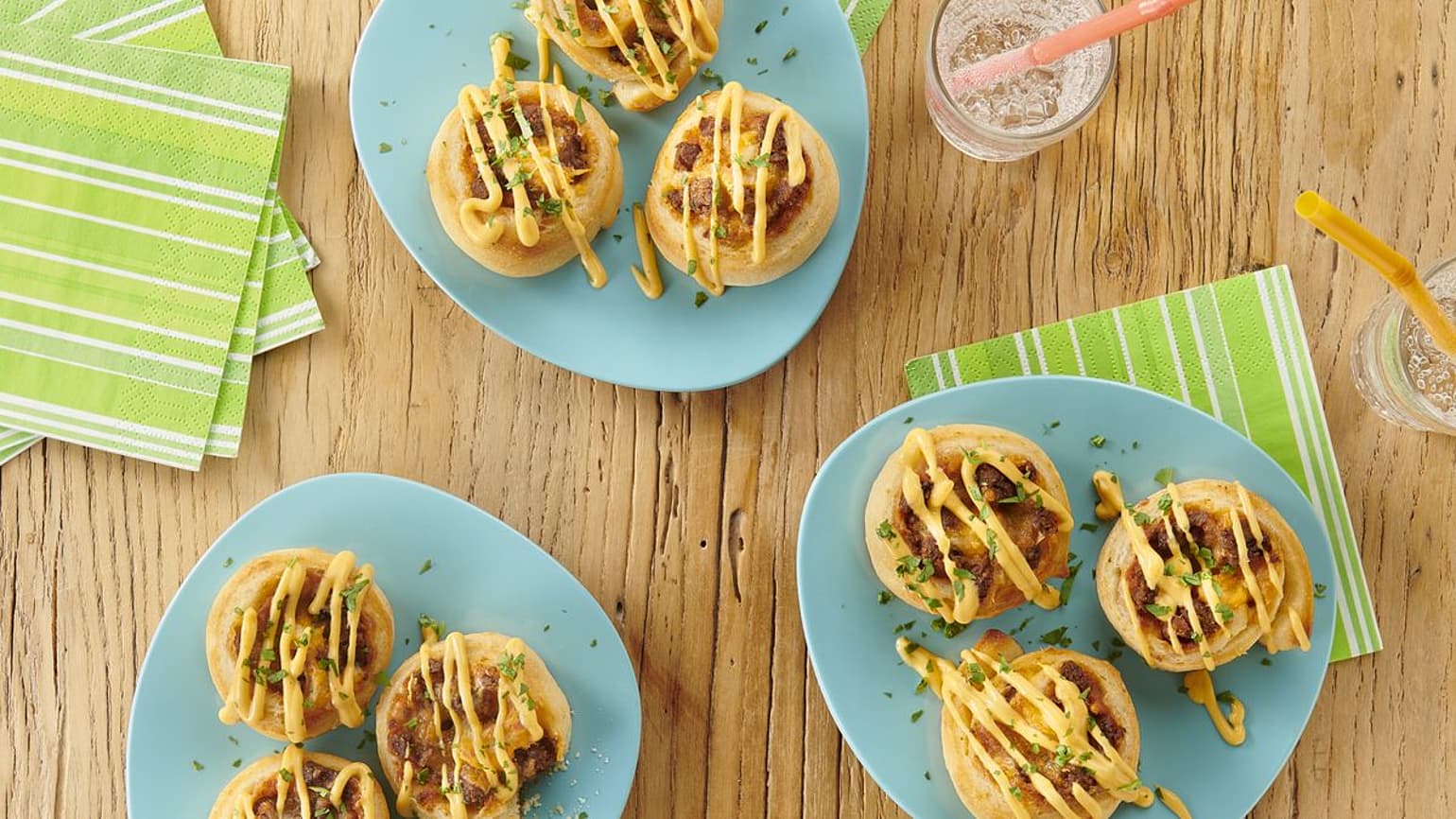 Taco Pizza Pinwheels
Skip the dinner debate, and roll taco night and pizza night into one delectable bite with this Taco Pizza Pinwheels recipe. Old El Paso™ Original Taco Seasoning Mix, ground beef and classic taco toppings bring the Tex-Mex flavor, while Pillsbury™ Classic Crust Pizza Crust wraps things up deliciously. Taco pinwheels with pizza dough make for a fun, kid-friendly meal or the perfect party appetizer.
Ingredient List
1/2 lb lean ground beef (at least 80%)
1 tablespoon from 1 container (6.25 oz) Old El Paso™ Original Taco Seasoning Mix
2 tablespoons water
1 can (13.8 oz) refrigerated Pillsbury™ Classic Crust Pizza Crust
1/2 cup from 1 can (16 oz) Old El Paso™ Traditional Refried Beans
1 cup from 1 package (7 oz) Old El Paso™ Shredded Mexican Style 4 Cheese Blend
1/4 cup from 1 bottle (9 oz) Old El Paso™ Creamy Queso Sauce or 1/4 cup from 1 bottle (9 oz) Old El Paso™ Spicy Queso Blanco Sauce
2 tablespoons chopped fresh cilantro leaves
Advertisement
Recipe Continues Below
Preparation
Heat oven to 400°F. Spray 18x13-inch rimmed baking sheet with cooking spray. In 10-inch skillet, cook beef 4 to 6 minutes over medium-high heat, strring frequently, until no longer pink; drain. Add taco seasoning mix and water; cook over medium heat 2 to 3 minutes or until liquid is absorbed. Remove from heat; cool 5 minutes.
Unroll pizza crust on baking sheet; press out crust evenly to edges of baking sheet. (Keep dough refrigerated until ready to use.) On long side of dough, spread refried beans evenly across bottom 4 inches of dough.
Add taco meat evenly on top of refried beans. Top with cheese.
Starting with bottom edge of pizza crust (long side), roll up crust tightly into jelly roll shape. Pinch ends to seal.
Using serrated knife, carefully cut roll into 18 (about 3/4-inch) slices.
Arrange slices about 1 inch apart on baking sheet. Bake 11 to 14 minutes or until tops are golden brown. Drizzle with sauce; top with cilantro.
Expert Tips
Keep the dough refrigerated until you're ready to use it for your Taco Pizza Pinwheels, to ensure easier rolling and cutting.
Instead of a queso sauce, feel free to drizzle baked pizza dough taco pinwheels with Old El Paso™ Taco Sauce, Old El Paso™ Zesty Ranch Sauce, or Old El Paso™ Creamy Salsa Verde Sauce.
For best results, use a serrated knife, and make steady, even cuts. If some of the filling gets on the blade of the knife, use a damp kitchen towel to carefully wipe off the knife between cuts.
Nutrition
1 Serving (3 Slices) Calories 330 (Calories from Fat 120); Total Fat 13g (Saturated Fat 5g ,Trans Fat 0g); Cholesterol 45mg; Sodium 740mg; Potassium 360mg; Total Carbohydrate 38g (Dietary Fiber 2g ,Sugars 5g); Protein 16g
% Daily Value: Vitamin A 0%; Vitamin C 0%; Calcium 15%; Iron 15%
Exchanges: 1/2 Starch; 2 Other Carbohydrate; 1 High-Fat Meat
Carbohydrate Choice: 2 1/2
*Percent Daily Values are based on a 2,000 calorie diet