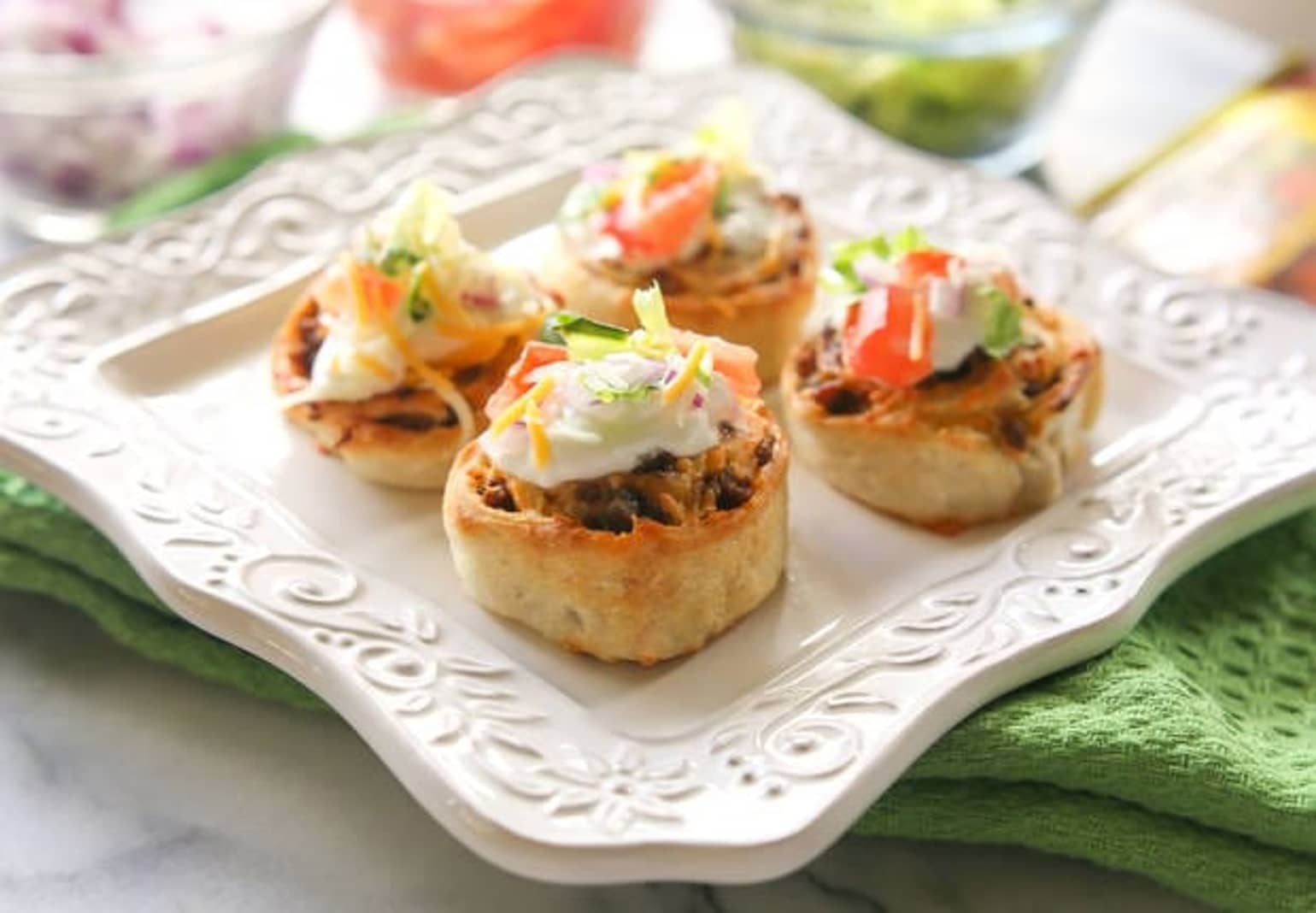 Taco Pizza Rolls
Skip the dinner debate and make these cheesy Taco Pizza Rolls! It's pizza night and taco night all rolled into one delicious bite. Old El Paso™ Original Taco Seasoning Mix, ground beef and classic taco toppings bring the Tex-Mex flavor, while Pillsbury™ Pizza Crust wraps it all up in a delicious crust. Taco rolls made with pizza dough make about 18 rolls, satisfying cravings with a kid-friendly meal ready in just 35 minutes, perfect for any dinner or appetizer.
10 Minutes Prep
35 Minutes Total
Ingredient List
1/2 lb ground beef
2 tablespoons Old El Paso™ taco seasoning mix (from 1-oz package)
1 can Pillsbury refrigerated classic pizza crust
3 tablespoons water
1 cup shredded Mexican blend cheese
Optional toppings: lettuce, tomato, sour cream, onion, and guacamole
Advertisement
Recipe Continues Below
Preparation
Preheat oven to 400°F and lightly spray a baking sheet with cooking spray.
In a medium skillet, cook and brown beef until no longer pink. Drain. Add taco seasoning and water and cook for 2-3 minutes. Set aside and cool slightly before using.
Take pizza dough out of its package and unroll it onto a flat surface. Slightly roll or press the pizza dough out into a rectangle.
Add the taco meat evenly on top of the pizza dough. Sprinkle the cheese evenly on top.
Starting with the long edge of the pizza dough, roll dough tightly up into a roll. Using a serrated knife, make about 1-inch slices along the roll, making about 18 rolls.
Place rolls on prepared baking sheet. Bake for 10-12 minutes or until tops are golden brown.
Serve immediately and top with desired toppings.
Expert Tips
It's easy to customize these taco pizza rolls. Opt for ground turkey instead of the beef, or swap Old El Paso™ Shredded 3 Pepper Cheese Blend for the Mexican cheese.
To more easily cut your taco rolls with pizza dough, cool beef slightly before placing on the dough and roll up dough tightly. Cut the roll on a cutting board instead of directly on the baking sheet, then transfer the rolls to the baking sheet.
Drizzle baked Taco Pizza Rolls with Old El Paso™ Taco Sauce, Zesty Ranch Sauce, or Creamy Queso Sauce.