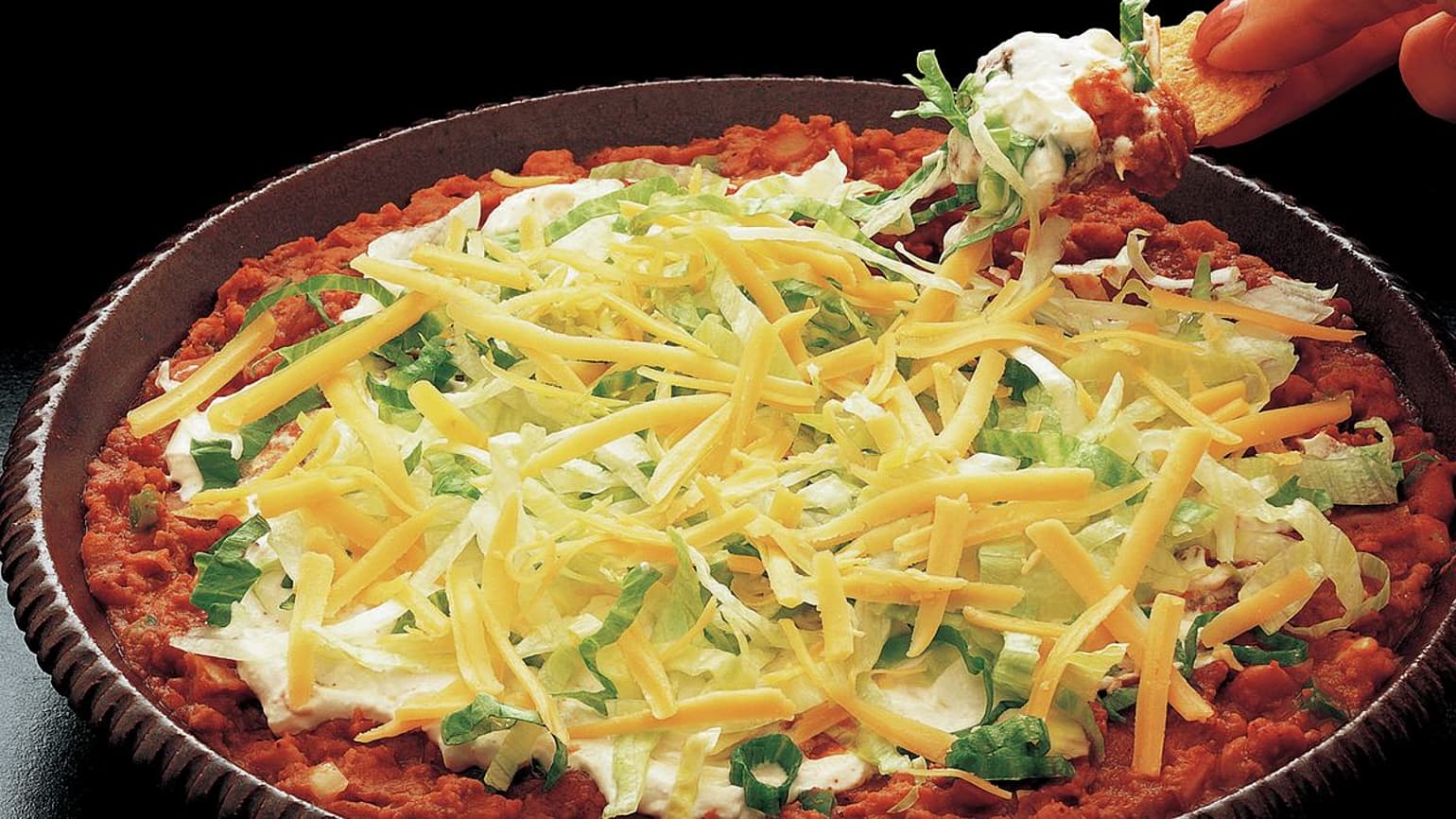 Taco Salad Dip
Traditional taco salad ingredients are transformed into an ever-so-easy microwaved munchie in this Taco Salad Dip recipe. Meaty, cheesy, and just downright yummy, this Taco Salad Dip with refried beans will be a sure winner at your next get-together. And it only takes 20 minutes to make, so you can get it ready to go while friends and family are arriving.
Ingredient List
1/2 lb lean (at least 80%) ground beef
1/4 cup finely chopped green bell pepper
1 small onion, finely chopped (1/4 cup)
1 can (16 oz) Old El Paso™ refried beans
1 can (8 oz) tomato sauce
1 package (1 oz) Old El Paso™ taco seasoning mix
2 drops red pepper sauce
1 clove garlic, finely chopped
1/2 cup sour cream
1 tablespoon shredded Cheddar cheese
1/8 teaspoon chili powder
Serve with, if desired
Finely shredded lettuce
Additional shredded Cheddar cheese
Corn chips
Advertisement
Recipe Continues Below
Preparation
In 1 1/2-quart microwavable casserole, crumble beef. Cover loosely; microwave on High 2 minutes 30 seconds to 3 minutes 30 seconds or until beef is thoroughly cooked. Stir and drain.
Stir in bell pepper, onion, beans, tomato sauce, seasoning mix, pepper sauce and garlic. Cover tightly; microwave on High 3 minutes. Stir; spread mixture in 9-inch microwavable pie plate. Cover; microwave on High 3 to 4 minutes or until hot and bubbly.
In small bowl, mix sour cream, 1 tablespoon Cheddar cheese and the chili powder. Spread over beef mixture. Sprinkle with lettuce and additional Cheddar cheese. Serve with corn chips.
Expert Tips
Bored with iceberg lettuce? Switch to crispy romaine, for this easy Taco Salad Dip recipe.
Lighten up this Taco Salad Dip with fat-free sour cream and reduced-fat cheddar cheese.
Nutrition
2 Tablespoons Calories 45 (Calories from Fat 15); Total Fat 2g (Saturated Fat 1g ,Trans Fat 0g); Cholesterol 10mg; Sodium 250mg; Potassium 60mg; Total Carbohydrate 4g (Dietary Fiber 1g ,Sugars 0g); Protein 3g
% Daily Value: Vitamin A 0%; Vitamin C 0%; Calcium 0%; Iron 4%
Exchanges: 1/2 High-Fat Meat
*Percent Daily Values are based on a 2,000 calorie diet