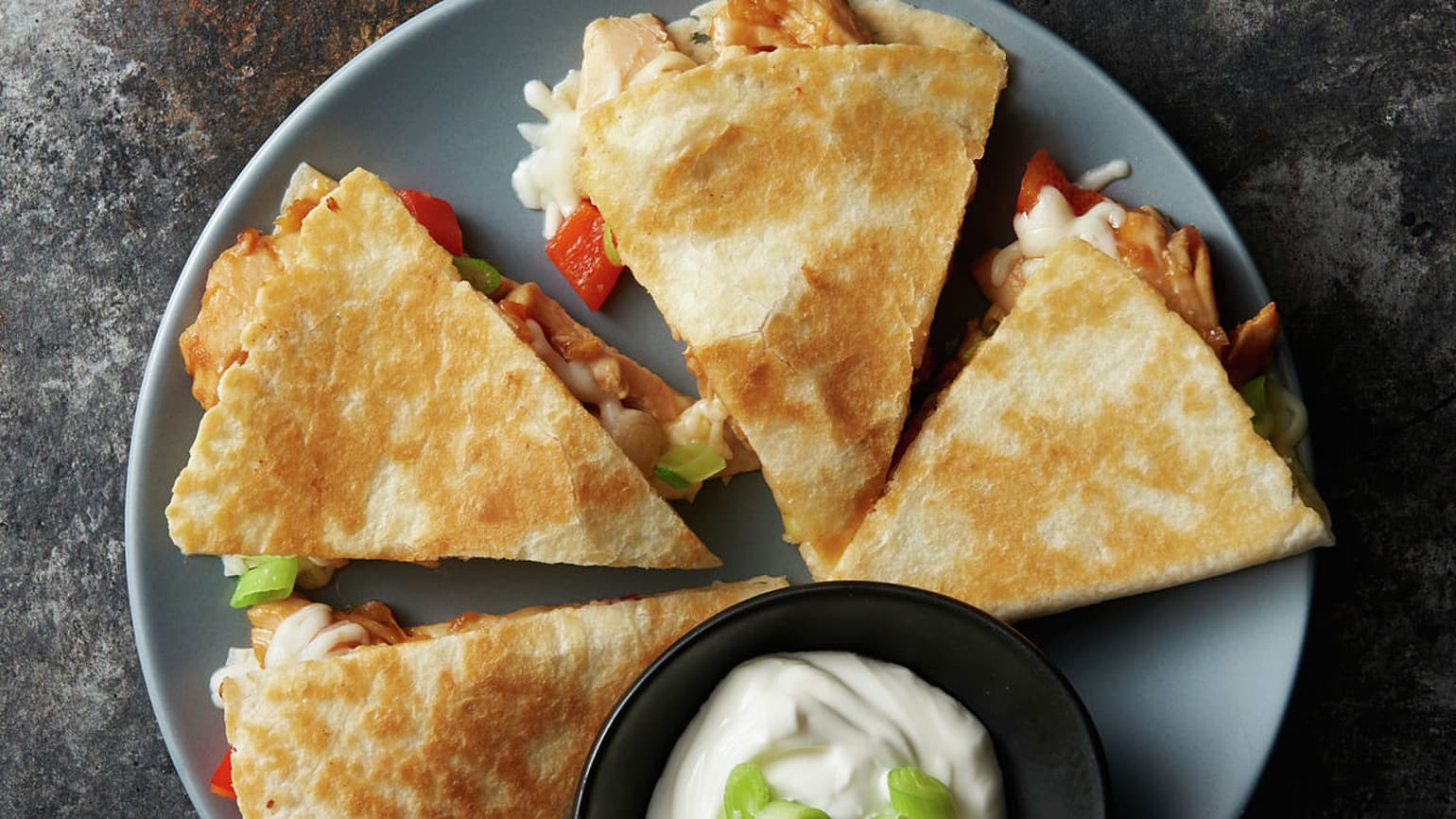 Teriyaki Chicken Quesadillas
Switch up dinner tonight with a twist on classic chicken quesadillas to surprise the whole family! Think beyond just a simple cheese filling and instead pack tortillas with seasoned chicken and pineapple chunks lathered in homemade sweet and spicy teriyaki sauce. But don't stop by making only one homemade sauce, go the extra mile by making your own delicious and easy homemade creamy Sriracha dipping sauce too. While this teriyaki chicken quesadilla recipe takes about an hour to make, we promise all of the flavor is worth it.
Ingredient List
Dipping Sauce
1/2 cup mayonnaise
1 tablespoon lime juice
2 teaspoons Sriracha sauce
1/4 teaspoon garlic powder
1 tablespoon chopped green onion
Teriyaki Sauce
2 teaspoons vegetable oil
2 cloves garlic, finely chopped
1 tablespoon finely chopped fresh gingerroot
2 teaspoons Sriracha sauce
1/4 cup soy sauce
1/4 cup packed brown sugar
2 teaspoons cornstarch
2 tablespoons cold water
Quesadillas
2 cups fully cooked deli chicken, chopped
1/4 cup crushed pineapple, drained (from 6-oz can)
4 Old El Paso™ flour tortillas for burritos (from 11-oz package)
2 cups shredded mozzarella cheese (8 oz)
1/2 cup diced red bell pepper
2 tablespoons chopped green onions
4 teaspoons vegetable oil
Advertisement
Recipe Continues Below
Preparation
In small bowl, mix Dipping Sauce ingredients. Refrigerate until ready to serve.
To make Teriyaki Sauce: In 8-inch nonstick skillet, heat 2 teaspoons oil over medium heat. Cook garlic, gingerroot and Sriracha in oil 1 to 2 minutes, stirring constantly, until fragrant but not browned. Stir in soy sauce and brown sugar; cook 1 to 2 minutes, stirring frequently, until sugar is melted, and mixture is bubbling. In small bowl, beat cornstarch and cold water with whisk; add to soy mixture. Cook 30 to 60 seconds, stirring occasionally, until mixture starts to simmer and has thickened. Transfer to small heatproof bowl.
To make Quesadillas, add chicken, pineapple and 1/4 cup of the teriyaki sauce to same skillet; heat over medium heat 3 to 4 minutes or until chicken is completely heated through.
On half of each tortilla, layer 1/2 cup of the cheese and 1/2 cup of the chicken mixture; top each with 2 tablespoons bell pepper and 1 1/2 teaspoons green onion. Drizzle 1 teaspoon teriyaki sauce over vegetables; fold tortillas in half. Brush top of each quesadilla with about 1/2 teaspoon of the oil.
Heat 12-inch nonstick skillet over medium heat. Place 2 quesadillas in skillet, oil sides down; brush top sides with about 1/2 teaspoon of the oil. Cook 1 to 2 minutes or until golden brown.
Carefully turn quesadillas; cook 1 to 2 minutes longer or until golden brown. Repeat with remaining quesadillas. Cut each quesadilla in 4 pieces; serve with dipping sauce and extra teriyaki sauce.
Expert Tips
Want to save time? Use bottled teriyaki sauce instead of the homemade stuff.
Amp up the heat by using 3 teaspoons of Sriracha in the dipping sauce for a little more zip.
Nutrition
1 Serving Calories 760 (Calories from Fat 430); Total Fat 48g (Saturated Fat 14g ,Trans Fat 1/2g); Cholesterol 110mg; Sodium 1880mg; Potassium 470mg; Total Carbohydrate 45g (Dietary Fiber 1g ,Sugars 19g); Protein 38g
% Daily Value: Vitamin A 25%; Vitamin C 25%; Calcium 45%; Iron 15%
Exchanges: 3 Starch; 2 Very Lean Meat; 7 Fat
Carbohydrate Choice: 3
*Percent Daily Values are based on a 2,000 calorie diet