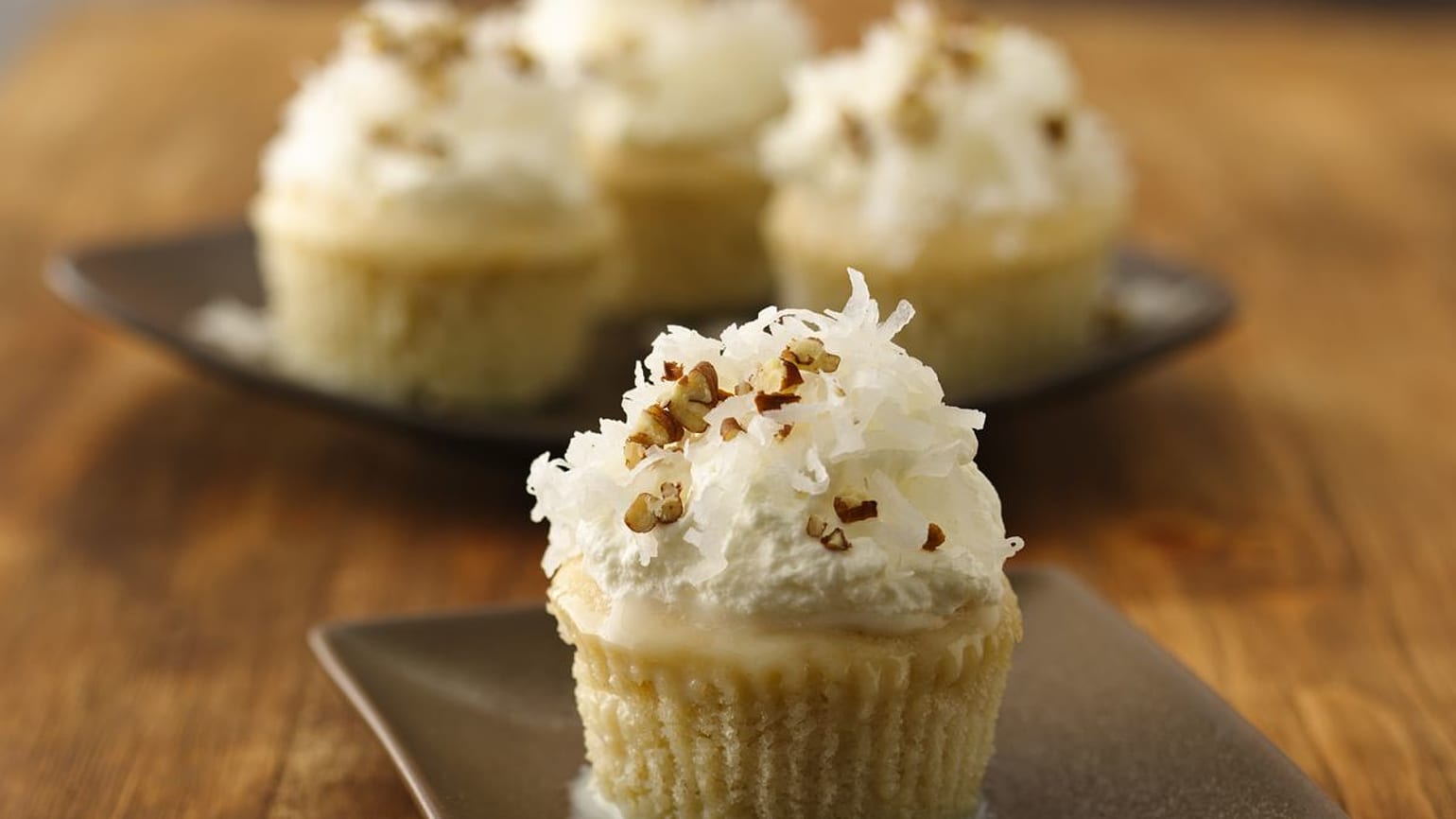 Tres Leches Cupcakes
You've probably seen tres leches cakes in your local bakery or taquería. We've turned that deliciously delicate dessert into cupcakes with this easy Tres Leches Cupcakes recipe. You'll want to whip up these delights whenever you need impressive individual desserts. Serve Tres Leches Cupcakes topped with whipped cream, coconut and pecans for edible elegance.
Total Time
2 Hours
45 Minutes
Ingredient List
Cupcakes
2 3/4 cups all-purpose flour
3 teaspoons baking powder
1/2 teaspoon salt
3/4 cup shortening
1 2/3 cups sugar
5 egg whites
1 teaspoon rum extract
1 1/4 cups milk
3/4 cup finely chopped pecans
Soaking Mixture
2/3 cup canned sweetened condensed milk (not evaporated)
1/4 cup canned coconut milk (not cream of coconut)
Rum Whipped Cream
1 pint (2 cups) heavy whipping cream
1 teaspoon rum extract
Garnish
1 cup flaked coconut
1/2 cup chopped pecans
Advertisement
Recipe Continues Below
Preparation
Heat oven to 350°F. Place paper baking cup in each of 24 regular-size muffin cups, grease bottom and sides of muffin cups with shortening and lightly flour, or spray with baking spray with flour. In medium bowl, mix flour, baking powder and salt; set aside.
In large bowl, beat shortening with electric mixer on medium speed 30 seconds. Gradually add sugar, about 1/3 cup at a time, beating well after each addition and scraping bowl occasionally. Beat 2 minutes longer. Add egg whites, one at a time, beating well after each addition. Beat in rum exract. On low speed, alternately add flour mixture, about 1/3 of mixture at a time, and milk, about 1/2 at a time, beating just until blended. Stir in pecans. Divide batter evenly among muffin cups, filling each with about 3 tablespoons batter or until 2/3 to 3/4 full.
Bake 18 to 20 minutes or until toothpick inserted in center of cupcake comes out clean. Cool 5 minutes; remove from pans to cooling racks. Cool 10 minutes longer.
Poke tops of cupcakes every 1/2 inch with long-tined fork, wiping fork occasionally to reduce sticking. Place cupcakes in dessert cups. In small bowl, stir sweetened condensed milk and coconut milk with whisk until smooth. Slowly spoon 2 teaspoons milk mixture evenly over top of each cupcake, allowing mixture to soak into holes and drizzle down side. Cover; refrigerate at least 2 hours or overnight, until milk mixture on tops of cupcakes is absorbed.
In medium deep bowl, beat whipping cream and 1 teaspoon rum extract with electric mixer on high speed until stiff peaks form. Frost each cupcake with about 2 heaping tablespoons whipped cream; sprinkle with about 2 teaspoons coconut and 1 teaspoon pecans.
Expert Tips
For a photo-worthy presentation, serve these Tres Leches Cupcakes in elegant dessert dishes.
Nutrition
1 Cupcake Calories 340 (Calories from Fat 190); Total Fat 21g (Saturated Fat 9g ,Trans Fat 1 1/2g); Cholesterol 30mg; Sodium 150mg; Potassium 135mg; Total Carbohydrate 33g (Dietary Fiber 1g ,Sugars 21g); Protein 4g
% Daily Value: Vitamin A 6%; Vitamin C 0%; Calcium 10%; Iron 6%
Exchanges: 1 1/2 Starch; 1/2 Other Carbohydrate; 4 Fat
Carbohydrate Choice: 2
*Percent Daily Values are based on a 2,000 calorie diet