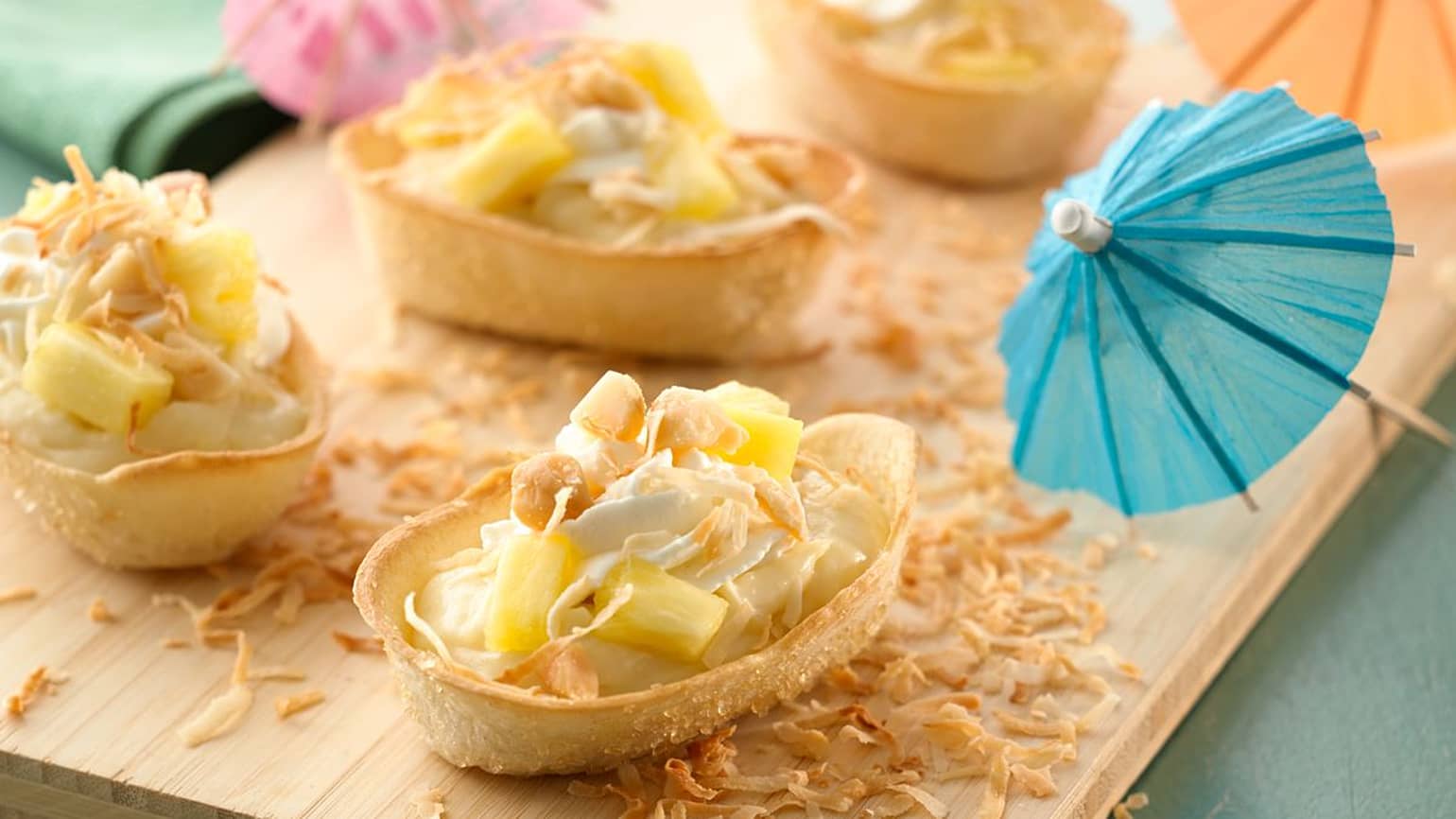 Tropical Cream Mini Taco Bowls
Bring a little slice of paradise into your home with these Tropical Cream Mini Taco Bowls. Biting into one of these creamy, coconutty treats might just be as good as dipping your toes into the cool waters of Maui! Make this tropical dessert for your next luau-themed party, and your guests will feel like they're on vacation.
Ingredient List
3/4 cup (from 14-oz can) coconut milk (not cream of coconut)
3/4 cup (from 14-oz can) sweetened condensed milk (not evaporated)
1/3 cup pineapple juice
2 tablespoons coconut-flavored rum
2 tablespoons cornstarch
1 egg yolk
1/2 teaspoon vanilla
1/4 teaspoon coconut extract
2 tablespoons butter, melted
1 package Old El Paso™ Taco Bowls™ mini soft flour tortillas
2 tablespoons raw sugar or coarse white sugar
1 1/2 cups sweetened whipped cream or 1 cup heavy whipping cream, whipped, sweetened
Finely chopped fresh pineapple, toasted macadamia nuts, toasted unsweetened coconut flakes, if desired
Advertisement
Recipe Continues Below
Preparation
In 2-quart saucepan, stir coconut milk, condensed milk, pineapple juice, rum, cornstarch and egg yolk with whisk. Cook over medium heat 2 to 3 minutes, beating constantly with whisk, until mixture thickens and boils. Boil and continue to stir constantly 1 minute longer. Remove from heat; stir in extracts. Pour into shallow dish; cool 10 minutes. Press plastic wrap on filling to prevent tough layer from forming on top. Refrigerate about 2 hours or until completely cool.
Meanwhile, heat oven to 375°F. Line cookie sheet with foil. Lightly brush melted butter on all sides of each bowl. Sprinkle raw sugar to cover entire bowl. Place bowls on cookie sheet. Bake 5 to 8 minutes or until browned on edges and firm to the touch. Bowls will crisp as cooled. Remove to cooling rack to cool.
Fill each cooled bowl with generous 2 tablespoons filling; top with whipped cream, and garnish with pineapple, nuts and coconut. Serve immediately. Store any remaining bowls in refrigerator.
Expert Tips
To toast coconut, bake uncovered in ungreased shallow pan at 350°F for 5 to 7 minutes, stirring occasionally, until golden brown.
To toast macadamia nuts, sprinkle in ungreased heavy skillet. Cook over medium heat for 5 to 7 minutes, stirring frequently until browning begins, then stirring constantly until golden brown.
Raw sugar is best for coating the taco bowls since it still contains some molasses, which adds color and a deep, rich flavor to the dessert.
Nutrition
1 Serving Calories 390 (Calories from Fat 190); Total Fat 21g (Saturated Fat 12g ,Trans Fat 1/2g); Cholesterol 90mg; Sodium 250mg; Potassium 200mg; Total Carbohydrate 43g (Dietary Fiber 0g ,Sugars 31g); Protein 5g
% Daily Value: Vitamin A 15%; Vitamin C 4%; Calcium 15%; Iron 4%
Exchanges: 1 Starch; 2 Other Carbohydrate; 4 Fat
Carbohydrate Choice: 3
*Percent Daily Values are based on a 2,000 calorie diet